Home gardening has always been a pastime. It's relaxing, peaceful and a beautiful way to get outside and work on something you enjoy. Whether your gardening or landscaping is done for business or pleasure, you're bound to find some satisfaction out of it. The cool part about gardening is that there's so much information to be learned. So, if you wanted to make your own gardening blog, the possibilities for gaining a following could expand quickly.
Gardening Companies Need A Website Too
In addition, a gardening or landscaping company is only going to develop a customer base if it has a website where people can look up services, products and the history of your company. Since Google is one of the primary ways to get local business, the health of your company truly relies on how well you maintain your website. Since we would assume most landscaping business owners don't know how to make a website, it's best for them to utilize a gardening WordPress theme. These are beautiful templates, with little need for development experience. The point is that you don't have to go out and hire an expensive design, and you don't have to worry about spending an incredible amount of time cutting into your day to day activities.
What Features Are Found In Gardening Themes?
With all of the gardening themes we outline below, you'll notice that most of them are great for developing gardening platforms. They come with interesting stock photos that relate to the industry and they are setup in organized layouts for constructing your content in a professional manner. In addition, most of the themes have responsive designs. Therefore, you don't have to think much about whether or not people are able to see your content. It all comes down to sleek designs and remarkable functionality. It's surprising how many gardening themes are on the market, so it can be difficult trying to make the decision for yourself. That's why we did the work for you by compiling a list of the best premium options out there. The themes are well-coded, offer quality support and they each have something special included for making them stand out. So, keep reading to learn about the best gardening WordPress themes on the market.
Beautiful WordPress Gardening Themes
If you're opening a gardening or landscaping company and need a website, this list of themes will assist you in picking the right WordPress theme for your company.
---
---
---
Landscaping Theme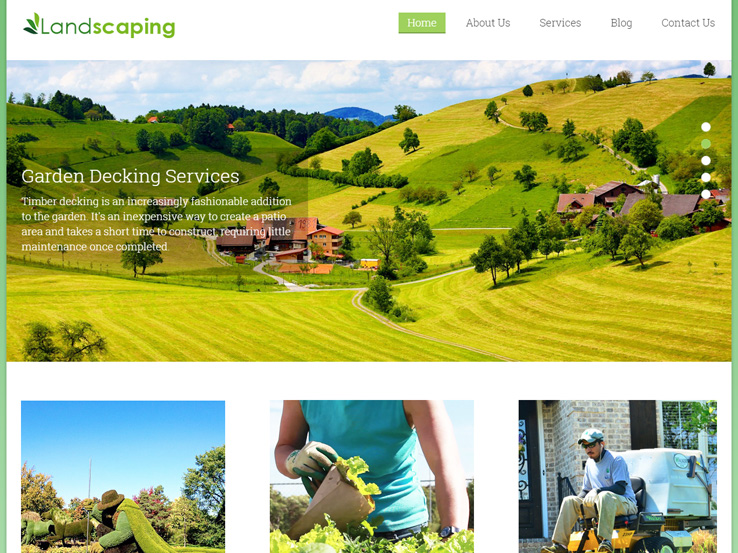 The Landscaping Theme is built primarily for the landscaping companies out there and it offers a beautiful, simple layout to get your site up and running within mere minutes. All of the stock images and icons are designed for the landscaping market and the responsive layout means that anyone on their phone or tablet can still see your content without any problems. Choose from eight predefined colors which are a great starting point to integrating your brand. This is a rather easy theme to customize, considering all of the settings are located on the backend and it's not hard to find what you're looking for. In addition to that, various post formats give you preset designs for implementing beautiful blog posts and pages from galleries to quote-based posts. The Awesome Slider plugin comes with your purchase and it allows you to add overlaying text and buttons. These come in handy when you'd like to share information about your services, events or promotions. You can have a link to a promotional page and everyone who lands on the homepage will see it immediately.
The custom widgets are a nice touch, but we really enjoy that the social buttons combine well with the branding of the overall site. People can click on these buttons to follow you on places like Facebook and Twitter. Showcase all of your services with thumbnail images and icons and display your most recent blog posts by placing a widget on the homepage. Keep in mind that a blog is one of the most important aspects of improving your search engine optimization, since Google is keen on boosting the rankings of companies that have quality content. Along with that, you can implement an area for your client testimonials. So, if you have some pictures and quotes from people who have enjoyed your services, post them on your homepage to convince other people that you're a worthwhile company to work with. A gallery is also provided to show how well you trim and clean peoples' lawns. Finally, the widgetized footer can be used for anything from contact information to little video snippets, so if you're looking for a WordPress theme that puts your landscaping business in a good light, this is the one to test out first.
---
---
The Landscaper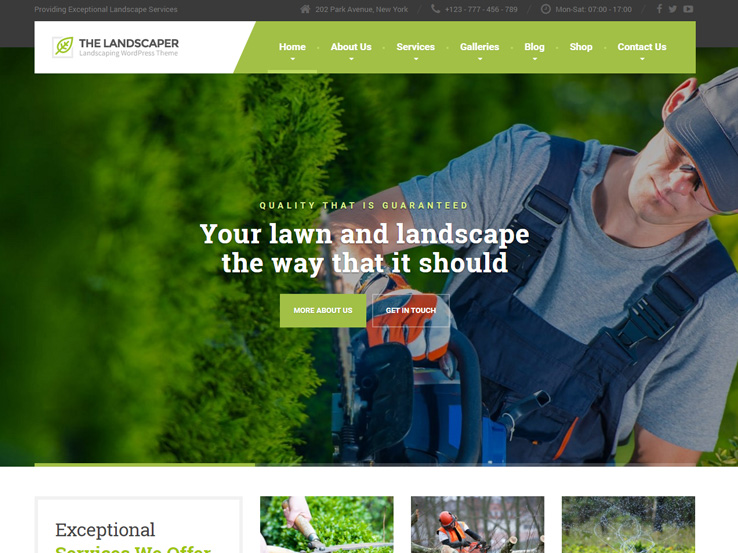 The Landscaper WordPress theme can get you launched online in less than five minutes and it provides a stunning take on what a modern landscaping website should look like. The Landscaper theme is completely responsive, meaning it will look great no matter which device visitors are using and they will be able to give you a call even if they are on go. Also, the drag-and-drop page builder enables developers to speed up the design process by simply dragging elements to where they want them to appear. This is a huge plus for beginners too since it's more of a visual designer. You can import a solid amount of demo data to populate your site and use the live theme customizer to see exactly what changes have been made during the process. We like this tool because you no longer have to keep jumping back and forth from the preview to your editing module. It's all about decreasing the number of steps you have to go through.
Unlimited project galleries are provided so you can make a visual website. This is particularly important for landscapers since people are not going to take out their checkbooks unless you're willing to display your past work. The Landscaper theme also provides several custom widgets. In fact, much of the homepage can be established by placing some of these widgets throughout the layout. You can implement an area for testimonials, which comes in handy when trying to convince other people that you are a reputable company. One of the widgets has an embeddable Google Maps module, which is ideal for bringing people to your office. Social media icons improve your chances of getting people to follow you on Facebook and other social networks, while the call-to-action banner has what it takes to send people to other parts of your website. As an example, you may have a page that highlights a promotional offer. If so, it's wise to have a call-to-action banner with buttons and text. Overall, the Landscaper WordPress theme is a favorite, so put it on your list.
---
---
Exterior Design Bureau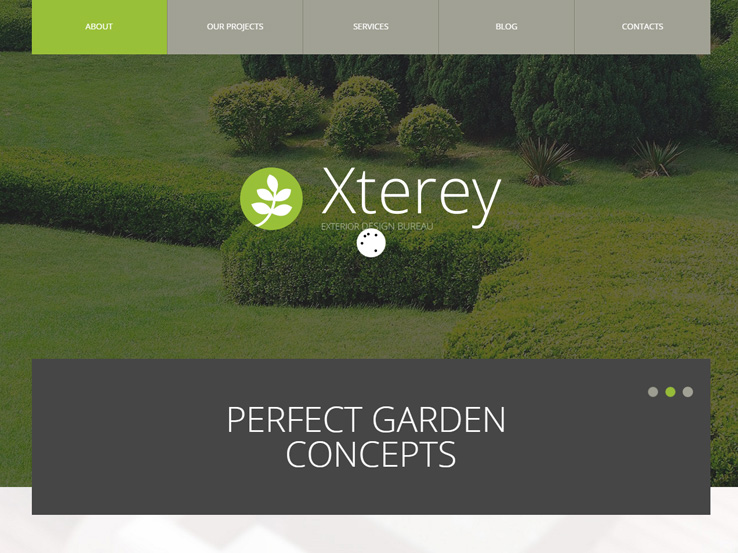 The Exterior Design Bureau theme has some solid features for exterior designers, but it can also be used for most other landscapers. The Template Monster theme is responsive so it looks great even on smaller devices. In addition to that, the parallax scrolling is one of the easiest ways to grab attention without slowing down your site with complex graphics and animations. The slider is available so you can feature specials and promotions. You can implement a wide variety of images to convince people that they should buy from you. The Exterior Design Bureau WordPress theme includes some nifty font icons, which can always be adjusted depending on the format of your website. These are essential for adding some visual aspects to your website, and they generally help with displaying what type of business you're running. If you don't have an image to use on your site, simply turn to the selection of font icons.
The auto updater is one of the random features that many people forget about, but it's a huge benefit considering you don't risk any security problems with your theme. The Google fonts are fun to play around with and the contact form ensures that you can keep in touch with your customers. Along with online chat compatibility, shortcodes and a full-fledged blog, you can't go wrong with the Exterior Design Bureau WordPress theme. You'll notice that the default colors, backgrounds and image options all blend together to reveal a stunning take on your own landscaping business. The shades of green are nice for the atmosphere and several background slots give you the flexibility to show off multiple pictures.
---
---
Garden Care

The Garden Care theme is a good place to start your search because it caters directly to companies that are working on landscaping on a daily basis. The demo content is packed with items like icons, pictures, and sleek formatting. The one click demo install is essential for all developers, regardless of the amount of training you have. This way, you can install the demo content within seconds and get to inserting your own content. The Visual Composer plugin comes with the Garden Care WordPress theme, enabling you to drag and drop website elements on the backend of your website. For example, if you wanted to drop a button on the homepage, it wouldn't require you to go into the CSS or make your own stylings. The Revolution Slider plugin is generally sold for a price, but you get it for free. This is a huge bonus considering the slider is one of the best on the market. Not to mention that it's nice to showcase promotions, services, events, and blog posts when you have a gardening or landscaping site. Another way to make money is by turning your website into an online store. The theme has the ability to merge with WooCommerce, which collects money for transactions and displays your products in a professional way.
The theme includes a parallax effect for grabbing the attention and showing off your creativity. Tons of modules and shortcodes come with the Garden Care theme, making quick work of the items you're going to implement. We like shortcodes the most because they are easy to copy and paste all over your site. Overall, the Garden Care theme has an awesome, unique look, with unique effects and functionality. The smooth transition effects help you stand out from the crowd, while the Google Fonts make it easy to add stylish fonts to your site. Several social media buttons are located towards the top of the site. These help with sending people to places like Facebook and Twitter, where they are more likely to see the content you share. Contact information and store hours also go towards the top of the page while the video support is bound to improve your relationship with customers. Think about all of the content you can create so that clients have tips for their own homes. Finally, the Meet the Team module reveals people who work behind the scenes, giving them credit and personalizing your business page.
---
---
Gardener

The Gardener WordPress theme covers gardening, lawn, and landscaping businesses. The fluid responsive theme looks wonderful on all types of devices, and unlike many themes, this one has actually been tested on real devices. This flexible theme has a rich backend with tools for unlimited sidebars and custom Visual Composer elements. The Visual Composer plugin is one of the more popular drag-and-drop plugins out there and you get it for free when buying the Gardener WordPress theme. The theme has been tested to work on multi-site setups and it has demo import tools for sliders, images, and other content. The bottom footer widgets are handy for explaining what your company does, along with details about hours and contact information. Social links connect people to your company through places like Facebook and Twitter and the advanced typography goes well with the Google Fonts and custom page templates. Much of the Gardener theme seems like it's built for beginners, but a custom CSS module is also available for those who are looking to truly customize the way this theme looks. Google Maps embed into the theme as well and you receive a color customizer to make the map fit into your branding strategy. Localization and translation are a must-have when running a landscaping business, so we recommend activating the files for everyone to understand what's going on.
The fullscreen background slider is one of the standout features from the Gardener WordPress theme because it's not too often you get a slider that looks as sleek as this one. Install the WooCommerce plugin to collect payments or sell items that clients can use to tend their yards. The blog lists and grid layouts are rather impressive for those who are looking for a professional layout. You don't need any experience to make columns and thumbnail images. All it takes is a quick upload of your content to get started. One thing we really like about the Gardener theme is that all of your contact information is nicely displayed towards the top of the site.

---
---
Garden Design

Description by Sheila Westfall
The Garden Design theme is perfect for amateur or professional gardeners. The multiple gallery options for displaying your projects will give you bragging rights among your friends or really sell your skills to potential clients. The diverse post types will keep your site exciting with the ability to show off your work with stunning photos – single, slideshow or gallery, a video tour of the garden, or an audio file of you discussing your inspiration. The portfolio can also be filtered to allow visitors to search for the specific project type in which they are most interested.
A love of gardening is universal, so it's important that your site be accessible to a multinational audience. Garden Design is Multilingual ready and has an official WPML certification. No matter what language users are reading it in, your text will look amazing with more than 600 Google fonts to choose from and multiple color options. And the whole site will look fantastic on every device with its fully responsive design.
---
---
Garden Master

Description by Sheila Westfall
Garden Master is an excellent choice for garden supply and landscaping businesses, especially the Home 2 and 3 homepage layouts. Both feature a prominent area near the top of the page for business hours and contact information to keep you connected to your clients. Further down, Home 2 has a sortable area for Recent Projects and a block for pricing service packages. Home 3 has blocks for your Newest Products and Best Sellers to spotlight the most exciting items in your inventory. A store that can be filtered by item price and a colorful button for requesting a free quote will make shopping with you a pleasure.
This theme is also great for networking with clients over various social media platforms. The Flickr feed is a perfect way to display your latest work without having to update the website. There is an option to place social media icons for Facebook, Twitter, Pinterest, and more at the top of the page to make a clear statement about your social savviness. Blog posts also come with icons to share on social media so satisfied customers can help promote your brand. A useful newsletter subscription service is ideal for rounding out your promotional plan.
---
---
123 Garden

Description by Sheila Westfall
123 Garden is a spectacular theme for showing off all the services and products you have to offer. The homepage has tons of options for shopping like content blocks for Services with corresponding icons and Packages that list the services they include. The WooCommerce plugin can be put in Catalog Mode to build an online catalog and customers are given the chance to shop by brand or product category. A sidebar can be set to put sortable shopping prominently on the homepage and a discount header can be placed at the top to make sure your latest offers are seen.
This is a huge benefit considering most people really enjoy the drag-and-drop elements instead of being forced to play around with complicated source code. All of your contact information can go right at the top of the page and a search bar is there to allow visitors to find the information they need. Social media buttons blend in well with your branding, and your logo is easy to change on the WordPress dashboard.
To connect with your clients, you can add an Ask the Experts content block which connects to profiles with social media links and ratings of their expertise. Ten different portfolio layouts, interestingly named after former US presidents, are a fantastic way to display previous projects in style. And making your vision a reality is easy with the Visual Composer and OptionTree.
---
---
Organic Farming WordPress Theme

Description by Sheila Westfall
Put the focus on gorgeous photos of your plants with the spartan Organic Farming theme. Tons of white space means visitors' eyes will be drawn to the bright colors of flowers and rich green of leaves, not the trappings of a cluttered website. Stock photos are included with your purchase to get you started and you can choose from an array of accent colors to set your pictures off even more. The clean look will also make the bold social media icons at the top of the page really pop. More than 600 Google fonts will give your site a touch of class while still maintaining a sharp look.
Organic Farming is easy to work with, featuring a simple 2-step installation, 24/7 free customer support, and advanced backup so you don't lose a minute of your work. For a multimedia experience, add video or audio files, all of which will work perfectly on mobile devices. And with Bootstrap and Cherry Framework, you know you're in good hands.
---
---
---
WS Garden

Description by Sheila Westfall
WS Garden is a flexible theme that can be altered to meet the needs of a gardening business or blog. It comes with five homepage options, one of which skips the intro and goes straight to your posts. Other choices give you an opportunity to showcase the services you offer, introduce your team, and display all the kind words from satisfied customers. Once visitors are fully impressed with what you have to offer, they can quickly set up a consultation with the easy to use appointment form.
If you choose this theme, you won't have to wait until you have the entire site ready to put it to work. Start reaching out as soon as you have your basic information with the Maintenance mode to let users know that you're still under construction. Just be sure to keep at it! You don't want to leave them waiting too long to catch your Twitter feed, Parallax effects, and awesome sliders.
---
---
Farmer's Dream Service

Description by Sheila Westfall
Put the focus on your business and not on fancy web design with the Farmer's Dream Service theme. A large slider will greet visitors, drawing them in and, with optional links to further content, directing them to more information. Sections for Products, Our Team, Services, and more are positioned in a clean arrangement with lots of white space to keep visitors engaged but not overwhelmed. With multiple color options, your site will be as richly hued as the gardens you work in.
Added options like Tooltips and Favicon, a Back to Top Button, and sliced PSD will keep your site looking smart and easy to navigate. To give customers a truly personalized experience, you can set up a members' area with exclusive forums, promotions and the latest news. And you can easily keep your site accessible to all comers with a fully responsive design and WPML Certification.
---
---
Landscape Design - Responsive WordPress Theme

Consider the Landscape Design WordPress theme if you're trying to establish a website with large typography and lots of white space. The goal with the theme is to present information in an easily accessible format. Therefore, you'll find that space is plentiful and the navigational menu is put at the forefront to guide people through your site. A small image is located next to the menu, which is ideal for presenting what your landscaping company does. As with most of the themes on this list, the Landscape Design WordPress theme has a responsive layout. This improves your SEO and it can work wonders for people who come to your site on mobile devices. The fully editable frontend is managed on the backend. There you'll see options for custom post formats which include galleries, photos, videos, and quotes.
The multilingual nature of the Landscape Design WordPress theme means that people from all over the world understand your content. Over 80 shortcodes allow you to add elements like buttons and columns, while the two-step installation process is sure to expedite your design flow. Choose from multiple color options and utilize the filterable portfolio when trying to get new clients. Custom widgets come with the theme for social sharing and commenting, and the fantastic sliders are there for presenting information for promotions, events, and more.
---
---
Garden Design

Garden Design features a full-screen slider to help you display the beautiful pictures of your garden and landscapes. You can add different projects as portfolio items and show detailed information with high-quality images. Use the custom post types to publish various types of content on your site.
Decorate your posts and pages by using the 80+ custom shortcodes. Thanks to the custom widgets, you can easily provide the additional information on the sidebar, footer, or other widget-supported locations. The intuitive theme customizer section offers an easy way to personalize the website according to your requirements.
---
---
Responsive Garden Design from TemplateMonster

The simple, elegant design of Responsive Garden is bound to leave a lasting impact on your visitors. Add your current and previous projects and allow the visitors to filter the projects. As the theme supports several post formats, you can publish traditional blog posts, audio, video, or gallery posts in a simple way.
Check out the theme customizer section to manage the typography, color, background, and other styling options. The SEO-optimized coding will help your content get better ranking in the search engines. As it features full WPML support, Responsive Garden can also be used to create multi-lingual sites.
---
---
Apex Construction

Despite being a construction theme, Apex can also be utilized to create landscaping websites. You can use the dedicated property post type to add new landscaping projects. The detailed property page design will help you provide all the necessary information about your project. Use the custom widgets to display the latest project, client testimonials, brochure download, advertisement, newsletter subscription, etc. on the widget-ready locations.
Apex also comes with a fully featured theme customizer that allows you to manage the look and feel of your website. The mobile-friendly template supports WPML and is compatible with all popular WordPress plugins.
---
---
Green Helper

Not Available.
Description by Sheila Westfall
A great theme starts with great code and Green Helper has a very solid foundation. The HTML5 code was written with search engine optimization in mind to get you the highest traffic possible. You're also guaranteed the highest performance and fully customizable options without having to work with the code yourself. Choosing from among the 7 gallery options, 6 portfolio setups, and numerous page possibilities couldn't be easier. More than 600 Google Webfonts and unlimited slideshows will help you build a fantastic, unique site that's perfect for your business.
Your projects and products are sure to impress with retina ready photo quality and sharp video uploads. Visitors will be eager to engage your services and doing so will be simple with pricing tables and lists, WooCommerce integration and easy to use contact page options. A Google map feature will also ensure that you're as easy to find in real life as you are on the web.
---
Lifeplants

Not Available.
Description by Sheila Westfall
A garden or nursery should be neat and orderly and your website should reflect the way you operate. Lifeplants, with its ample whitespace and tidy organizational structure, will do just that. Design elements from pricing tables and service boxes to galleries and blog posts are nicely arranged in boxes to mirror your rows and garden beds. Don't make the mistake of thinking that this means Lifeplants is a stuffy theme, though. It comes with over 500 theme options for colors, backgrounds, and adding your own logo and Favicon. The designers brag that "[y]ou can customize nearly each pixel of the theme."
Some of the possibilities included with this theme are Flickr stream and Twitter widgets to connect visitors to your social media sites. Eight different gallery types, such as slider, seamless, masonry, carousel, and circle, all maintain the sleek look of the theme while fitting the site to your business's personality. And doing business with you will be as stress free as browsing your site with easy WooCommerce integration.
---
---
Ecodesign

Not Available.
Ecodesign welcomes your visitors with a large homepage slider, followed by the navigation menu and other necessary sections down below. Have more pictures of your garden? Show these by choosing any of the eight gallery types. Use the inbuilt custom widgets to decorate the multiple widgetized sections.
The theme also supports WooCommerce, which means you can sell gardening tools, e-books, guides, or other items right from your website. Thanks to complete social media integration, you can engage with your visitors on all the popular social media platforms. The demo importer tool will come in handy when you want to get started as quickly as possible.
---
---
Greenvalley

Not Available.
This dedicated landscaping theme makes it a lot easier to showcase your landscaping works in front of potential customers. The custom post types will come in handy to introduce your team, portfolio items, and client testimonials. The built-in slider will be your best choice to convince the visitors about your landscaping abilities by showing off your previous works.
Draw the attention of your visitors by using the integrated parallax sections, and use the custom shortcodes and widgets to decorate your posts and pages. As the template works correctly with WooCommerce, you can set up an online store and sell plants, rocks, flowers, or other decorative items.
---
---
Unifarm

Not Available.
Unifarm is an excellent farming and agriculture theme that could be a great choice to create a farming site. You can use the site to provide detailed information about your farm, products, and services. The unique design is complement by custom background images. Display your best images by using the large slider, while the stunning parallax effects will make your regular pages more engaging.
Unifarm comes with several pricing tables and a dedicated service page. Provide answers to the common answers by using the FAQ page template. The mobile-friendly theme also enjoys full support for WooCommerce.
---
---
Daisy

Not Available.
As the name indicates, Daisy is a specialized theme for developing gardener, flower shop, florist, and other relevant websites. Handy features like the quick install and demo contents will help you get started within a short period. Manage the typography options, choose custom colors, backgrounds, and check out other styling options in the customizer section.
There are separate sections to provide custom CSS, JavaScript codes and override the default styling. The AJAX-powered contact form offers a simple method of communication for your visitors. Thanks to the professional coding, Daisy will ensure that your website is getting better treatment from the major search engines.
---
---
Lawnworks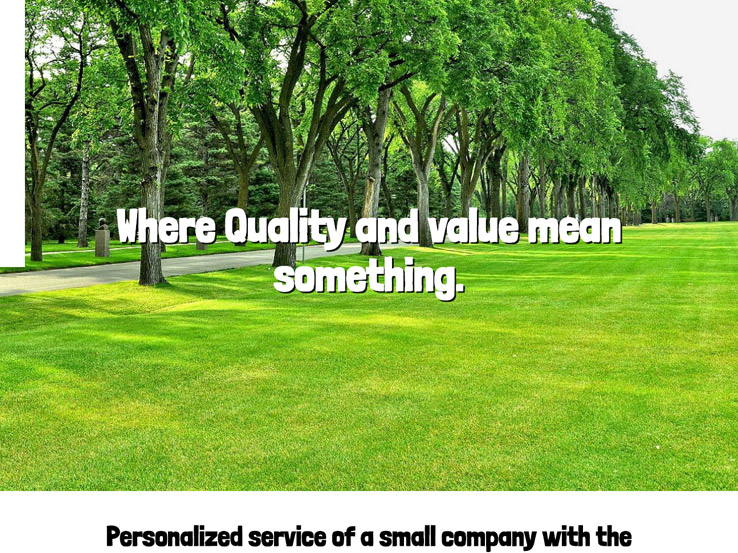 Not Available.
Lawnworks is a lawn care WordPress theme that delivers quite the punch in terms of functionality and design. Getting started with the basics, over 600 Google Fonts are included, which are pivotal when trying to construct what your message is going to look like. The countless shortcodes are made even greater with the shortcode generator, while the one-click demo importer is sure to speed up your development process. Customize each aspect of the theme and use the color picker to match your website's colors to your brand identity. The social media integration comes in handy for sharing your blog posts and getting people to follow you online. Many blog options are provided and the sections above the header and below the footer are useful for implementing certain widgets. The theme integrates with Google Analytics so you can see how much traffic is coming in, while the 100% translatable design ensures that people from all countries can understand what you're saying. This is even good for local companies that would like to reach out to more diverse neighbors.
Many widgets are included and the unlimited sidebars ensure you always have plenty of space to implement these widgets. We particularly enjoy the slideshow management tools, since you gain access to an unlimited number of slideshows. Place these slideshows on all pages and posts and change them around whenever you want. The logo and favicon upload sections are easy to find and many page templates expand your creativity. One of the main reasons we mention this theme is because of the header module. It's so unique since you get a navigational menu to the left and a huge slider that takes up the majority of the screen. You shouldn't have any problems grabbing attention and it gives you the ability to upload your best photos from your past work. A portfolio comes along with the theme as well, offering filters for those clients who come to your site and want to look at work you've done in one category. Overall, one of the main selling points of the Lawnworks WordPress theme is the bold text. The theme has this scattered all over the website, working nicely for calls to action and declarations of what the business does for clients.