Nimbus Themes is a small, family-owned business that exists because of the hard work of our wonderful team.
Our Commitment to You
We are committed to providing outstanding support and assuring that every theme we create is one we'd be proud to use ourselves. We take this commitment seriously and will strive to better our products, service, and support at every opportunity.
---
Our Story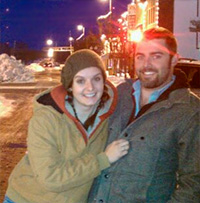 Nimbus Themes is brought to you by Evan and Kendall Scoboria. After many wonderful years of working with clients through our graphic design and web development company, we aspired to create a marketplace in which users could access tons of beautiful WordPress themes with top-quality support. In 2011 that dream became a reality and since then we're proud to have been chosen as a theme provider by over half a million webmasters across the globe.
When not burning the midnight oil on Nimbus or playing with pixels, we are renovating homes, growing tomato jungles in the front yard, brewing beer, and cooking up a storm.
---