If you're a Google Apps user, you may have received an email from Google talking about how they have been in the process of rebranding the product. If you're not a user yet please scroll down this page to receive a G-Suite Promotion code.
Well, that time has now come, so you're going to start seeing a few changes.
Don't worry. The overall functionality of Google Apps remains the same. The primary difference is that they're completely scrapping the Google Apps name.
What's the new name for Google Apps?
G-Suite
It might not sound like a huge deal to some, but it may actually affect the way you research articles and documents for support.
For example, Google states that the Help center is going to start utilizing the new name. In addition, we would assume that the majority of blogs covering everything Google and technology are going to make the shift as well. Therefore, your best bet is to punch in G-Suite when trying to look for tutorials or other articles online.
What Does The New G-Suite Logo Look Like?

As you can see, Google went with a far more simplistic logo for G-Suite, as opposed to the old Google Apps logo.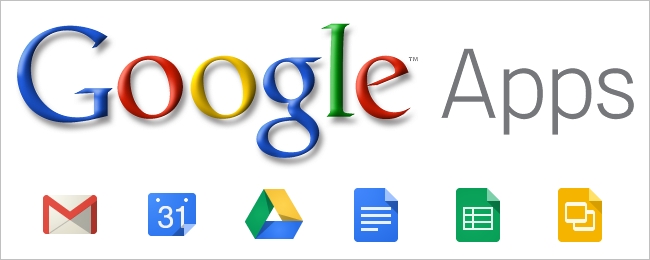 Actually, the Google Apps program never really had much of a set logo, since it was more of a combination of the actual Google logo and all of the little icons you find from Google Docs, Sheets, and other apps.
Say whatever you want about the logo change, but in general you won't have to worry much about it. If you're interested, however, here are some of the areas you may start seeing the G-Suite logo:
The Admin console
Help Center
Your monthly invoice
Why Did Google Make This Rebranding Effort?
We've learned that the primary reason for the change is because Google feels the G-Suite name is a more appropriate fit for the way the collection of apps helps users.
In their own words:
We created Google Apps to help people everywhere work and innovate together, so that your organization can move faster and achieve more. Today, we're introducing a new name that better reflects this mission: G Suite.

Over the coming weeks, you'll see our new name and logo appear in familiar places, including the Admin console, Help Center, and on your invoice. G Suite is still the same all-in-one solution that you use every day, with the same powerful tools—Gmail, Docs, Drive, and Calendar.

Thanks for being part of the journey that led us to G Suite. We're always improving our technology so it learns and grows with your team.
Should You Be Worried About Any Big Feature Changes?
The answer to this is a big no. Although you're sure to see improvements and modifications with the feature-sets in the future, right now is not that time. Google has made it clear that it's pretty much the exact same product, with all of the same great features we know and love.
Therefore, you still have access to every app such as:
Gmail
Google Hangouts
Google Calendar
Google+
Google Drive
Google Docs
Google Sheets
Google Forms
Google Slides
Google Sites
Google Vault
And the Google Admin
Get a G-Suite Promo Code for $10 Per User
All you have to do to take advantage of this discount offer is to email us at googleapps@nimbusthemes.com. We'll send you a G-Suite promo code so you can take advantage of it for your own business.
Our Experience With the Apps in G-Suite
It's amazing how much G-Suite consolidates our workflow at Nimbus and improves the way we run our business. Seeing as how we've continued to utilize G-Suite (Google Apps until now) over the years, it makes sense we share how we use it the most.
Email with Gmail
Email is by far the most important part of our day-to-day with G-Suite. Each of the people in our organization gets an email account, making it easier for us to look professional, as opposed to using a regular @gmail.com email. We also generate some email addresses for contractors, keeping our communications fluid throughout projects.
The good part is that Gmail takes only a few minutes to configure, and you get (by far) the best email interface on the market. Nothing is like organizing emails through Gmail, and the filtering and search tools are far above the competition.
Furthermore, it's not uncommon for us to create email aliases, or accounts that don't have all the features you would get from a full-fledged email address. For example, many companies use info@ or support@ emails as aliases for online forms or support modules.
Storage With Google Drive
One of the most popular apps in the suite is called Google Drive. We use it for some storage, considering it ensures we don't lose valuable documents. Not to mention, you can configure a folder on your desktop that backs up every file in that folder to Google Drive.
In addition, many companies collaborate by sharing files with Drive and especially for sending along large files that don't go through email.
Hangouts
Skype is often the video chat app of choice for many businesses, but we find it much easier to use Google Hangouts and the instant messaging feature. Whether we're chatting with clients through the video conferencing, or sending internal files and messages through the IM tool, it's nice to have these features in one place, as opposed to opening up a completely separate program like Skype.
Google Calendar
We've tried so many other calendars for our organization, but none of them even come close to Google Calendars. You get settings for configuring recurring events, sharing with others is pretty simple, and you can even import large calendars from random websites and contractors.
However, the real standout comes in the form of the beautiful interface.
Docs, Sheets, and Other Office Apps
Creating spreadsheets, documents, presentations, and forms is all done with the office apps. We've completely gotten rid of products like Microsoft Office, since G-Suite generally has all the functionality a business needs in this area.
In addition, the documents sync flawlessly with your Google Drive account, and you can quickly integrate with Google Calendar and Gmail.
The Overall Security of G-Suite
One of the big questions about G-Suite is whether or not your data is protected. After all, you're pretty much trusting Google with all of your valuable documents and communications in the cloud. However, Google has two-factor authentication, which almost completely eliminates the chance of someone hacking into your accounts. Sure, you have to setup this authentication, but once you do, a hacker needs your email account, password and phone to gain access.