Are you a singer or part of a band, and you're starting to realize that the best way to gain exposure is to build a website? If you have musical aspirations, and a yearning to reach a larger audience with your tunes, a WordPress music theme is just what you need.
The age of solely relying on passing out CDs on the sidewalk is over. Serious musicians require an online presence that accurately represents who they are and what they create. Thankfully, WordPress themes can help with that.
What Should I Look For When Choosing a Music Theme?
Serious musicians need a theme that allows them to share streaming music, build an online store, and display pictures of concerts and biographical information. Any theme you select needs to have these features built in, along with social media integration, multiple audio and video format support, gallery and lighttbox options, and an event widget for displaying info about your shows.
Why Go The Theme Route?
With themes, you don't have to worry about developing or designing the site yourself. No experience is required, since WordPress themes take care of the hassle for you. Simply setup WordPress, install a professional, and music-centric theme, and you're well on your way to a producer or fan discovering your latest song.
Top Themes for Musicians and Bands
Read on to learn about the best music themes and why they are so helpful for musicians.
---
---
Sessions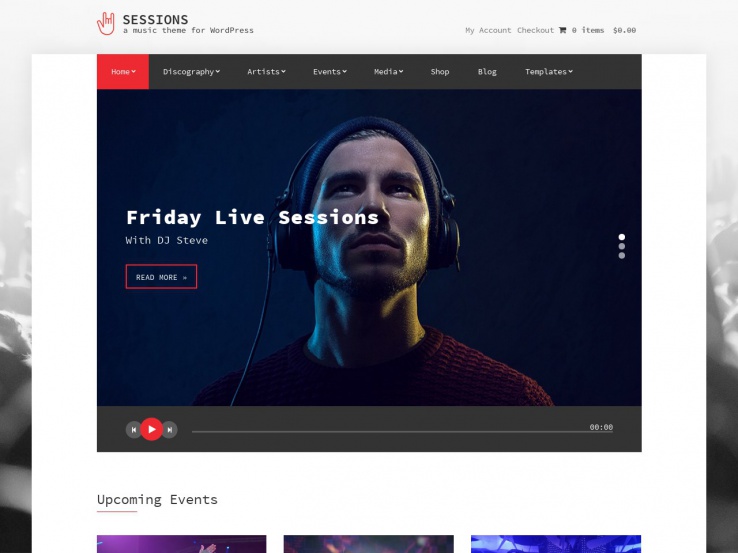 The Sessions WordPress theme is one of our top choices for musicians or people in the entertainment business. The truly unique design is built to show off your best stuff and grab the user attention once they land on your page. The theme includes a streaming audio player so your fans can listen to your music like they were tuning into the radio. The six post types ensure you have the capabilities to make sliders, share artists, discography, videos, galleries and more.
The theme includes a drag-and-drop homepage which means you can completely customize the layout without the need to touch any code. Sessions even offers WooCommerce support, which is a handy way to sell albums or band merchandise to your biggest fans. Use the custom widgets to connect with people through social media outlets and to implement sharing buttons on your posts.
---
---
Harmony

The Harmony theme offers a stunning design and the ability to play songs that you post from the backend. You can share your upcoming events to easily share information about your next gig. Upload photos from your last concert or sell your own merchandise to boost your income.
An interesting feature includes localization files which allow you to translate your entire website. Choose from unlimited color palettes so you can display your band's colors and rest assured your website will look fabulous on any device due to responsive design. The shortcodes and page templates are rather useful for adding quick columns, buttons, and layouts throughout your site.
---
---
Kontrol

Th Kontrol WordPress theme is from the folks at CSSIgniter and it's ideal for DJs, musicians, bands, and other artists. The theme lets you easily create track lists and post them anywhere on the site. You can manage your events with ease and provide information on the venue and the event cost. Use the huge slider to share pictures of the band and consider implementing a page to showcase all the members of your band.
Make photo galleries and post videos from your most recent events or from a production you did for a music video. Select from multiple color schemes to match your band's brand and play around with custom widgets to connect with your followers via social media networks and more.
---
---
Decibel

Try out the Decibel theme if you're serious about going professional with your music. The theme has a responsive design and has plenty of customization options which make it easy to match your website with your band's style. The awesome custom player is designed to help you create unlimited playlists to allow fans and potential managers hear your music. Manage the event list for your upcoming gigs and display your discography in a media-rich format.
Try out multiple colors and use the nifty Visual Composer plugin to modify the layout of any page or a post. The Decibel theme includes WooCommerce integration so you can sell t-shirts, hats, and other merchandise you have to offer. You can even consider implementing the Slider Revolution plugin to have a sliding reel of your coolest photos.
---
---
Berliner

The Berliner theme is a top-notch music theme with modules for adding videos, images, artist biographies, and more. Run your own little event schedule and try out the custom audio player so visitors can sample and play your music no matter where they are located. It's a responsive theme and looks great on any screen size and the custom widgets are great for connecting on Facebook, Twitter, and other social media networks.
The Berliner theme provides a huge header which allows you to upload a photo of your band and add a text overlay and a button so you can encourage visitors to check out your newest release or read all about your latest tour. The entire theme puts most of the focus on your work using all sorts of media which keep people interested in your content.
---
---
Vice

The Vice theme calls itself the music theme of the next generation and it certainly offers some modern elements, including a one-page, fullscreen layout. Use the Slider Revolution plugin for displaying band or musician photos and implement an events map so your fans know where you are playing next. The video and image gallery is ideal for serving up visual content and the vertical icon menu is the best way for people to navigate your site.
The theme comes with an optional YouTube video background along with a transparent glass design which is sure to make your website stand out from the competition. Vice is completely responsive which means it will look great even on mobile devices and it includes a stunning music player that slides out to cover the entire screen. This is one of the coolest music players we've seen since it has an invisible mode, a hide/show option, and automatic updates depending on your last release. You can easily add an entire album with a few clicks of the button.
---
---
Sura

Check out the Sura WordPress theme if you'd like to sell your own music and create an environment where users can browse your tracks with ease. The theme has a page builder, which is great for beginners who don't know how to code since you can drag and drop elements without programming them. Sura comes with full WooCommerce integration making it easy to sell your digital files and to process payments from customers. Choose from over 15 different page blocks and 10 premade pages and use the albums landing page to share your most recent music. You can also create a custom page to share your upcoming gigs.
Upload multiple songs and albums while organizing them into specific layouts. You can even include multiple artists on your site in case you're more of a vendor or if you play with other people. The album/song filter is one of the best ways to help users locate the music of their choice and various widgets allow for anything from about information to social media links. Change your settings to start playing music once people land on your site and even run your own blog to keep fans updated.
---
---
Encore

The Encore WordPress theme offers a simple and charming way to connect with your fans since it provides an area to highlight a certain album and have it play when people land on your site. The theme shows your albums in a grid format and you can even create single record pages for your most recent or popular content. Create a video library if your band produces music videos and make a social media icon menu to build your social platforms. The widget panel is hidden for when visitors actually want to see it, and the responsive nature of the Encore theme means that your website will look great even on mobile devices.
Encore also includes several other features such as the ability to upload logos and custom menus to make navigation easier. Custom backgrounds are nice for adding a photo of your band while the blog helps you connect with your audience and keep them up to date on everything that's going on with your band. The Encore theme comes with several documentation pages so that you never have to feel lost when tying to build your music website.
---
---
Harmony

The Harmony WordPress theme is a solid choice. It was designed by Elegant Themes so you immediately know that the support is going to be amazing. It's designed just for bands and musicians meaning that the developers added all sorts of fun tools for getting your music online. Create a playlist of your songs and include information on upcoming events. You can even sell merchandise through your own store allowing you to bring in additional money. The image galleries are great for giving people a glimpse into what life is like as a musician. With plenty of customization tools, a solid header area, and responsive design, the Harmony WordPress leaves little to be desired.
The complete localization of the theme makes it easy to translate your website into any language so you can reach an international audience and grow your fans base. The theme options are all managed through the WordPress dashboard. Choose from unlimited colors to add your own style to your website. Use the provided shortcodes to add elements such as buttons and columns without the need to write a single line of code. Along with page templates and an overall stunning design, Harmony offers quite a few features under the hood.
---
---
Music from themify.me

The Music theme is a theme from Themify and it displays a large header image or video, along with a bar so visitors can click on and play your music once they land on your page. Use a text overlay and a button to create a call to action and direct people to your newest album release or to promote your merchandise. The theme has unlimited layout options and includes multiple page templates which ensure your website will look different from the competition and provide variety. Some of the pages include artist information, galleries, and more. Use custom post types to design the website of your dreams and present entire albums to get people interested in your music.
The Events page is rather impressive and it allows you to embed a beautiful map with directions to the venue, pricing information, and other important details. The gallery has six columns and it's setup in a masonry style layout which is a great way to give your fans a glimpse of the tour life. Upload and embed videos and utilize the press page for a list of all the newspapers and magazines you've been mentioned in. The full-width video background is a huge bonus while the animated background colors grab attention and blink to the sounds of your music. Single and multiple page layouts are present in the theme and the custom menu makes it easy to display relevant pages and make navigation easier. If you're looking for a music theme with lots of features and a solid video background, the Music WordPress theme is a great choice.
---
---
Colibri

Colibri is a great choice for busy bands that don't have a lot of time to update their website. Aside from a stunning and responsive design, the theme integrates perfectly with several social media tools geared for musicians to create the majority of the content for you website. The Twitter integration makes it easy to post quick updates for your fans that get shared with your followers and immediately show up on your website. Of course, you can use the blog feature to post longer updates in between tours while the Instagram integration makes it easy to share photos from your rehearsals and tours.
Then there is also SoundCloud integration so your fans can hear your new tracks and finally, Bands In Town makes it easy for anyone to view when and where you'll be playing next. The theme also features an interesting parallax effect which adds extra visual appeal to your website and MailChimp integration makes it easy for your fans to subscribe to your email list to stay up to date. Unlimited colors allow you to start branding your website and Visual Composer Builder makes it possible to design your pages without having to touch a single line of code. On top of that, the theme is fully responsive so your fans and visitors can enjoy your content even while they're on the go.
---
---
Obsidian

Obsidian is a stylish and minimal theme with a beautiful full-screen background image. The homepage is rather simple, with sections to share your recent music videos and dates of upcoming tours. You can also include a brief bio in one of the widgets while another one shows a list of your recent posts. A sticky audio player is displayed at the bottom of the screen that stays in place as your visitors scroll down. The theme also includes stylish social media icons so your fans can follow you on places like Facebook and Twitter. You also get several page templates to show more details about your tour, new album releases, and contact information so agents or potential clients can easily get in touch with you.
On the backend, you can use the Live Customizer to tweak your colors, fonts, upload your own logo, and a background image. You can also customize the details for each individual grid and share a map so fans know where to come to see you play. Displaying full albums and single tracks is also possible. Finally, responsive design ensures your website looks great no matter which device your visitors are using. If you want a simple look but don't want to sacrifice all the features, give Obsidian a try.
---
---
IndieFest

IndieFest is a perfect choice if you're going to make a website that promotes music events. The theme has all the features needed to show all the details about the event and purchase tickets right on your website. The theme works as a one-page layout which pairs well with responsive design and reduces the need to click through multiple pages to find all the information. The header area starts off with a full-width background image with a text overlay and a call to action. This makes it possible to immediately see when and where the event is taking place and to send visitors straight to the section where they can purchase tickets.
Further down, you can provide a detailed description of the event along with a detailed timeline. You can also include a video and a full-featured gallery of artists that will perform at the event. Beautiful pricing tables make it easy to display different pricing packages for the event and to buy the tickets. Include a list of your sponsors and a map of the event's location to round out the design of your homepage. The theme includes stunning parallax sections which make it easy to highlight specific sections and a full range of customization options is found on the backend for the ultimate branding experience. Along with responsive design, the IndieFest theme packs quite a punch so be sure to keep it in mind.
---
---
---
---
---
---
---
---
---
---
---
Legato

Not Available.
Check out the Legato WordPress theme for a feature-rich experience made particularly for musicians and bands. The simple and modern layout includes an events scheduling system which is wonderful for sharing your next concerts and other performances. One of the notable features is the event booking module, where people can buy tickets for your performances and then you can manage all of the bookings on the backend.
Sell all your merchandise with the click of a button and use custom contact forms to allow fans to get in touch with you. WooCommerce helps you set up an online store and your fans can even create their own wishlist which helps you plan your next merchandise product. A vendor commission area allows you to add another level of monetization to your website.
---
---
Wayne

Not Available.
The Wayne WordPress theme is a great choice for musical artists considering it provides an area to create and manage your artists. Upload your own playlists and let your fans listen to the music from the comfort of their own home. An events module is included as well to provide information about your next concert or a gig and the albums section allows you to organize your work
This is one of the few music WordPress themes that has a newsletter feature which means you can grow your email list and use it to stay in touch with your loyal fans. You can even activate a continual audio play feature and set up an online store where fans can buy your merchandise and albums.