In recent years, WordPress has steadily increased in popularity among website owners and bloggers. As a side effect, the platform has become a juicy target for malicious attackers. This, of course, makes increased online security – including knowing how to scan your website for malware – a necessity for website owners.
As a WordPress user, it's vital that you understand which types of threats you'll be facing. You'll also need to become acquainted with the best WordPress security tools out there and learn how to use them. This way, you'll be prepared for any type of attack on your website and your data will remain secure at all times.
In this post, we'll give you a brief crash course on the damage that malware can cause to a WordPress site. Then, we'll learn about a couple of the best security tools available for the platform, and finally, we'll teach you some tricks to keep your site safe in the future.
How Can Malware Harm My WordPress Website?
Malware attacks come in all shapes and sizes, from those that compromise secure information to those that exploit your site's traffic for the benefit of a third-party. It would take volumes to get to know every type of malware out there, so let's focus on the four most common threats to WordPress websites (from most to least likely to occur):
Backdoors. This type of malware enables hackers to continuously access your site's back end. With just a few lines of code, those with ill intent can gain access to all your sensitive information.
Malicious redirects. This attack targets your site's visitors and sends them to unrelated URLs. In a best case scenario, these websites will just be full of sketchy ads, but they might also contain viruses.
Drive-by downloads. A drive-by download – much like a drive-by shooting – can be devastating. This type of attack uses your website as the delivery method for infected files, which are often downloaded and executed on users' computers without their knowledge thanks to security exploits.
Pharma hacks. While this type of attack isn't likely to harm your visitors, it will lead them to outside websites (typically focused around selling pharmaceuticals), which will cause you to lose out on views and potential revenue (in addition to negatively affecting your credibility).
Malicious actors employ a wide variety of tactics to gain access to WordPress sites, such as exploiting plugin vulnerabilities or security flaws in outdated versions of the platform. These two entry points are to hackers as open windows are to robbers. That's why the first step to securing WordPress should always be to keep the entire platform updated.
What Tools Can I Use to Protect My WordPress Website?
As a WordPress user, you have access to dozens of advanced tools that can be used to protect your website from attackers. We've gone over a few of our favorite security plugins in the past, but here's a brief introduction to two of the best options available.


Wordfence is a comprehensive WordPress security plugin that features a live traffic analyzer feature, which enables you to stay on top of unauthorized attempts to access your site.
Furthermore, the plugin comes with a wide array of functions that make it stand out from its competitors, such as:
WordPress firewall. Identifies malicious traffic and stops hackers before they can gain access to your website.
Advanced login security. Wordfence lets you to set up Two-Factor Authentication (2FA) on top of enforcing strong passwords.
Real-time monitoring. Find out who's trying to log into your website.
Security scanning. A must-have feature for all WordPress users – Wordfence enables you to scan your website for malware. Let's find out how.
To scan your site using Wordfence, all you need to do is install the plugin, and a new Wordfence tab will appear on your dashboard. Click on the Scan option and then hit the Start a Wordfence Scan button. Once the plugin is done checking your site (usually in a matter of minutes), it will display a list of issues (if it found any) at the bottom of the page.


This all-in-one security solution provides WordPress users with a wide variety of features to protect their websites, such as:
Firewall protection. Put a stop to harmful scripts before they get the chance to alter your files.
Idle session logout. This feature enables you to close sessions after they've been idle for a long period of time, which cuts down on the possibility of a third-party hijacking them.
Front-end and back-end maintenance modes. Activating the plugin's Maintenance Mode feature enables you to close public access to your website while you're performing critical updates or removing malware.
Sadly, BulletProof Security doesn't come with an option to scan your site for malware. However, it does excel when it comes to actually securing your website in the first place.
If you're serious about WordPress security, you might consider running both these plugins together, since they complement each other rather well.
What Can I Do to Secure My WordPress Website Further?
Once you've scanned your website with the help of Wordfence it should be free of malware, but we're not ready to call it a day yet. We're going to introduce you to a few steps you can take to secure your website even further. Let's find out what they are.
1. Change All Your Passwords
Under some circumstances, it's entirely possible for hackers to gain access to your login credentials undetected. Once one of your passwords is compromised, it might be in your best interest to change all of them, just to be on the safe side. This may seem a bit daunting, but it actually shouldn't take that long. Let's start with your WordPress user password.
Go to the Users tab, located in your dashboard.
Click on your username.
In the Edit User screen, scroll down to the New Password section and type in a new password in the two boxes provided. The strength box will tell you how strong your password is.
Click the Update Profile button.
With that out of the way, you should go ahead and change your hosting account's password as well, just in case an attacker gained access there first. Here's a simple guide on how to change your credentials if you're a Bluehost user. The process won't be the same for every hosting provider, but it should still be quite simple – just log in as you usually would and find the option to change your password, which is usually located within your profile.
2. Back Up Your WordPress Website
If you ever find yourself the victim of a malware attack again, having a recent backup can save you a lot of time and headaches. Backing up your WordPress site regularly won't only enable you to sleep more soundly; it's also great in case something happens to break while you're implementing new features.
There are several ways to back up WordPress manually, but you can always use a plugin to take care of the whole process for you. We recommend UpdraftPlus:


If you're not sure how to get started with UpdraftPlus, check out this complete tutorial to backing up and restoring WordPress websites with the tool.
3. Continue Scanning Your Website Regularly
One of the biggest mistakes you can make when it comes to cyber-security is to only scan your website once you suspect it's already infected. Being on the lookout constantly is the best security advice we can give you, which means performing regular scans should become part of your routine.
We already told you how to scan your website using Wordfence, but if you're ever in a hurry (or you're not a big fan of plugins), you can also use the free Sucuri SiteCheck online tool. This service will scan your website in a matter of minutes and let you know if there's any cause for concern: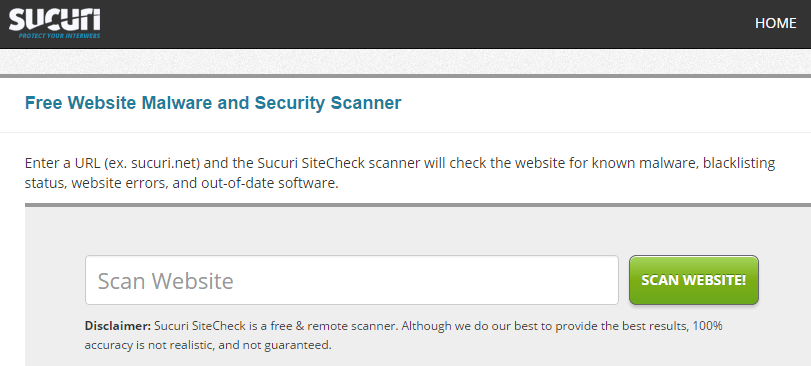 Naturally, Sucuri SiteCheck might not catch everything, but it's still a good complement to the other security practices and tools we've outlined in this article.
Conclusion
If you've ever been the victim of a malware attack, then you know how scary it can be. However, as long as you learn to identify the most common types of WordPress infections, and you know which plugins you can use to scan (and protect) your website, you'll be ready to take on any threat.
Once you've checked your WordPress website for any malware infections using Wordfence, there are several other steps you can take to keep it secure. If you make the time to implement these measures, your site will be ready for any attack:
Change the passwords for your WordPress website and your hosting account.
Back up your WordPress site consistently.
Schedule regular malware scans using either of the tools we covered earlier.
Has your WordPress website ever fallen victim to malware? Tell us about your experience in the comments below!