We've helped many small businesses set up websites over the last decade – it's one of the first concrete steps most businesses take to create a public presence. Typically, the process begins with purchasing a domain name and (far too often) setting up email using an email server provided by the host. Unfortunately, this leaves your business email open to the fluctuations and downtime of the hosting provider.
In this post, I am going to discuss why we now advocate that all of our customers and clients move their email hosting to G Suites for Work, which we feel is the best email service for business, along with an advanced tool for efficient online collaboration.
Gmail For Business
The number one reason to switch from self-hosted email to G Suites is the Gmail interface. Basically, you're getting Gmail for business.
Many business people have a background that includes managing email on Microsoft Outlook. If this is the case, it may feel as though moving away from that software and into a hosted solution will disrupt your workflow. I was one of these people before we made the switch several years ago, and having come through the process I want to make this very clear: YES, it will be disruptive, but only for a few days – then, once you get used to using search and tags rather than a tree of nested folders, you'll find that your efficiency goes way up!

When I began using Gmail for our business, I tried to recreate the nested folder logic using tags. It was hard for me to understand that the search feature could provide the same level of organization without having to do the upfront work of tagging. For instance, when you want to find an email sent to you by Jane Doe, you enter her name into the search field, which will auto-populate with her contact email. Hit enter and all the emails from that contact appear in the list. Now, if you want to narrow the search to a few topics, simply add the topic after her email in the search field and hit enter again. Now the list of emails is narrowed to a handful and you can easily select the one you want.
Use Your Own Domain With Gmail
The basis of the G Suites platform is super-stable, hosted email using your own domain name. If you don't have a domain name you'll want to register one with Bluehost. They offer the cheapest best quality hosting and domain services in the industry. When you go to setup your G Suites apps account, you'll be prompted to enter your domain along with some contact information.
Once the account is live, you'll need to update your DNS at Bluehost (just follow the simple directions provided by the G Suites setup wizard) and create your first users. These users will be assigned an email like name@yourdomain.com, where the name is replaced by their username and yourdomain is replaced with the business domain.
G Suites for Work Security

Security is a big deal and the advanced security options that come packaged with G Suites are one of the reasons I feel it is the best email program for businesses. It seems like every day we hear about a new hack or breach that's compromised personal or financial data. You shouldn't have to worry about whether or not your company's correspondence and stored data is vulnerable to exploitation.
G Suites offers two-factor authentication so you can require that all users in your Apps account assign a secondary authentication method. This ensures that passwords alone are not enough to break into your users G Suites email or storage. It takes only a couple of minutes to set this up, and you'll never regret the peace of mind you get with this service.
Additional Services Included

Storage: Each G Suites account comes with a service called Google Drive. Google Drive acts like an online backup of your desktop files that you can then access from anywhere. Depending on how you set it up, Drive can also act like a shared server that provides shared access to files across your entire organization.

Office Tools: Most businesses use the office tools bundled in the Microsoft Office suite, and while I don't advocate getting rid of your Word and Excel quite yet, I do believe that you'll find you're using them a lot less once you see the powerful collaboration made possible using Google Drive's office tools. Drive comes with a word processor, spreadsheet, and presentation utility that is nearing MS Office in quality and feature richness. But the things that really make tools shine is the ability for multiple users to be working on one document at a time, as well as enabling quick previews of PowerPoint presentations, PDFs, docs, and spreadsheets.

Calendar: Over the years, we've tried just about all of the business calendar options on the market and none rival the Google Calendar in its simplicity and functionality. You can quickly share calendars across users in your organizations and create complex recurring events, in addition to inviting people to events and using Hangout for conference calls, which we'll look at next.

Chat and Hangouts: Chat and Hangouts are the communication wave of the future and depending on your industry, may be the communication preference of the now. We use Hangouts constantly when working with contractors and clients and use chat to shoot quick notes among our team when phone and email are too involved for the task. Hangouts are video calls that also integrate chat, screenshare, drawing and other collaborative tools during the call. PLUS, you can include up to 15 people (!!) on the call at no extra charge.
G Suites Pricing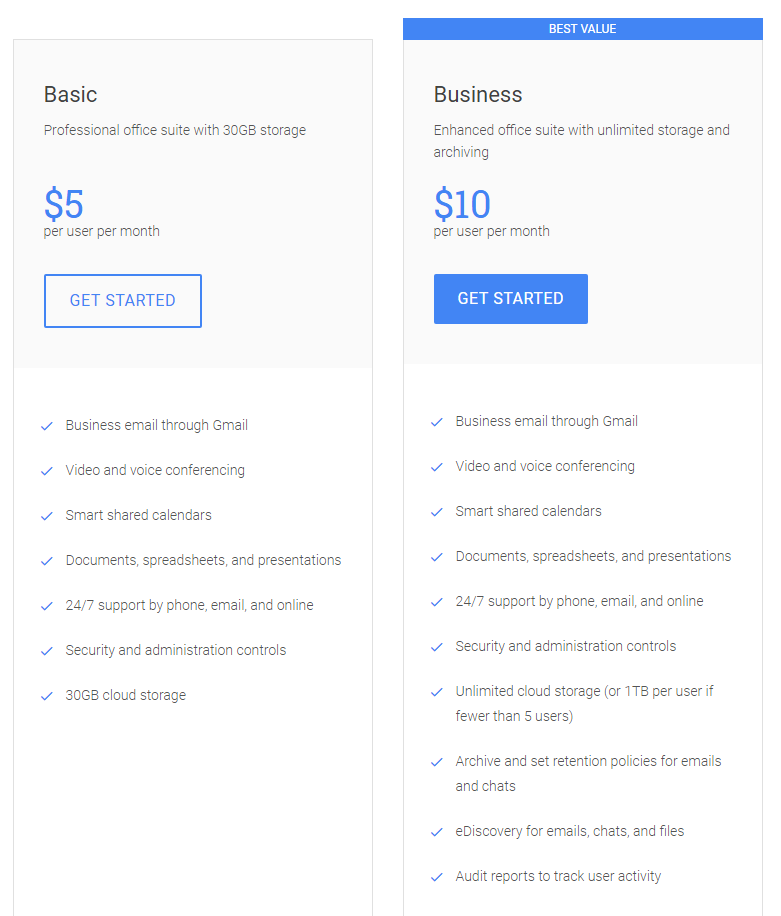 As a startup business, cost control is likely to be a major consideration. G Suites for Work handles this by having you pay for only the number of users you need at any one time. Each user costs between $5-$10 a month and you can add or drop them whenever you add or release human resources in your business.
At the $5 level, you get pretty much all the tools you need to launch your business, along with 30GB of email and Google Drive storage per user. For many startups this will be plenty of storage, but if you are going to be working with lots of images, video, CAD files, PDFs or other large resources, I strongly recommend looking at the $10 unlimited storage level. At this level, each user will get 1TB of storage unless you have more than 10 users, in which case they all truly have unlimited storage. In addition, by upgrading to the unlimited level, your account will include Google Vault for eDiscovery, which means all emails sent by all users within your domain are stored in a digital vault for you to audit if the need should arise in the future.

You will need to purchase your company's domain name before signing up.

Contact me at googleapps@nimbusthemes.com for a G Suites promotion code.

Redeem it here:
Quick Tips – Update April 21, 2015
Recently I worked with a client that was creating a presentation slide-deck that would accompany her on a speaking tour about her area of expertise. When she originally sent the deck to my firm is was in the form of a PowerPoint presentation which is a common file-type that works with Microsoft's office suite. Unfortunately, it's a major drag to collaborate on a PPT file as you end up having to send the physical file back and forth or try to combine two versions after both parties are completed. I suggested to the client that we get her business set up with G Suites for Work not only because it's the best email service for small businesses like hers but also because we could then collaborate on a Google Slides project instead of the dreaded PowerPoint.
The client was thrilled with the email services she was able to access with her G Suites account and she and I were able to both work on the Google Slides project at the same time while Gchatting up a storm and jumping on the occasional Google Hangout. Such an improvement!!