HTML5 is a programming language that might not mean a whole lot to the layperson using WordPress. However, most developers can tell you extensively about the benefits of implementing a HTML5 WordPress theme.
Why is it advantageous for you (whether a WordPress developer or not) to consider using themes built on HTML5 for your sites? We'll explore that before diving into our theme collection.
Why HTML5?
To start, HTML5 is wonderful for meeting client needs, considering it's easy to setup a blog and allow for secure and quick logins for your clients. HTML5 is also extremely efficient, it boosts SEO and its flexibility helps it stand out, with features for drag and drop designing, browser history management, offline storage and document editing.
What Do These Themes Include?
All the themes included on this list are built on HTML5, of course. But most also support CSS3 and are fully responsive, which means they look great on any device, big or small. Beyond that, these themes come with the standard fare by way of features like social media integration, widgets, shortcodes, contact forms, and eCommerce support.
Best HTML5 Themes for Building Modern Business Sites
That said, keep reading to learn more about the best HTML5 WordPress themes to choose from.
---
---
Divi

The Divi theme is the crown jewel for showcasing your services and products since the design components are quite easy to use and the customization options are limitless. The HTML5 WordPress theme uses a responsive design and it includes the famous Divi Builder, which is a drag-and-drop editor and builder. Over 18 premade layouts make the design process simple and the Divi modules allow you to add tabs, contacts forms, text, buttons, and more.
You can even create and manage your own layouts if the premade ones don't look like anything you would like to implement for your business. This is particularly useful for developers who manage sites for clients since you can save layouts and elements for use on other sites.
---
---
Metro Pro

The Metro Pro theme is another HTML5 theme from StudioPress and it is a great choice for a magazine website with a modern design that enables you to share tons of articles every day. The responsive layout has a huge widescreen format so you can add as much content as you can on a single page. The Metro Pro theme includes five color styles which make it easier to choose a color scheme that matches the brand of your magazine.
Six layout options add variety to your pages and posts. The custom header allows you to upload your own logo and the featured images work allow you to upload high-resolution images. Try the landing page template to feature a promotion or a special offer and use the custom menus to help readers navigate through the site.
---
---
Motive

Consider the Motive theme if you need a creative portfolio WordPress theme built on HTML5. This is an advanced, modern layout, with grid-based modules for showcasing portfolio items or images. The theme comes with two color styles and the premium Revolution Slider plugin is included with the theme which allows you to add animations and feature your best photos at the top of your homepage.
Select from three grid-based portfolio styles including grid, masonry, and mosaic. The customizable sidebar position allows you to put modules for social media, recent posts, and tags on either the left side or the right side of your website. With a sticky menu, parallax effects, web-friendly fonts, and a contact form builder, you can't go wrong with this HTML5 WordPress theme.
---
---
Ambiance Pro

To add to the StudioPress HTML5 lineup, the Ambiance Pro offers a stylish and content-focused layout. The theme puts your content at the center stage, using the design elements to bring images, videos, and written content to the forefront. The custom allows you to upload your own image-based or text-based logo and the responsive design ensures your content shines even on mobile devices.
Try out the landing page template to create a sales funnel and customize the typography to best suit your company's brand.
---
---
Fullpane

The Fullpane theme includes touches of HTML5, JavaScript, and CSS3 along with a responsive design. The drag-and-drop page builder is one of the notable features since it allows you to create a completely unique layout without any coding knowledge. The full section scrolling gives your website a unique look and your visitors can see the content on one page.
Keep in mind that the full section gallery works wonders for portfolios and media galleries and the portfolio post type allows you to build a filterable selection of your past works. Use the testimonial post type feature testimonials from past clients and feature members of your team with social media buttons and images.
---
---
Real Estate

The Real Estate WordPress theme has some awesome features, and it's completely built on HTML5, making it an effective theme for anyone. The theme is made primarily for real estate agents and agencies since you can post lots of properties and share information about them or provide home-buying tips. The theme is completely responsive which is an essential feature nowadays. You can completely customize the layout from the dashboard which lets you add different post formats for things like galleries and quotes. The multilingual nature of the theme allows you to translate your website and allow people from all over the world to view the properties you have to offer. Choose from over eighty shortcodes to add buttons, tabs, and columns.
Various color combinations are available and one-step installation is great for both advanced users and beginners alike. The custom widgets allow you to add comment boxes and social media buttons, both of which come in handy for creating a community around your real estate website. The advanced backup is a notable feature not usually found in themes so you can sleep peacefully at night with this theme, knowing your website is getting backed up. Use the sliders for implementing stunning slideshows and customize your fonts. Overall, it's a great theme with quick loading, fancy design, and some cool elements for real estate agents.
---
---
---
---
---
---
---
---
---
---
---
---
---
---
---
---
---
Altitude Pro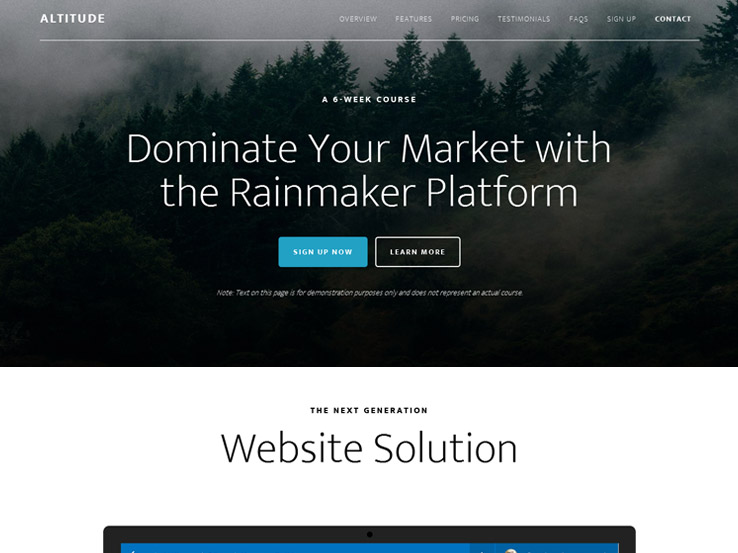 Not Available.
The Altitude Pro theme is a nice theme developed by the folks at StudioPress and the HTML5 theme includes a parallax effect to grab the user attention along with various color styles so you can select a color scheme that matches your brand. The landing page feature makes it easy to add sales and promotional pages and the theme options are extremely easy for even a beginner to manage.
The mobile responsive theme looks great on all devices and it offers a custom header that allows you to upload your own logo. Various modules are also included so you can add information such as pricing, testimonials, and FAQs. It's the ideal WordPress theme to customize for just about any business type.
---
---
Wanderer

Not Available.
Consider the Wanderer theme if you'd like an HTML5 them that allows bloggers to use both words and images for writing stories. All creatives should take a look at this theme since it provides a beautiful area for implementing a large header image. The theme has a responsive design and the written content is placed in a one-column format so that plenty of white space is utilized to put the focus on your articles. The theme includes sample content so you don't have to start the design from scratch and it has a beautiful customizer that allows you to upload logos, change colors, and more.
Photoshop files are included making it easy for more advanced developers to change the design. Various widgets allow you to incorporate several functionalities on your sites, such as navigation, tag clouds, social media, and ads. Use the custom menus to make navigation easy while the translation feature allows you to reach an international audience.
---
---
Vidley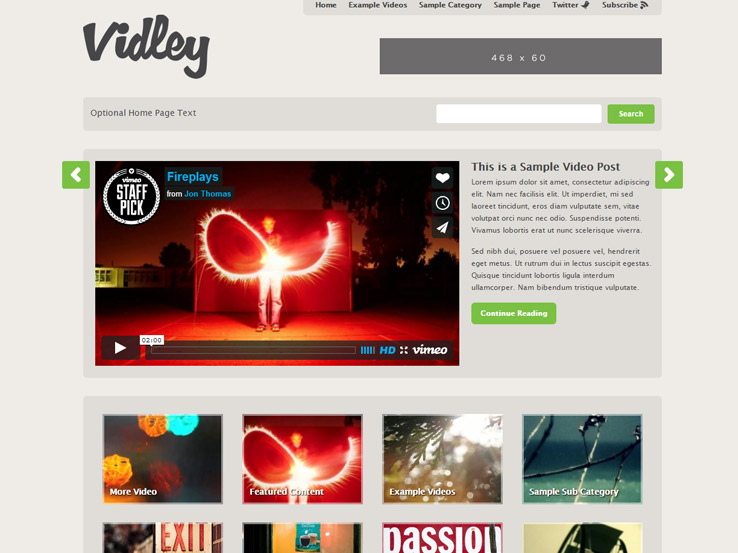 Not Available.
The Vidley theme is a solid choice for those interested in HTML5 themes, considering it combines video-centric features, including fast playback and a clean interface. Change the background and content colors to your liking and upload the sample content to speed up the design process. Ad space is included with the Vidley theme which means you can display third-party ads or sell ad space to monetize your website.
Use widgets to customize your layout and add content that shows your recent posts, archives, featured content, and more. The theme comes with a handy slider and a grid-based area for showcasing your most recent videos and posts.
---
---
Blocco

Not Available.
The Blocco WordPress theme utilizes a unique block layout with a focus on media which is sure to capture the attention of anyone who visits your website. The theme is ideal for blogs, portfolios, and media-based websites. Blocco looks stunning on all screen sizes and it uses widgets to create the layout for your pages.
The infinite scroll feature allows you to show a large amount of content on the blog page without overwhelming the readers. You can even place audio clips on your website to feature your music or podcasts.
---
---
Droplets

Not Available.
For a website that looks clean and unique, consider the Droplets theme. The theme offers a clean and elegant layout that eliminates the clutter and lets your readers focus on your content. Change the fonts to bring elegance to your website since they are highlighted by custom backdrops.
The browser-friendly and mobile responsive theme comes with sample content which speeds up the design and setup process. The Droplets theme is truly minimal and by default it even eliminates the navigation menu, allowing users to scroll with simple left and right arrows.
---
---
Acquisto

Not Available.
The Acquisto is a powerful HTML5 WordPress theme with a responsive design and beautiful modules to showcase your products. The entire theme is meant to work well with videos which means you can include videos from Youtube and Vimeo. The social media buttons are included so you can grow your following on different social media networks. This is a completely eCommerce ready theme, allowing you to set up an online store and sell your own products in a matter of minutes. The WordPress customizer makes it easy to customize the website and the translation tools are handy for translating your entire website. Several custom menus make the navigation more versatile and the widgets allow you to add different content blocks such as recent posts list, category list, social media buttons, and more.
As with many HTML5 themes, this is one of the best platforms for running an online store. The website loads quickly and you can include essential features such as the ability to view and modify shopping cart, manage the account, and more. Your visitors can easily search for the desired items with a prominent search bar. A full slider area allows you to feature new promotions and events. Testimonials are perfect for building social proof, but the best aspect of the theme is the Pinterest-style layout which has been proven to boost the conversion rates.
---
---
Rabat

Not Available.
The Rabat WordPress theme is a theme from the ColorLabsProject and has the HTML5 elements you need to create an impressive website along with some interesting tools for posting coupons. The theme offers a responsive design which assures your website looks great no matter the screen size or the device your visitors are using. The responsive design is a must-have feature for coupon websites. Most of your coupons are displayed in a grid format with thumbnail images and links to more information. This lets people click through and obtain the coupon codes required. A search bar is included at the top of the site which makes it easy for your visitors to find the desired coupon. They can even log in to manage their own coupons and see which ones they have used in the past.
Capture emails with the subscription form and upload your own logo to build brand recognition. The theme has a great dashboard area with management tools built to help you manage the coupons. You can even connect your website with different payment gateways in case you're selling coupons and need to process payments. Custom page templates allow you to add a blog, contact forms, coupons, stores, and more. You can set your own custom color scheme and feature different coupon types. Add a promotion or a printable coupon. The most popular option is a coupon code, but you do have other types of coupons to choose from. Overall, the Rabat WordPress theme has most of the things you need and the HTML5 compliant code makes it that much better.
---
---
Entreprenium

Not Available.
The Entreprenium theme comes from the ColorLabs company and the HTML5 theme is ideal for creating your business website and expanding your online presence. The theme includes a portfolio post type for organizing and displaying your past work along with an image slider and photo gallery for placing additional media elements on your website.
The theme is completely responsive to keep the layout clean and viewable on mobile devices. Not to mention it offers threaded comments to keep visitors engaged and allow you to reply to every comment. Custom shortcodes allow you to add buttons and columns without coding knowledge and the social media integration facilitates growing your following on your favorite platforms like Facebook and Twitter. Along with localization and an automatic thumbnail resizer, you can't go wrong with Entreprenium.
---
---
TechMagazine

Not Available.
The TechMagazine WordPress theme is a great choice for anyone looking to create a tech magazine. It's a stunning HTML5 theme built on the Genesis Framework for the ultimate customization. The mobile responsive theme works on smaller and larger devices and it allows you to choose from either two or three-column layouts. Five different color styles are provided which make it easier to add your own style, while the six different page layout options add some variety your website. The theme also includes three custom page templates.
The theme has a fixed menu at the top and it uses neat typography which improves legibility of your content. The footer widgets allow you to add various widgets such as contact forms, brief author bio, Twitter feed, and more. TechMagazine provides threaded comments which allow you and your visitors to post multiple replies to the same comment. 12 widget areas are included with the TechMagazine theme, helping you implement anything from ads to newsletter signup forms.