Selling online is so much sweeter when you can keep your costs low. After all, a huge part of making profits online is cutting those costs, even though most people would think about improving sales before that. The point is that free stuff is mighty sweet when you're pinching every penny to make your dream business successful.
That's why we're looking at free WooCommerce themes. The WooCommerce plugin is a full-fledged shopping cart solution that you can download for free and upload to any WordPress theme that is built for that particular plugin. It's one of the most popular plugins in the world, and with good reason. You don't have to be a coding whiz to implement a complex shopping cart, and you don't need to pay much money to do so either.
Are Free Themes Worth It
Many argue that the only way to go is a premium theme due to better customer support. However, even free themes nowadays come with a set of features that rival premium themes and some even include a documentation and basic support forums should you need any help. Therefore, if the budget is tight, don't add unnecessary expenses and stick with a free theme.
Why WooCommerce
WooCommerce is hands-down the easiest and the best way to add an online store to your website. The basic plugin is free and allows you to sell both digital and physical products and you can just as easily configure tax and shipping options and collect money via PayPal.
The Best Feature-Rich Free WooCommerce Themes
Without further ado…keep reading to learn about the best WooCommerce themes on the market.
---
---
Sold

Sold is a free WooCommerce theme from Dessign.net. The ultimate goal of this theme is to help you build a robust eCommerce website that provides an enjoyable customer experience. And now, let's get to the details. The Sold theme features minimal design, responsive layout, a full-width image slider, a fixed navigation bar and more. It is search engine optimized and is compatible with the latest version of WordPress. And of course, the theme is easy to customize, meaning you can modify it to fit your liking.
Consider this theme if you love clean, engaging website design and you want your website layout to focus on the essentials: your products and services.
And the last, but not the least: you can use Sold on as many eCommerce websites as you want. So if you like this free WooCommerce theme, then download it right away and start selling books, gadgets, clothing, accessories or other products online.
---
---
Free Toy Store

The Free Toy Store theme is a theme from Template Monster and it has some premium qualities to it. The Free Toy Store theme is one of the more beautiful free themes you can find and it uses a responsive design so visitors can enjoy your content even on mobile devices. Custom post types and formats ensure that your site provides plenty of variety and the translation files help you translate your website into any language or even, create a multilingual website.
The theme includes over 80 shortcodes, feature usually found in premium themes, which allows you to add various elements to your website without ever touching a single line of code. The two-step installation is a nice feature and multiple color options allow you to easily incorporate your own brand. The filterable portfolio is a wonderful way to show off your past work. Custom widgets offer the ability for people to share your content on social sites and comment on your site.
---
---
Free Drug Store

The Free Drug Store theme provides solid visual elements when people land on your website, with a large slider and various buttons and text overlays to send people to the right sales pages. The responsive design ensures your website displays perfectly on all devices and the backend area is perfect for people of all experience levels to modify their sites. Custom post types and post formats are included for adding anything from video posts to testimonials.
Along with translation features and over 80 shortcodes, it's amazing that the Free Drug Store is offered for free. The fantastic slider is an easy way to show off your best images and customizable typography is a great way to complement your branding strategy. A unique feature of the theme is the automatic backup, which isn't usually found in free WordPress themes.
---
---
Artificer by Woo Themes

Not Available.
Artificer is a theme from WooThemes, which is the company that created the WooCommerce plugin. This means that in terms of compatibility, this is the best you can get. The unique features of the Artificer theme include responsiveness and color customization. The custom homepage allows you to display your most vital information such as contact information and popular products.
Various shortcodes are provided with the free theme, meaning you can setup anything from buttons to columns without having to write a single line of complicated code. The theme is marketed as a theme for a jewelry store but thanks to the numerous customization features you can easily adapt it to suit your online store no matter the niche. The Artificer theme is filled with everything you would need for an online store, including a blog feed, contact information modules, and a contact form.
---
---
Mystile

Not Available.
Mystile is another theme from the folks at WooThemes and it offers more of a clean, modern look. The responsive design is completely compatible with WooCommerce and it has a custom homepage where you can add your own widgets and show your blog feed. The customization options allow you to choose from an unlimited amount of colors and incorporate your brand. Two custom shortcodes are included with the Mystile theme. The first is for a sticky note featured on the homepage, while the other is focused on building columns to feature different services or products.
The large header helps display new promotions or ads and the fully-featured blog helps you drive traffic to your website and boosts your search engine rank. Like many other themes from WooThemes, Mystile comes with tons of page templates such as a contact page, full-width page, photo gallery, sitemap or even a timeline. The options are endless with the Mystile theme, so download it today to try it out.
---
---
Shopper

Shopper is a free WooCommerce theme offered to you by Dessign.net. It will help you build a new mobile-friendly web shop or redesign the one you already have. Moreover, you can use this freebie as many times as you wish.
The theme is clean, stylish and easy-to-navigate. It delivers content in a simple and easy to read format, and this is very important if you want to bring your products into focus. This eCommerce theme features a responsive design, a grid-style layout, image hover effects and a sticky menu; also it provides an engaging experience for users. The product pages and the category pages look simple and well-organized. And of course, you can customize the theme in order to personalize your online store.
In short, Shopper is a perfect example of minimalism at its best. It seems to be a great solution for online merchants or WordPress developers who specialize in building eCommerce websites for their clients.
---
---
Wootique

Not Available.
Wootique comes from WooThemes as well, and it's a great, free theme. This is one of our favorite WooCommerce themes since it includes custom widgets, custom colors, a featured slider, and a custom homepage. It's not often that you see a free theme with that many features, so it's worth a shot if you're looking for an inexpensive way to sell items online. Wootique has a fixed width layout, which puts the focus on your products without cluttering the rest of your page.
Additionally, a featured products area is available to play around with and show people which items are best-sellers in your store. Include products that users have looked at recently, and even post a Twitter module in your sidebar. The theme page templates include full-width, contact form, image gallery, and sitemap.
---
---
Storefront

Storefront is a unique theme from WooThemes with intuitive and flexible features. It's one of their best themes and with good reason. The Storefront theme offers a clean layout and lightweight code along with only the essential features.
The tight WooCommerce integration is noticeable and the responsive nature ensures your store looks good on mobile devices such as tablets and phones. The custom homepage template has a sleek white background and plenty of space between elements. You can feature any of your top rated, recent or featured products, and even show testimonials and reviews from past customers.
---
---
Make

Consider the Make theme if you'd like to create and manage your website without touching a single line of code. That's the goal with the Make theme since it provides a powerful drag-and-drop editor so you can easily add various elements to pages throughout your site. In short, this means that you rarely, if ever, have to go into the source code and modify a thing. Although this theme is built to work with WooCommerce, you can also build just about anything you want, from portfolios to gallery websites.
The minimalist blog area is a notable feature since you don't have to put much work into making your content look user-friendly. The responsive nature of the Make theme helps your content look wonderful on mobile devices such as tablets and phones. The Make theme also includes social media buttons and various other integrations with plugins like Gravity Forms, JetPack, and Contact Form 7.
---
---
Optimizer

The Optimizer theme looks like a premium theme so it's hard to believe it's actually free. The header area is beautiful, the buttons look sleek, and the custom background is all you need to grab someone's attention when they land on your site. Two site layouts are included with the Optimizer theme: full-width and boxed. The wonderful image slider is great for sharing promotions or new products, and over 600 fonts ensure your typography is always legible and adds a touch of elegance to your website.
Optimizer is built to work on all devices, and it integrates perfectly with WooCommerce, along with various other plugins such as bbPress, MailChimp, and Contact Form 7.
---
---
Store

The Store theme has some pretty nifty tools to get you started with selling either digital or physical products online. It's a super clean theme with a logo area right at the top middle of the homepage, which is great if you're trying to build brand recognition. The theme integrates with all of the WooCommerce features without any problems. Responsive design is an essential feature, especially when it comes to eCommerce websites. The theme provides a product carousel slider, which is wonderful for featuring new products or highlighting your services.
The advanced options panel helps you customize sidebars, backgrounds, and headers. Change the header and the background to match your brand and use the custom menu to make navigating your website as easy as possible. Implement widgets in the two columns and translate your entire website with the help of translation files. The sticky posts are a nice touch, while the post formats add a little variety to the website layout.
---
---
Shop Isle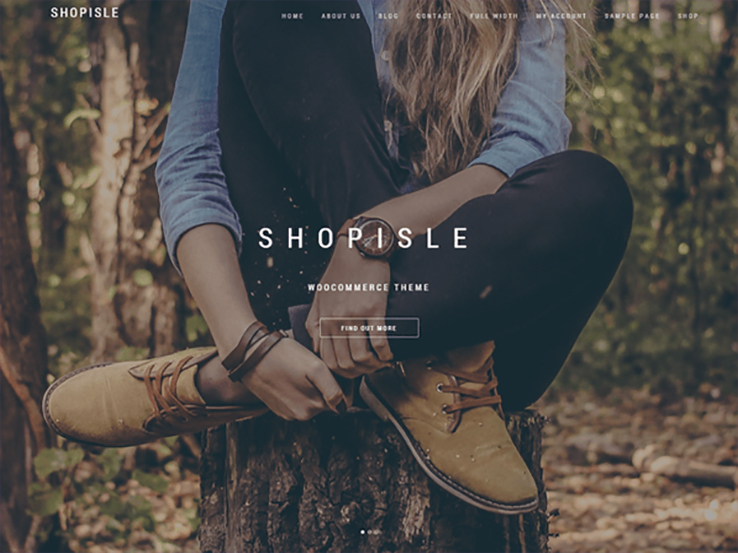 ShopIsle was built by ThemeIsle and it comes with an impressive set of features for a free theme. It has a modern and clean layout which includes sections with parallax scroll, a full-screen slider, a home page, page templates, animation, icons, back to top button, a curtain style menu with animation, and more. It's fully responsive so it will look and work perfectly on any screen size and device. It's also localization ready so you can use it with any language.
The homepage will surely capture the attention of your visitors with a full-screen background and the sticky menu at the top makes navigation easy, yet doesn't detract from the rest of the page design. Below the full-width image slider, there are small sections to showcase your collections and discounts which are an excellent way to encourage visitors to dive deeper into your website.
ShopIsle includes plenty of customization features that are easily accessible through the WordPress customizer. You can modify colors, logo, social links, and individually customize each of the homepage sections. What's more, each of the page templates included in ShopIsle is easily tweaked with the WordPress customizer.
Other notable features include integrated Contact Form 7 which offers your visitors the chance to easily get in touch with you so you can easily stay connected to your target audience all the time. Build trust with ShopIsle's carefully crafted About Page. Letting your audience know who you are and what your vision is an excellent way to increase their trust and create a strong connection with your target audience. Thanks to the theme's About page you can easily do so and include images of you and your entire team to add a human touch to your brand.
All things considered, ShopIsle is a great choice for anyone looking for an attractive theme with plenty of features and customization options.
---
---
PurelyShopping

Another WooCommerce theme worth checking out is PurelyShopping. It provides a quick and simple way to get your products up and selling online. It's not as feature-rich as some of the other themes but it does include a responsive design. This means that anyone who brings up your online shop with a phone or tablet can still purchase items, whether physical or digital, without seeing any problems with the interface. This is especially important for eCommerce websites since many people nowadays use their phones and tablets for online purchases. The majority of the website is completely white which allows your product photos to shine. The theme doesn't include many options to customize the colors but with a little CSS knowledge, you can adjust it to better match your brand.
The homepage is the most important page on the site since Each of your products is displayed with a small thumbnail image and users can easily see pricing, ratings, and links to the actual products. The shopping cart and checkout links are located towards the top of the website and the majority of the navigational menu is already setup for you. The rudimentary slider is nice for showing off your most recent products and promotions. Overall, we recommend the PurelyShopping theme to anyone who wants a simple and clean theme.
---
---
ITek

The ITek theme is is a great choice for a business website that needs eCommerce capabilities. Quite a few settings are included with this small theme. The theme includes four menu locations so you can include all the categories and products without overwhelming your users. It also allows you to place the menu in the most logical place for your needs. The two widget areas include the sidebar and widget showcase. These are handy for adding thumbnail images and buttons for your products as well as adding additional content such as a Twitter feed or recent posts list.
The theme also includes a parallax section below the header. The bbPress support is a great way to build a community around your website or even provide immediate customer support. Along with translation-ready tools, solid transition effects, and a beautiful responsive layout, the ITek WordPress theme has a fairly useful set of features. It's not as powerful as a premium business theme, but with the WooCommerce support, it comes close.
---
---
Asteria Lite

Asteria Lite is a beautiful and responsive theme with two layout options. You can choose between a wide and a narrow layout, both of which look clean and bring your content into focus. The homepage features a stunning slider which is perfect for showcasing your latest posts or your newest products. The theme also includes 3 different page layouts which add variety to your pages. 10 social media icons are included so you can easily build your social media presence and your logo and typography can easily be customized with Google Fonts. On top of that, you can enable Maintenance mode which allows you to customize your site without worrying about visitors getting confused with all the changes as you make them.
The theme can easily be customized from the backend and if you'd like to make advanced design changes you can take advantage of the custom CSS option. Add multiple stunning galleries and easily add a contact form with Contact Form 7 integration. It also comes with Ajax pagination feature which means you can navigate through posts without page refresh. The theme is SEO Friendly which ensures your website will get the initial SEO boost.
---
---
CorpoBox Lite

Corpobox Lite is a clean theme, best suited for personal bloggers or a business website, but thanks to its integration with WooCommerce you can easily turn it into an online store. You can also add an unlimited amount of projects to showcase your recent work. The theme has several flexible templates for the homepage which can easily be customized with built-in custom widgets.
Other notable features include 4 menu locations which you can use to also add a menu featuring your social media links and support for various post formats which allow you to add video, audio, images, and more to your blog. Every aspect of the website can be customized through the Live Customizer, allowing you to see the changes live as you make them. On top of that, the theme is responsive and translation-ready which means it will look good on any device and allow you to connect with a global audience.
---
---
Ornea

Ornea is a beautiful minimalist theme designed specifically with WooCommerce integration in mind to ensure maximum conversion rates. The theme allows you to choose between a one-column or a two-column layout, both of which are sure to make your products stand out. Pair that with large featured images and your website is sure to grab the attention of your visitors. The theme is responsive which is essential for eCommerce websites and ensures your website looks good on any device.
Customization options allow you to change the background, tweak the color scheme, add your own header image, create a custom menu, and much more. The theme is also translation-ready which means you can easily translate your website into any language and allow visitors from all over the world to purchase your products.
---
---
---
---
---
---
---
---
---
---
---
---
---
---
---
---
---
---
---
---
---
---
---
Zerif

Not Available.
Consider the Zerif theme if you'd like to test out a free WooCommerce theme with the potential of upgrading to a premium version. This theme gets as close to a paid theme as it possibly can, with a one-page layout and parallax elements for grabbing the attention of your visitors. Include a full portfolio to impress potential clients and enjoy all the benefits for the responsive design. The Zerif theme is completely compatible with the WooCommerce plugin, making it a perfect choice for an online store.
The header area features a full-screen image and you can add text overlays and buttons to send people to the most important parts of the site. Custom backgrounds and menus make it easier to add your own brand and facilitate navigation. The threaded comments are a great way to encourage user interaction. Translation features make it easy to translate your website and the two columns allow you to show off your content in an organized fashion.