As a car buyer, your options for finding the perfect automobile have flourished over the past few decades. You can go online, check reviews, consumer reports, safety ratings, pricing comparisons, and much more. Not only that, but the internet allows us to customize and purchase cars online, while still being able to connect with the local used and new car salespeople. In short, car buying has never been easier.
Now jump to the other side of the spectrum. The task of getting the word out about your car business has also become more streamlined. The only problem is that you have loads of competition from folks selling cars on eBay, Craigslist, and the various other dealerships in the area. Car repair businesses and towing companies need to keep on their toes as well. Luckily, you don't have to break the bank with a free automotive WordPress theme.
Don't Skimp on These Features
Free themes generally cut down on the features to make the interface simpler and more manageable. That said, car businesses should not skimp on some features. Therefore, the majority of the themes listed below include modules for listing your cars, including pricing, pictures, and upgrades. It's nice to have some sort of eCommerce functionality with a car theme. If not, car repair shops and even salespeople can take advantage of booking tools.
Businesses and Individuals Who Should Think About Getting an Automotive Theme
As the title states, the primary businesses targeted with this article include car dealerships, car repair shops, and towing companies. A few of the free themes can be converted into car forums or blogs, but in general, the themes cater to those selling products or services. Since most of the themes feature pictures, galleries, and automobile product pages, you might even consider the themes for other transportation businesses, like trucking or cab companies.
The Top Free Automotive Themes Out There
We tried to capture the very best themes in this niche. Leave us a comment if you think we missed any that should be included.
---
---
Muscle Cars

A small car business or large dealership will find the Muscle Cars theme rather impressive. We also like it for car blogs, since you can instantly set up a classy-looking blog with large featured images to show off interesting models. The responsive, SMT Framework 2.0 theme supports both Ecwid and WooCommerce, meaning a car dealership could potentially collect payment through the site itself.
In addition, the dynamic content loader, combined with a slider, turns the website into a visual experience. Imagine displaying the hottest new Mustang or a fleet of used cars in the slider. The social sharing bar comes in handy, since so many people talk about cars on social media. Oh yea, and the Contacts page is essential for getting people to send you messages about their interest in your vehicles. Along with translation tools, antispam, and related posts, the Muscle Cars theme looks more like a premium option.
---
---
Car Parts

The Car Parts WordPress theme has a unique set of features for car dealerships and manufacturers, and it all starts with the fullscreen header. Not only can you show a high-resolution image of a recent release, but the call to action buttons go right on top of the header image. This responsive design marvel is one of the more modern ones on the market, with YouTube and Vimeo integrations, related posts, and translation tools.
The demo content serves the car industry, and the Google Maps bring customers to local car dealerships. We recommend uploading a custom logo, while also utilizing the custom drop down menus for a list of all your vehicles. The WooCommerce support means you can sell car accessories or full automobiles through the site, while the threaded comments give your customers a chance to ask questions about specs and features. We also like that the theme provides a social sharing bar, shortcode support, and a custom contact form.
---
---
Engine

The Engine WordPress theme serves as a viable choice for car blogs and forums. We also think it could help out with a simple car eCommerce shop or a dealership. For car blogging, the related posts module is sure to keep people on your site longer. In addition, the antispam protects the site, while the Ecwid and WooCommerce support enables the selling of merchandise. Although we wouldn't recommend browsing while driving, the responsive design works nicely for readers on the go.
A Google Maps shortcode plays its role for local dealers, while the custom sidebars manage more space for widgets like social media buttons and ratings plugins. Going along with the social aspect of things, the theme provides a beautiful social sharing bar, getting your auto articles out into the internet. Finally, the car theme offers custom menus, slider options, translation tools, and a Contacts page.
---
---
carZine

The carZine theme explains a little bit of its functionality in the name, since it's most likely going to be used for car magazines. Showcasing automobile pictures, videos, and articles is the whole point of the theme, so you could also try it out for a dealership or forum. Twelve theme colors come along with the template, so if you'd rather a Corvette red over a Volkswagen Beetle yellow, that's your decision to make.
The column tools improve how you organize your car posts and images. For example, you could go with a one column landing page, displaying information about Tesla's most recent vehicle. On the other hand, you may want to show off a whole combination of vehicles, so the four-column setup might accommodate you better. AdSense combines well for making additional money, and the fixed width display offers a clean and professional format.
---
---
Mechanical

Consider the Mechanical WordPress theme if you're attempting to get the word out about your car repair or towing service. The theme was built for construction companies, but it has all the elements needed for a beautiful website to feature car services. For example, it has an online catalog for posting pictures and details about your services. In addition, the WooCommerce support lets customers pay you before or after the service is complete.
It's essential to have a responsive layout for towing and repair companies, since many people are going to be stuck on the road with their phones. The theme also presents custom menus and slider options, both of which can help guide people through the site and share images of your car mechanics or towing fleets. Along with antispam, a social sharing bar, custom widget support, a Google Maps shortcode, and much more, the Mechanical theme is a must-have for the automobile service industry.
---
---
AutoProd

The AutoProd theme has a more modern and lightweight design, with plenty of free space to keep the focus on your car images. The default design comes in blue, and the slider could serve as a way to show off testimonials, awards, or a car lot with all of your items for sale. The responsive theme supports both WooCommerce and Ecwid. We enjoy this for quick transactions between auto salespeople and the customers.
Furthermore, you can take advantage of the Google Maps shortcode, highlighting where your car business is located. The sidebars make room for any custom widgets, while the multi-color solutions are there to match up your site colors with the auto business logo. Finally, several related posts are shown beneath each blog post. Therefore, if someone reads an article about the new fuel efficient engine in an F-150, they might also be interested in how safe the truck is in another article.
---
---
Gracia

Consider the Gracia auto theme if you're trying to build a website with a feedback form. This means that car dealers, towing companies, and repair shops can all get in on this theme. Other than that, the theme features support for videos, letting you pull commercials or car test clips from YouTube. The slider works nicely for pictures of your best cars on the lot, while the many custom widgets can get you started with social media sharing or recent post lists.
For eCommerce support, you can turn to Ecwid or WooCommerce. Also, the Google Maps shortcode delivers what's needed to get car customers through your doors. The theme has a responsive design for those with only their phones handy. Related posts show up below blog posts, and the custom menus give you the tools to display multiple service or product pages in the header. We also recommend the theme for other features like translations, SEO optimization, and antispam.
---
---
Extar

The bright, attractive design of Extar makes it an excellent choice for a car dealership, auto reseller, or any automotive website. You can feature the latest or best-selling models on the large homepage slider. Multi-level drop-down menu will provide the necessary navigation links to your visitors.
Thanks to complete WooCommerce integration, your customers can finish the purchase without leaving the website. There are several widgetized locations to utilize the built-in custom widgets. Extar also comes with several page templates, integrated anti-spam, social share bar, and Google Maps support.
---
---
ProjectCars

ProjectCars have taken the regular blog layout and converted it into a beautiful automotive theme. That means you can get the best of both worlds by using ProjectCars. Features like multiple menu locations with multi-level drop-down support, several page templates, and custom widgets will help you create a user-friendly automotive website.
The built-in dynamic content loader will ensure that the visitor always has access to the latest content. Your website will look great on all screen sizes and resolutions, thanks to the mobile-optimized design.
---
---
Automobile

The trendy Automobile theme features a full-width slider to showcase high-resolution images of your latest collection. As it is powered by the SMT framework, you can expect an intuitive set of back-end options. Automobile works perfectly with WooCommerce and Ecwid, which means you can have a fully functional online shop.
The Google Maps shortcode will help the customers to find out your location, while the custom social share bar will allow them to share your website on various social media platforms. The translation-ready template makes it possible to create automotive websites in different languages.
---
---
AutoDeal

Autodeal brings a fresh new perspective into the traditional automotive themes. Exciting homepage design, complete e-commerce integration, and fully responsive layouts offer everything you need for creating modern, trendy automotive websites. The SEO-optimized coding will ensure better search engine ranking for your content.
Use the related posts feature to keep your visitors engaged with interesting content. Show off your videos with YouTube and Vimeo integrations. Custom logo, personalized contact form, and Google Maps support will strengthen your branding efforts. Other notable features include several page templates, threaded comments, shortcodes, social share bar, and custom widgets.
---
---
Century

The retro design of Century could be the unique point to make your automotive website more engaging. Don't get confused with the look, as the theme comes with all the modern options for managing your auto website. It is powered by the WOW Framework and is compatible with latest versions of WordPress.
Complete integration with WooCommerce and Ecwid will help you manage inventory, accept payment, set up shipping, and perform any necessary action for your e-commerce site. Other features like the large slider, related posts, Google Maps, dynamic content loader, custom widgets, and shortcodes have made Century a popular choice.
---
---
MotorCars

SMThemes has developed several automotive WordPress themes, including Motorcars. The image-centric design shows the exclusive images on the home page slider, while the regular posts support both featured images and videos. The built-in dynamic content loader and related posts will keep the visitors busy with a never-ending stream of content.
Multiple menu locations, several widgetized areas, and an integrated search feature will enhance the user experience. Visitors can use the social share bar to inform others about this awesome auto website. Motorcars also comes with full e-commerce support, custom shortcodes, multiple page templates, unique widgets, and SEO-optimized code.
---
---
SKT Towing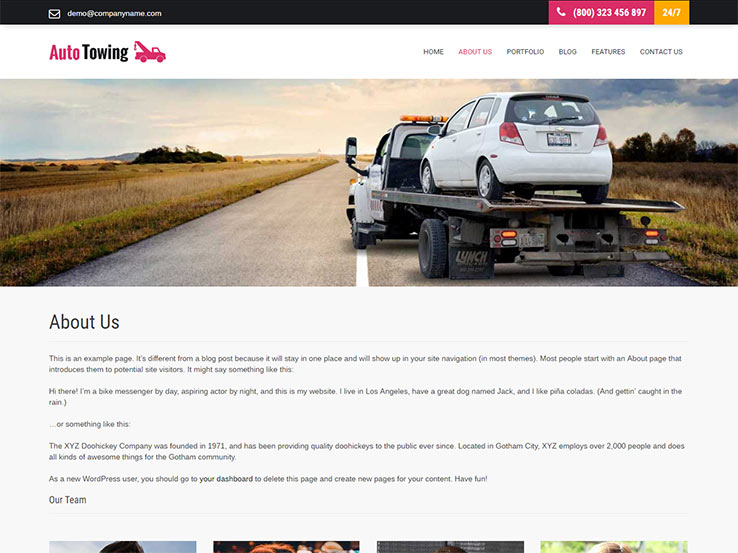 Not Available.
As the first recommendation, the SKT Towing theme delivers a promising layout for towing companies of all sizes. Showing off your towing services is done with imagery and overlaying text, and the mobile-friendly version of the theme means that someone can contact you with their car broken down on the side of the road. Plugin integrations like Yoast SEO get the word out about your services, while qTranslate X connects you with towing customers who might not speak your language.
Some of the other integrations include font plugins, gallery plugins, contact forms, and more. Since you don't have all the time in the world to manage a website, towing business owners get to use the quick and easy WordPress customizer. Not to mention, the slider showcases pictures of your towing fleet. The social media icons spur conversation throughout the internet, and you even get features like WooCommerce integration, sidebar, color changing, and threaded comments.