What is a flat design WordPress theme? Flat designs are those that stand out and look great without all the fancy bells and whistles. This doesn't mean they lack any visual effects. They just lack shadows, embossing, gradients, bevels, and other fancy visuals that attempt to mimic 3D. All of your design elements, including buttons and icons, look spectacular while following a sophisticated minimalist design. They are popular in the web design industry and are considered to be some of the better designs.
Is Flat Design A New Thing?
Flat design has been around for a while and has become more popular over the years. The earlier years of website design attempted to make objects look 3D. They had elements such as shadow effects, textures, patterns, gradients, and other effects. These effects could look good, but they could also look busy and put an unnecessary load on the web server. What's worse is they don't translate well to mobile screens.
Why Is Flat Design Better?
The philosophy behind flat design isn't just doing away with these textures, but also making the flat designs themselves look elegant and vibrant. They lend themselves better to responsive designs. They look better on smaller screens and load faster. Flat designs look fresh and modern.
Best Free Flat WordPress Themes For Modern Business Owners
What's better than flat design themes? Flat themes that are free! Now that we know that let's take a look at 60+ free flat design WordPress themes for 2015.
---
---
Venture Lite

If you're looking for the ultimate free and flat WordPress theme, the best place to start is with the Venture Lite option, featuring a wide array of features and slick designs that look wonderful on all devices. The idea of a flat design is to look modern and simple, and this theme's design includes flat design, along with parallax images which are a great way to attract visitor's attention. The theme includes beautiful social media icons at the top which don't detract from the rest of the page. This is also a one-page theme, which combines well with a flat design to present all the information on a single page with a beautiful, eye-catching design.
The theme has a "latest articles" section in a grid-based layout with plenty of space for your content. The flat module presents your articles in a professional format and displays your articles with a short description along with featured images. All of this is known to improve conversions and it can boost your search engine rank. One final note is that the entire Venture Lite theme is mobile responsive, so the flat design looks great on all mobile devices such as tablets and phones. Overall, the free Venture Lite theme is just that: A free solution with beautiful flat elements for the ideal modern look. Give it a try and you won't be disappointed.
---
---
Simple Business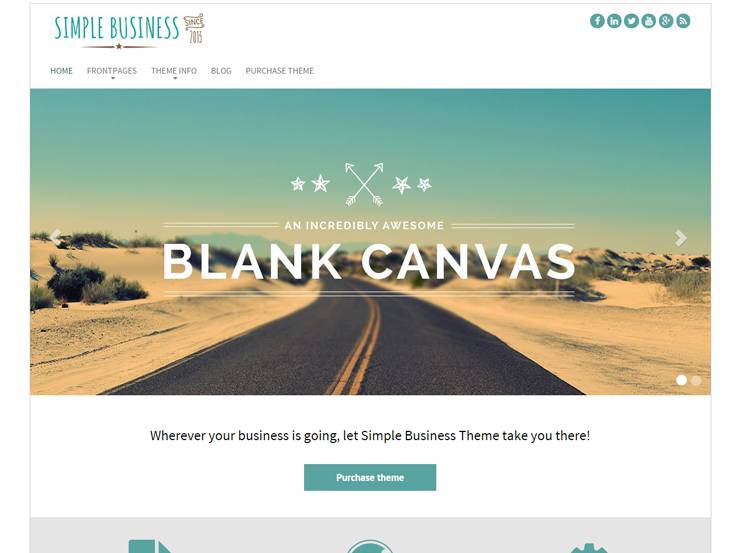 Simple Business is a lite version of the premium WordPress theme and it is a simple and clean theme with a flat design that looks elegant and sharp. It includes multiple page layouts so you can vary the design of your website. It includes basic icons, which include social media icons that look elegant with their flat design. You can choose from hundreds of Google fonts and customize this theme to get the look you want.
You can use HTML elements to build headings, paragraphs, lists, forms, tables, block quotes, and more. It's responsive so it's designed to look amazing on any screen size or device. This would make a great choice for a business website or a blog.
---
---
WP Simple

WP Simple provides a clean and minimal layout with a flat design that makes a nice responsive website. The responsive design looks sharp on any size screen or device and it's based on the latest edition of Bootstrap 3 which is a mobile-first, front-end framework. It includes a full-width page template and custom featured posts. It even has a nice parallax scroll so the background will stay in place as readers scroll down through your content. Social media icons for the most popular social networks are also included with the theme.
The theme has a full range of customizations available. You can customize every color, element, and feature. It's translation ready so it can be used with just about any language. It's SEO optimized to help your website rank higher in search engine results. It looks best for sites with a static front page which makes it a great choice for businesses and portfolios.
---
---
Ember

When it comes to style, the Ember WordPress theme has all the elements you need. Not only does it have a beautiful design, but you get the added benefit of the responsive layout, which means your website will look great even on mobile devices. Also, the Ember WordPress theme features a flat design and it's a complete one-page website for keeping all of your stuff consolidated into one area. The flat design goes well with the responsiveness and the one-page structure making this a highly modern theme. The theme includes a beautiful parallax section which is not usually seen in free themes. Although only one parallax background is provided in the header (and not throughout the entire homepage,) you can still overlay text and buttons for the ultimate call to action spot.
Speaking of a flawless design, the contact form is sleek and elegant, allowing you to customize the fields and make it easy for potential customers to contact you. The theme also includes various other content sections such as a "Meet the Team" area. This is perfect for companies that have lots of people working on the team. Images, job titles, and descriptions allow you to easily feature your partners or team members. Finally, the testimonials module gives your business some credibility, allowing you to display testimonials from past clients. Along with recent post listings, service listings, and various other settings, the Ember WordPress theme packs quite a punch.
---
---
Yolee Lite by Dessky

Yolee Lite is a lite version of the premium WordPress theme and includes lots of nice features that go with its elegant flat design. It includes a nice large responsive slider that gives your site some extra visual appeal without deterring from the flat design. Icons, menus, images, and animations look top-notch. It's built on the Bootstrap framework, so it's mobile-first, and uses clean CSS3 and HTML5 code for the best performance possible. It includes both boxed and full-width layouts.
It's fully responsive and Retina ready so it's sure to look great no matter what device or screen size your readers are using. It's SEO optimized to help your site stand out from the crowd and rank higher in the search engines. It's multilingual ready and fully compatible with WPML making it compatible with virtually any language. The theme also has lightweight code so it won't put a strain on your server and it will load up quickly so your visitors won't have any issues with loading time. It's fully compatible with WooCommerce and would make a great choice for an online store or business of any kind.
---
---
Cirrus

Cirrus is a soft blog theme that was built on the Bootstrap 3, mobile-first, front-end framework. Since it was made with mobile devices in mind it looks amazing on any screen size. Of course, it looks just as amazing on desktop screens. It includes a full-page width template and allows you to display custom featured posts so your content stands out.
It has over a hundred customization options and infinite color combinations so you can create any combination of colors you desire. It's translation-ready and SEO optimized to help you rank higher in search engine results. The clean code helps the site to load fast and put less strain on the server. This would make a great choice for a blog or business of any kind.
---
---
Soliloquy

Soliloquy is a modern theme built on Bootstrap 3 front-end framework. It has several different layout options. You can place the sidebar on the right or on the left and it includes lots of layouts for posts and pages. It's responsive so it adapts well to any size screen. You can even place widgets on the right and left sides of the header. It has dozens of sidebars and widget areas.
The theme options panel has several options for adjusting your website. Most of the options are only available in the premium edition, but you can use example content, adjust text for the logo, set your gravatar, copyright options, banner options, feature columns, adjust content and background colors, colors for buttons, borders, quotes, typography, and more. If you're a more experienced developer, you can add scripts to the header and footer, and add custom CSS. The flat design of this theme would look great as a blog or business website.
---
---
.multi

.Multi is a free flat design WordPress theme that's built on the CherryFramework. It has lots of high-quality premium features that make any website look stellar. It has several post types and post formats. The post types include testimonials, team info posts, services, and more. You can have a different style for each page. It includes over 80 shortcodes so you can add grids, tabs, elements, Google Maps, audio, video, and more. The theme includes a filterable portfolio with three layout options. On top of that, the .Multi has three different sliders to feature your recent posts or latest projects.
It's 100% responsive which ensures your website will look good on screen size. You can perform backups using the built in data management feature. The theme is also compatible with WooCommerce and Jigoshop and WPML ready. Other features include a content map, unlimited colors, advanced typography, icons, and enough shortcodes and widgets to customize this theme any way you want. This powerful theme looks amazing and is an awesome choice for any kind of website you can imagine.
---
---
Business

Business is a flat theme that was designed specifically for small creative businesses. It's completely responsive so it will adapt to any size screen. You can drag and drop images to create responsive slideshows. You can upload your own background images and choose multiple layouts from the custom page templates. Easily create nice portfolios and about pages with full team bios, display a list of your clients and even provide a call to action.
The theme is completely customizable. You can choose from unlimited colors, pick your favorite custom fonts, change header images, insert your own logo, add a favicon, and more, all from the customization menu. You can perform even more customizations from the theme options panel. It's translation ready and includes clean code so it will load fast and smoothly. It's a nice choice for freelancers, agencies, studios, or small online stores.
---
---
Storefront

Storefront is the official free theme for WooCommerce from WooThemes. It works with or without WooCommerce but it does have bulletproof WooCommerce integration. It has a responsive layout so it looks great on any size screen. The theme is flexible with many options for customizations. It has a nestable grid system for multiple layout designs and schema markup to enhance your local SEO performance. The Store theme has a clean code and was built using the Underscores starter theme – the very same theme that Automattic uses for all themes on WordPress.com.
You can completely customize it to match your brand using either the WordPress customizer, a custom plugin, or one of several child themes that are available for it. Its grid design looks elegant and will fit lots of different types of websites including blogs and stores. As the name suggests, this theme was made for eCommerce and would be a great choice for any kind of online store selling both physical and digital products as well as membership sites.
---
---
Portra

Portra is a flat theme that was designed to display portraits in a unique horizontal layout. It makes visual content stand out while making the best use of space, providing an efficient way to show large images. The layout is clean and free of distractions. The elements of the site take as little space as possible in order to place the focus on your content. Even the posts scroll horizontally. It's responsive so it adjusts to fit any screen size or device.
Creating portfolios is as easy as adding a standard gallery to a post. It doesn't require any additional plugins to work. You can make customizations, such as changing fonts or the layout, on the code-level with the well-commented code that's built on em units. This is a good choice to display photography and artwork, making it a good theme for artists, photographers, creative agencies, and studios.
---
---
Point

Flat designs are all the rage these days and the Point WordPress theme doesn't disappoint, considering it offers a fluid, responsive design with tons of flat elements scattered throughout the theme. The theme includes a beautiful header area where you can upload your logo and customize your menu. The pages flip seamlessly between each other and the images towards the header are organized to look flat and grid-based. The social media buttons look pretty modern and are a great way to grow your social media presence. This is a widget-heavy theme, allowing you to add widgets that feature recent posts and search bars. You can also show sponsors, an email signup form, and tags that help visitors find relevant content.
Keep in mind that the entire blog is organized on the homepage, using image thumbnails, descriptions, and titles to make your posts more visually appealing. The blog is great for boosting SEO and it also has a rating system so you can easily add your own reviews. The unlimited backgrounds and color schemes come in handy for incorporating your own brand and the translation-ready nature of the Point theme means you can translate your website into any language. You can also implement ads throughout your homepage to monetize your website.

---
---
---
---
---
---
---
---
---
---
---
---
---
---
---
---
---
---
---
---
---
---
---
---
---
---
---
---
---
---
---
---
---
---
---
---
---
---
---
---
---
---
---
---
---
NatureOne

Not Available.
The NatureOne theme comes from the team at SKT Themes and it's a great choice for companies that may focus on the outdoors or living healthy. The theme has relatively flat design with a beautiful menu and logo area. The slider works wonders for showing off your high-resolution photos and it even provides overlaying boxes with text and links. Shortcodes are available to create anything from buttons to columns and the Recent Work section runs like a portfolio where you can organize images and links into a grid-based format. Plenty of widgets are included with this theme. It has areas to display your featured work, new articles, About Us information, social media buttons, and client testimonials.
The NatureOne theme is built on a responsive framework, which works nicely with the flat design, since everything looks wonderful on mobile devices. Transition effects are provided for the slider and you can include five slides to scroll through and showcase your articles or recent projects. This is a completely WooCommerce ready theme which allows you to easily create an online store to sell both digital and physical products. The best part about WooCommerce is that it connects with various types of payment processors so you can easily collect payments via Paypal or even accept credit cards. Overall, the NatureOne WordPress theme packs quite the punch, delivering a wide range of features and a beautiful design.
---
---
The App

Not Available.
The App WordPress theme is sure to capture the attention of your visitors and allow you to showcase your app in style. This is a theme with a modern and flat design and it presents a mobile app display right at the top of the website. Oh yea, and you don't have to pay a dime to use it. Basically, the theme gives a quick glance into what your mobile app has to offer in terms of features and provides an easy way to download it straight from the store. The theme even has an About Us section which is a great way to add personality to your website. People can view the features that come with the app and much of this is done with the help of visual icons. Upload your logo with ease and utilize various color schemes to ensure that your branding matches up with your logo.
The slider settings on the theme are rather impressive as well, allowing you to upload imagery that then goes into a presentation to make a great first impression on your visitors. The theme even includes a portfolio section where you can upload screenshots of your app or feature other apps you're trying to sell on the website. Regardless, this opens up all sorts of options for when you're building your own little app company. The theme is responsive and includes various blog layouts, default contact forms, and much more. It's the whole package wrapped up into one small theme.
---
---
Zerif Lite

Not Available.
Zerif Lite is a one-page flat theme designed for creative agencies. It has a responsive design to look great on all screen sizes. It has custom contact blocks that include your team, products, clients, about info, testimonials, latest posts, contact form, and calls to action. These blocks look great on the main page. You can create a full-screen contact form so your visitors can contact you easily. You can feature each team member and includes links to their social networks. It has a parallax background with smooth scrolling effects.
You can make lots of customizations from the built-in options panel. Easily adjust your logo, social links, layout, colors, and more. It includes clean code that loads fast. It's localized so it can be translated into any language and it would be a good choice for any creative agency, artist or studio.