How would you describe a cool WordPress theme? Is it a theme that includes bright colors? What about one that offers design elements like parallax scrolling?
Maybe a cool theme has nothing to do with the way it looks but rather how it works on the backend. After all, drag-and-drop editors are pretty amazing. So are custom widgets and shortcodes for keeping your hands free of any coding.
What Cool Means to Us
In the context of this list, cool themes refer to those that are just exceptional across the board. They'd easily land on our "best of the best" list, too. But beyond being full-featured and lovely to look at, they also offer something a little bit extra. Maybe interesting typography choices, a feature that isn't commonly seen bundled in themes or even just a very stylish color palette. What cool means to us varies. But we're hoping you'll enjoy all of our selections.
"Cool" is in the Eye of the Beholder
We can go on and on about what constitutes a cool or hip WordPress theme, so we put together a list that tries to cover all of these elements. Keep reading to learn about some of the coolest themes currently on the market. Some of them dazzle with their design elements, while others provide awesome features for you to geek out about. Enjoy!
Coolest Themes For WordPress Users Available Right Now
---
---
Underwood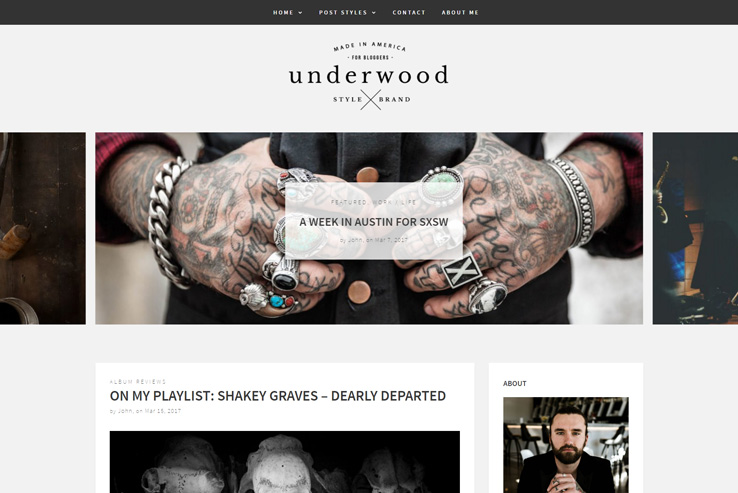 Underwood is a cool WordPress theme that comes with many fashionable and attractive features such as a large logo at the top, a bold front page slideshow to highlight your best content, the option to display a grid-style homepage layout, and nine custom post formats so you can share your content in a variety of ways. In addition to the standard blog post format, you get audio, video, and gallery post styles that work with small and large banners.
To make it even cooler, several tiled Instagram widgets are included with the theme. This allows you to embed photos from Instagram that can be placed above the footer or in the sidebar. Your other social media needs are catered to as well. Easily link to your favorite social networks and make it easy for your fans to follow and share your content on Twitter, Google+, Facebook, Pinterest, and more.
Furthermore, the theme customizer is a joy to work with. Quickly change colors (use the handy color picker), adjust fonts, set your front page display options, and more, all without touching a line of code. And if you'd like to add more functionality to your site, simply use the custom widgets along with the widgetized areas. Last but not least, Underwood is mobile-responsive and search engine optimized.
---
---
Shasta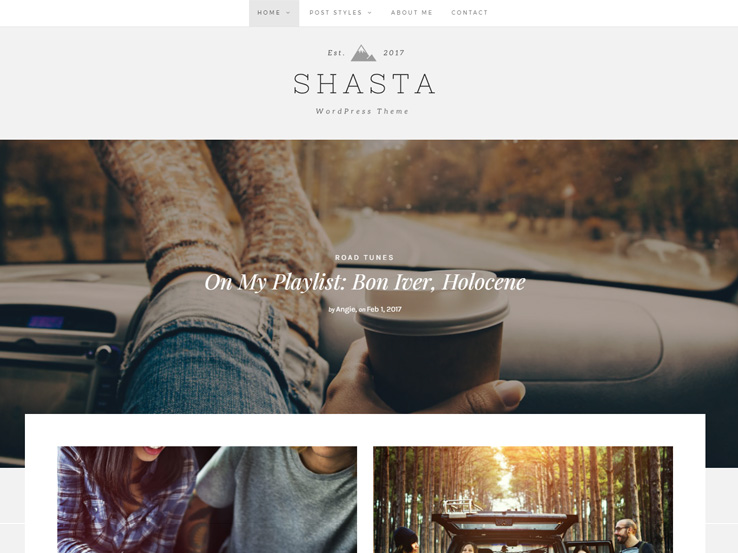 Shasta comes with several home page layouts, each of which features a cool, polished interface. The trendy, modern design is complemented with various post formats to publish different types of content containing audio, video, and images. That means you can use this template to create personal, feminine, travel, writing, music, or other types of blogs.
All customization options are located at the theme customizer section. You can choose your own color, select any Google Font, or make any other customizations, and check out the outcome with real-time preview.
These days, it is all about social media. And since Shasta is one of the coolest themes around, it comes with dedicated widgets for displaying social media links and a live Instagram feed on various widgetized locations. Built-in social sharing options will help you get the social love your content deserves.
The SEO-focused template is developed on the Bootstrap framework, which means your website will offer the same user experience on all screen sizes. It also supports the popular plugins, such as WooCommerce and caching plugins, so you will enjoy a fast page loading speed as well.
---
---
Simple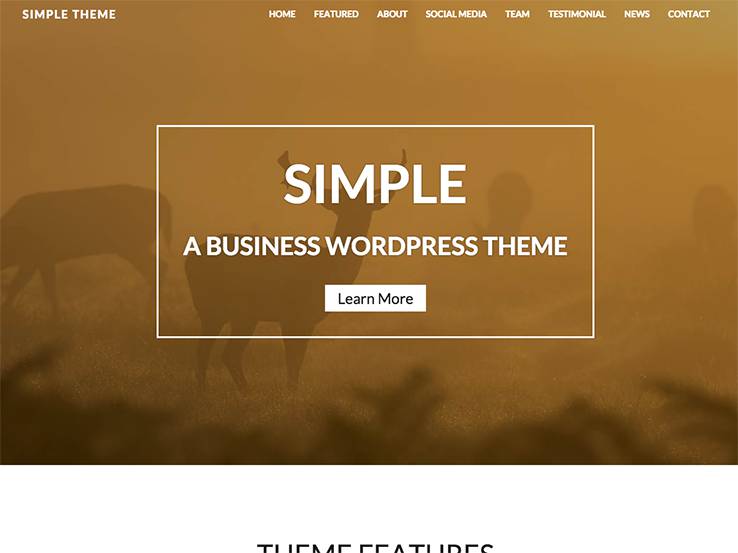 The Simple WordPress theme comes straight from the Nimbus library, and it's as cool as it gets. For example, if you trying to show your website off to friends and family, just bring it up on your mobile phone to quickly display your hard work. All the elements snap into place and look great for everyone to see. In terms of coolness, one of the trendiest things you can do is go with a one-page theme, and that's exactly what the Simple theme offers. A one-page theme ensures that everyone sees all the important information at once, and it compiles several sections to show information such as your team member profiles and testimonials. In addition, the parallax header image supports awesome photos and overlaying text so you can add information about your company. Also, the parallax effect is sure to capture the attention of your visitors and add creativity to your website without slowing it down.
What else is so cool about the Simple theme? How about the theme customizer? You may like to brag about your development skills, but nothing is cooler than quickly pumping out websites with the help of shortcodes, color options, and font solutions. In fact, you can select from hundreds of Google Fonts, all of which look spectacular on your site. All call-to-actions are placed over parallax banners, and they have somewhat of an animation effect when people scroll over them. Overall, the movements, photo support, and sleek design of the Simple theme put it in a class of its own.
---
---
Venture

The Venture theme is a favorite of ours because its coolness resonates with people in all industries. Why is this the case? Well, because the image-based theme provides a flat, modern design and a striking full-screen header image that includes a parallax effect. Not only that, but flat text and a button can be implemented on the header image so you can direct people to your sales pages. After all, what's cooler than making more money? You'll also notice that the Venture theme has a one-page layout, using the navigation menu to send people to the necessary modules throughout the homepage. If someone wants to look at your testimonials, all they have to do is click on the menu item at the top and the website automatically scrolls them down to that area.
The theme also includes beautiful social media buttons, all of which allow you to connect with your audience on their preferred social media platform. Share your product features in a professional manner. Do this by implementing some of the various Google Fonts and Font Awesome icons, both of which bring your site to life with visual elements. Call to actions can be placed throughout the homepage and a "Meet the Team" section ensures that all of your employees get the credit they deserve. Add their profile photo, a brief bio, and links to their social media platforms so people can connect with them on social media. Along with a latest articles section, a contact form, and beautiful styles, the Venture WordPress theme is packed with coolness.
---
---
Lara Theme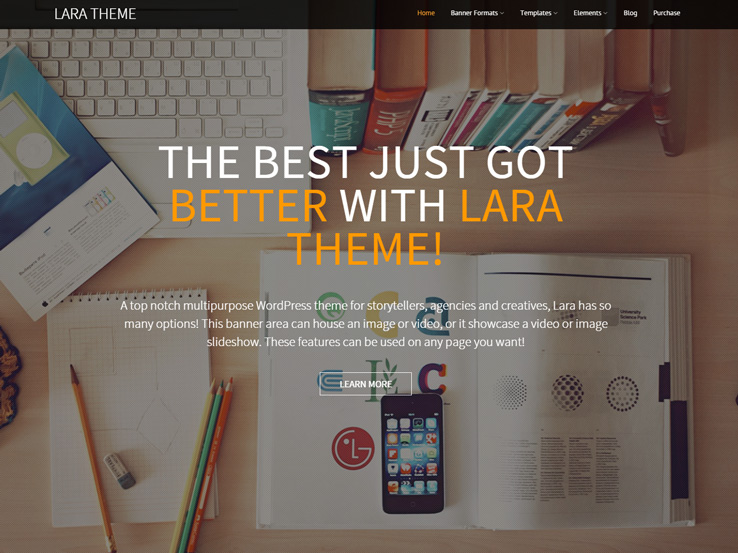 Lara is another theme from the Nimbus Themes library and it offers endless possibilities which make it particularly cool. A large header image works well for companies and designers who are looking to feature a high-resolution image. Videos are supported on any page, which comes in handy for businesses that want to include an introductory video about their company or show what goes on behind the scenes. The header module provides several lines of text and a button which is great for call-to-actions that direct people to your most important pages.
Buy Now buttons can be placed throughout the entire homepage and the best part is that you can add them without using a single line of code. The buttons can be constructed with shortcodes. In fact, dozens of cool items like this can be made with the help of shortcodes. You can add a portfolio to showcase your latest projects and testimonials use quotes and images to build trust in potential clients. The coolest part about the one-page rows is the fact that you can place an image behind any of the sections, which adds visual appeal to your website.
---
---
Divi

If there is one WordPress theme that represents coolness, it's the Divi theme from Elegant Themes. This gem starts with various cool components on the front-end, such as the 18 pre-made layouts that are a great starting point for your design. The responsive design is always a bonus, but the true coolness factor comes with the Divi Builder, which is a drag-and-drop page builder using items called Divi modules.
The Divi Modules allow you to insert several elements on your website, such as images, tabs, contact forms, and more. All you have to do is simply drag and drop them into the editor to see them on the front-end. You can also create and save your own layouts for later, which is great if you are a web designer who wants to duplicate client designs quickly.
---
---
KULA

KULA is one of the cooler themes when talking about the front-end design since it provides parallax scrolling and a huge header image for featuring anything from pictures of your band to artistic works. The menu looks awesome, the social icons blend in well, and the large fonts enable you to really grab the reader's attention. This fully responsive, one-page theme works great on just about any device and Google Web Fonts allow you to add your own style to your website.
The filterable portfolio is one of the best features since it fits in perfectly to show off your most interesting work, and the FlexSlider provides an intriguing way to show off your photos or even feature your products and promotions. The theme even comes packaged with the quote/testimonial slider that allows you to build trust with potential clients and add social proof to your website.
---
---
Space9

Not only does Space9 have a neat name, but the WordPress theme tries to take us to a new generation with some of its design elements. Space9 provides an almost full-screen header image that allows you to add text and buttons to serve as calls to action. The responsive theme has a drag-and-drop homepage, making it easier to create interesting designs without having to touch any code.
The flexible layout options and seven content types ensure that your site doesn't look like a theme that just came out of the box. Not to mention this WordPress theme supports WooCommerce, making it easy to sell your items online. Custom widgets are always a bonus, and the translation-ready nature of the theme means that you should have no problem reaching people all over the world.
---
---
MINIMUM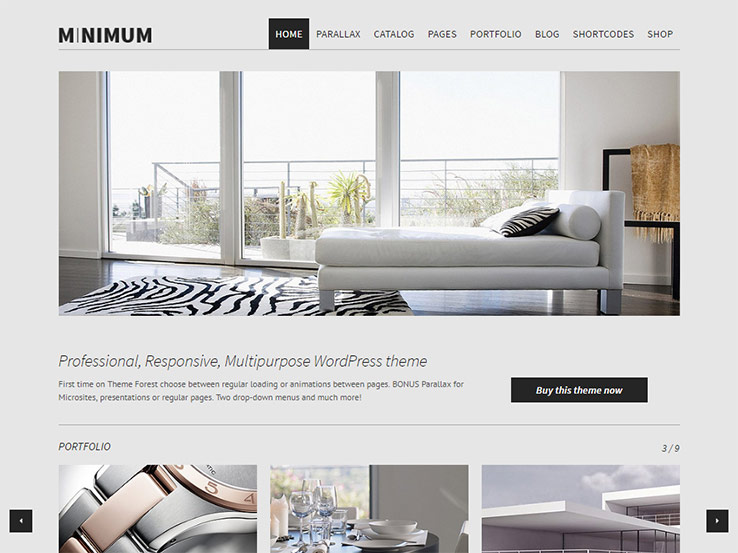 The MINIMUM theme made it on the cool list thanks to its clean integration with WooCommerce. This makes it easy to start selling items online and collecting payments from your customers. The minimalist and elegant design allows you to make sleek presentations and portfolios for your business. You can choose to display Ajax loading animations between pages and the Revolution Slider plugin is wonderful for showing off pretty pictures.
The responsive theme has two drop-down menus, which means you can add lots of pages and links without overwhelming your visitors. You can also select from an unlimited amount of colors, creating the look and feel that matches your branding. The catalog page works well for showing off your products and integrating with the WooCommerce plugin.
---
---
Montreal Interactive

The Montreal Interactive theme serves as a viable option for creatives with visual tendencies. The theme has several header options for fitting all your images at the top of your website and it provides responsive technology so people can view your site on tablets, phones or other devices. The awesome design features six different portfolio styles, which is perfect for those individuals and companies that need to share their past work to bring in more clients. In addition to this, the beautiful typography is a pivotal tool for adding a touch of your brand and style.
The one-click color changes work well for those who don't want to spend too much time managing simple design modifications and the custom logo upload is also quick and easy. Along with custom favicon uploads, the Montreal Interactive theme offers Google Analytics integration so you can track data about where your site visitors are coming from. The full-screen slideshow makes your site look beautiful and the parallax effect is a great step towards grabbing the attention when people initially land on your website.
---
---
QuickStep

The QuickStep WordPress theme has a beautiful layout with solid elements for launching your website as quickly as possible. The theme is built on a responsive framework, meaning your website will look great on any device. In addition to that, the one-page layout is perfect for mobile devices because it minimizes the amount of clicking needed to get to the important parts of your website. The AJAX page loading won't slow down your website, which is essential in today's day and age. This works well with the responsive elements, seeing as how page load speeds are usually a little slower on smaller devices. The unlimited colors and sidebar options are great for those who would like to both organize their content and get some branding done in one fell swoop.
Over 500 custom fonts are packaged into the theme, and you can change the backgrounds whenever you feel like it. The slider area is impressive on the QuickStep theme, considering it has spots for overlaying items and creating an unlimited number of sliders on your website. You can also insert a little slider in a blog post if needed. Some parallax effects add visual appeal to your website while various icons pair well with columns for representing your services in a professional manner. Finally, the theme has a beautiful module for featuring your employees, with pictures, titles, and social media links.
---
---
Port

Port is a responsive, sleek, and stylish theme suitable for agencies and freelancers that have a preference for minimalist design. The theme has several parallax sections that are sure to grab the attention of anyone who lands on your website, but the cool factor comes in the form of the navigation menu. The menu is hidden behind an unobtrusive button and it slides out when someone clicks on it. This puts your content into main focus, which is perfect for increasing conversions. You can add call-to-action buttons on the parallax sections, and the homepage also includes a portfolio section and testimonials from previous clients to build credibility.
A blog section is also available so you can share content with your audience and share useful tips and tutorials or explain your creative process in great detail. A built-in options panel lets you change colors, fonts, and more, and the theme comes with plenty of shortcodes to add elements like buttons and columns without having to delve into code. You can also upload videos from YouTube and Vimeo. Thanks to the localization files and WPML compatibility, you can easily translate your entire website and reach a global audience. This is another reason why we think this theme is cool so definitely keep Port in mind when shopping for your next theme.
---
---
Patti

Patti is a responsive one-page theme with gorgeous parallax effects and a beautiful filterable portfolio designed to showcase your past projects in style. The cool part about the theme is its unique one-page building system that allows you to create your pages in just one step. The theme features a large banner area in the header, which is the perfect place to share a description of your company. Your skills can be highlighted visually with graphs and you can share testimonials from past clients in a stylish slider. Feature people working in your design agency with their bio, job title, social media links, and their photos to add a more personal feel to your website. A contact section includes not only a contact form but your address and physical location. You can also include a Google Map to provide easy directions for all your website visitors.
Integrate a shop through WooCommerce integration and use any of the four blog layouts to share valuable content with potential clients in style. The theme has an advanced theme options panel so you can customize the theme to your liking and it looks great on just about any device thanks to the responsive design. Along with translation files, shortcodes, SEO optimization, and video tutorials, the Patti theme has all the tools for a stylish and cool business website.
---
---
---
---
---
---
---
---
---
---
---
---
---
---
---
---
---
---
---
---
---
---
---
---
Parallax

Not Available.
The Parallax theme obviously includes a parallax scrolling effect, which is the first thing on our list that makes it cool. The one-page theme allows different high-resolution photos for every section of your website, and each of these sections provides areas for elements like videos, text, and buttons. The whole idea is to grab attention.
The site includes widget areas for making your design job a little easier, along with two color variations and a responsive design to ensure your website looks great on any device. The wide layout is one of the best parts of this theme since it lets you place high-resolution photos on the homepage. Not only that, but you can change the header, body, and buttons with over 500 Google Web Fonts.
---
---
Vanilla

Not Available.
Consider the Vanilla theme from Zigzagpress if you'd like a minimalist website. It's a child theme for the Genesis framework, which practically guarantees your website will follow the best coding practices, have a responsive design, and be SEO-friendly. The theme has a large banner area where you can embed images as well as photos to share information about your company in a unique way. The entire homepage is entirely built with widgets so all you have to do is drag and drop widgets into place. This eliminates the need to deal with source code, and it makes the Vanilla theme that much cooler. You can display your services using the three feature boxes below the slider and include a filterable portfolio so your visitors can quickly find relevant projects.
The theme also includes quite a few page layouts and templates, which provide variety for your design. A blog page is also included, which improves your search engine rankings even further when you regularly publish new content. Shortcodes are also available so you can easily add buttons, columns, lists, and more. The theme can be customized on the back-end to integrate with your brand, and social media icons are included so you can easily grow your following. On top of that, the theme includes localization files so you can easily translate your website into any language you want.
---
---
Start

Not Available.
Most creatives will find that Start is a useful theme, with its one-page layout for putting all of your content on the primary homepage. The responsive theme has a beautiful parallax effect, which is wonderful for grabbing the attention when people land on your website. Not to mention, it's ideal for sharing stunning photos or presenting promotions or upcoming events. Along with the parallax effect, the theme's header supports high-resolution photos along with overlaying text and buttons. The buttons and text ensure that you can send people to your primary sales pages. Show off a gallery of your favorite photos and list prices you may have for your services or products.
Along with a contact page, the Start theme has a beautiful blog, which allows you to create free content for your customers and to push your search engine rankings up a notch. The main page includes various sections adding information about your company. Start by generating a sleek portfolio with filters and grid-based images for your potential clients. Some other modules include team member information, pricing, testimonials, contact information, social buttons, and more.
---
---
Cinch

Not Available.
The Cinch WordPress theme is a simple and powerful theme made just for bloggers. The coolness factor may not obvious at first, but items like the stylish quote area and stunning gallery are enough to make your visitors like what you have to offer. The theme allows for video embedding, which is nice for sharing videos from YouTube or Vimeo. You can also post high-resolution photos and include previews of your blog posts on the homepage.
The goal with the theme is to put most of the focus on your content, making it easy for people to follow along and enjoy your writing. You even get a few widget areas for including modules for featured posts, recent posts, About Me information, and more.