I love these custom vector Illustrator patterns. The dandelions and flowers are super modern and colorful. They'd be great on stationery! And what's more fun than Vogue models for old sewing patterns? I used brushes I'd downloaded a while back from RubelCreative at Brusheezy and painted them in Photoshop. Then I dragged them into Illustrator, positioned accordingly, and voila! Colorful vintage pattern girls!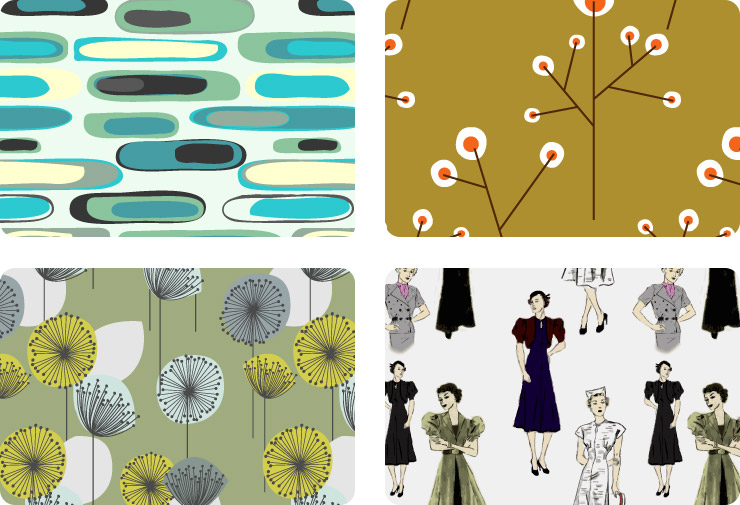 I just submitted a slew of site and logo designs yesterday, so today I was still in design mode and wanted to play around with Illustrator patterns a bit more after giving away free Photoshop and Illustrator patterns and writing a tutorial on how to create your own Photoshop patterns a couple weeks ago. So here are 4 free vector patterns for Illustrator. I think they're better than the last set—still a retro vibe, but more diverse.
It's super easy to make vector patterns in Illustrator once you get the hang of it. The nice thing about Illustrator patterns is you don't have to worry about rasterization, so patterns are clear at any size, no matter how big or small. I'll post a tutorial on how to make patterns in Illustrator soon, so check back.
Read this Before Downloading Patterns
The file is an .ai file, so you can access the vector patterns in several ways. The easiest is just to download, unzip, and open the file in Illustrator. However, if you do only this, the patterns won't be saved into your Swatch Library AND the file will look blank because it's only meant to call up the swatches, so check in your swatches palette first before getting really frustrated at downloading a freaking blank Illustrator file.
To access the patterns all the time and in any document you're working on in Illustrator, download and extract the file, then drop it into Illustrator's Patterns folder. In Windows, this is in your C: drive under Program Files => Adobe => Adobe Illustrator => Presets => Swatches => Patterns. This way, the vector patterns will be part of your swatch library and you can call them up anytime. To locate the patterns, click on the drop down menu on your swatches palette, then select Open swatch library, then hover over User Defined….
There are so many ways to use these patterns—the possibilities are endless! You can use Illustrator's Magic Wand tool to select and change specific colors within a pattern, add backgrounds, effects, and more.
This work is licensed under a Creative Commons Attribution 4.0 International License. Please link to this page when providing image attribution.