Whether you're building a fashion blog or simply trying to show off your own cool styles, a WordPress theme is generally the best place to start when it comes to showing the world what you can do. Fashion websites are not only for the writer or picture taker, since you may have an inclination to sell products through your website. In that case, you'll need functionality such as an online store. Regardless of what type of website you'd like to build, WordPress fashion themes are around to help you out.
Why Should You Consider a Free Theme
However, many folks don't have the cash to get started paying for hosting and themes. After all, most bloggers only begin their journey as a hobby, while small companies are not always suited to make many investments right off the bat. That's why it's important to take a look at some of the free WordPress fashion themes before opting for a premium solution. Why? because sometimes the free versions look and perform just as well as a theme you would have to pay for. On the other hand, these themes are free, so it doesn't hurt to try them out and see if they fit with your brand.
What Are The Features of Free Themes
Even though they are free, that doesn't mean they lack in options. They include various customization options to brand your site and all the tools you need such as sliders, widgets, contact pages, and galleries to showcase your content in style and encourage readers to share your content on social media.
Stylish Free Fashion Themes
Keep reading to learn more about the best free fashion themes for you.
---
---
---
Galea

Check out the Galea theme if you'd like a fairly modern option with WooCommerce compatibility. This is great because you can start selling anything from dresses to eBooks about fashion. A dynamic content loader keeps your site loading fast while the custom sidebars have the power to work with widgets and organize your content. The Galea theme comes with a Google Maps shortcode which is a handy feature for those companies that have a physical location. The responsive design helps those people who want to view your website on mobile devices, while the custom widgets are easy to make and implement.
Share your related posts in different color shades and prevent spam from getting onto your website with the Captcha feature. The theme has custom menus, along with the fact that you can create sliders without any problems. Several translation options allow you to expand your brand internationally. The contacts page has everything you need for customers to contact you with any questions they may have. Along with a social share bar, you can also use the shortcodes to add various elements to your site without touching any code in the process.
---
---
Fashionista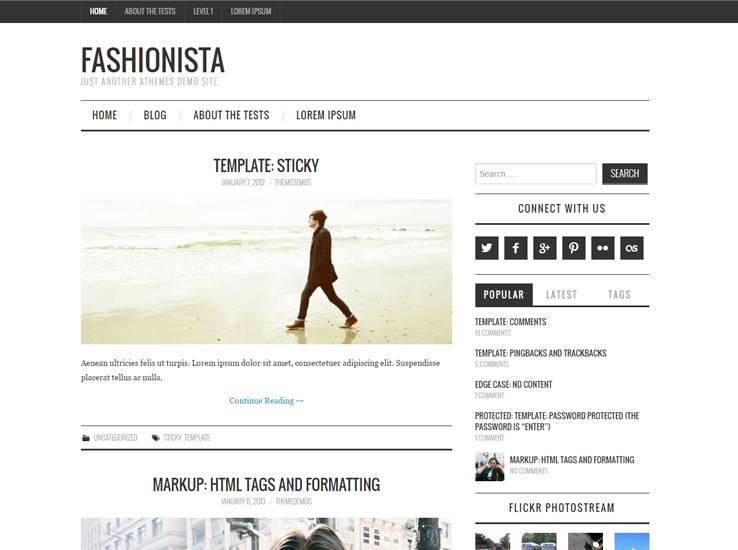 The Fashionista theme provides a minimalist touch, using lots of white space and beautiful flat icons. The social media buttons are included, and the search bar is just one of the many handy widgets you can place in the sidebar. The Fashionista theme is completely responsive and looks great even on mobile devices. You'll also get Google Fonts, color options, and threaded comments. A favicon upload module makes it easy to brand your company, while the custom widgets are all about organization.
Overall, we like the Fashionista theme because it cuts it down to the bare essentials, but the functionality is still similar to that of a premium theme. Consider this one if you're about to start a fashion blog since it puts all the focus on your content.
---
---
Fashion - Template Monster Theme

Fashion is a professional free WordPress fashion agency template with a multi-purpose layout, which can be used for fashion, beauty, art and photography websites, as well as for versatile creative portfolios. The theme has a minimal layout, with the homepage featuring a stunning gallery of your projects. Each of the projects provides a stunning hover effect which shows a brief description. The theme is built on top of Cherry Framework which allows you to customize every aspect of the website and includes a vast array of features such as sliders, filterable portfolio, and intuitive navigation.
Over 600 Google Fonts and more than 80 shortcodes are available for the ultimate customization. The theme is also search engine friendly and has a responsive design. On top of that, it comes with translation files so you can easily translate your website into any language and reach an international audience.
---
---
Tesla - Free Theme

The Tesla theme is a beautiful solution for those who are looking for a clean and responsive theme that can be used for just about any fashion website, since it has elegant stylings and a clean map with custom contact icons. The custom background is also a powerful feature for a free theme, considering you may want to show some interesting clothing in the background of your website. The theme includes an upload area for your logo, while the social buttons allow you to connect with your audience on their preferred social media platform.
The Tesla theme has several custom widgets for display in anything from recent post lists to Instagram galleries. The Tesla theme provides a responsive design which helps with those who prefer using their mobile devices, while it also has a main page slider which is ideal for showing off your best content. A filterable portfolio is offered, and several built-in shortcodes enable you to keep your hands out of the code. Social media support is a huge benefit in this free theme, and it's pretty amazing how many features are packed into it. Along with YouTube support, an AJAX contact form, a Flickr gallery and Google web fonts, you can't go wrong with the Tesla theme. It's truly a beautiful way to show off your fashion sense.
---
---
Elite

The Elite WordPress theme offers a beautiful layout with a large header area for talking about what your company does. A blog is included so you can share fashion tips with your customers and boost your search engine rankings. You'll find social media support in the form of sharing buttons and several custom widgets can be placed in the sidebar for organization. People can browse your website while on their phone or tablet because the entire theme is responsive.
WooCommerce integrates beautifully with the Elite theme, allowing you to sell just about anything through your website. We enjoy the multicolored related posts, which keep people around on your site in style. Anti-spam is integrated into the theme through a Captcha module. Custom menus are nice, while the slider options allow you to show banners for your upcoming events or products. Translation tools expand the market you can reach and the contacts page gives your customers an easy way to reach out to you and ask any questions about your fashion products. Along with shortcodes and a social bar, the Elite WordPress theme is definitely worth checking out.
---
---
Pronto

The Pronto theme is a useful theme if you enjoy a masonry gallery for organizing your fashion photos nicely. Several simple shortcodes are included and the Contact Form 7 support is ideal for those who want to connect with their readers. The clean and minimal design puts your content front and center, while the threaded comment support makes it easy to reply to comments and encourages conversation. You can easily upload your own logo to build brand recognitions and a responsive layout makes it easy to view your website on any device.
Featured image support is a handy feature, but the true standout feature is the navigation menu which sits over to the side, allowing you to place widgets and menu options off to the side. This is very unique compared to many of the other themes on this list, so it's worth looking into if you'd like to stand out from the crowd.
---
---
ElegantSpike

The ElegantSpike theme has a bit of a magazine feel to it, but this works nicely for fashion themes since you can implement various blocks of images and links, sending people to product pages or blog posts about latest fashion trends. This is a theme with Adsense ready modules, which is a great way to start monetizing your website. A Gravatar helps with identification and the video/gallery panels provide visual pages for releasing content.
The nested comment support is rather essential in a fashion theme so your visitors can share their opinion on various styles and reply to each other easily. Several widgets are available for having featured, popular, and recent posts in the sidebars. A search bar makes it easy for readers to find content they're interested in and you can even upload your own logo. The menu is also customizable which means you can make sure your readers have an easy time navigating your website.
---
---
Dresses

The Dresses WordPress theme is an elegant theme and it provides WooCommerce support and beautiful colors, starting with the default black shade. The theme allows you to easily change the colors of your website so you can use your brand colors. The theme includes plenty of interesting design accents which are perfect for the fashion industry, while the related post area ensures that people spend more time on your website reading related content. The Anti-spam area has the tools needed to keep the hackers out and custom menus allow you to change what's shown on the navigational area.
Dresses is a completely SEO-ready theme and it has a nice slider for showcasing some of your best items or content. The translation options make it easy to translate your website and the contacts page makes it easy for your readers and followers to get in touch with you. Shortcodes are around so that you never have to touch a line of code while designing. This is nice because you only need to implement a shortcode for things like buttons and columns, both of which would take a while to code if you didn't have those shortcodes. Finally, the Dresses WordPress theme provides a social share bar that encourages users to share your content on platforms like Facebook, Pinterest, and Twitter.
---
---
Matala

Check out the Matala theme if you'd like a highly stylized theme with lots of colors and beautiful patterns. The theme is completely free and it displays your entire blog feed on the homepage. The header that comes with the theme is customizable so you can brand it to your own liking. You can upload your own design with logo on the backend. The single image pages are interesting for fashion blogs, considering you can add blog posts that feature individual styles and clothes. Random photo galleries are helpful for adding a showcase of recent fashion photos, from fashion shows you attended or your own outfits-of-the-day photos. These galleries are generated in a random fashion, so every user that comes to the page will be able to experience their own little show.
The sidebars and widgets are useful for all bloggers because they let you organize your content. The widgets are easy to manage and each of the widgets can be dragged and dropped wherever you want. The Matala theme supports seven post formats, which we really enjoy because you can share a variety of content with your audience. An author bio is included with the theme as well, in case you have more than one author on your website. You can also use it to share information about yourself. The infinite scroll is a solid bonus and the featured images help you generate interest for your blog posts. Overall, the Matala WordPress theme is exactly what you need to get your fashion site off the ground.
---
---
Magnifique

Magnifique is a minimal responsive WordPress theme that lets your content shine. It's a great choice for fashion bloggers since it includes beautiful featured images. The navigation menu is also minimal yet still easy to use so your readers will have no problems navigation the site. Endless color possibilities allow you to add your own brand style to your website and various features such as contact forms, infinite scroll, and others are available through JetPack. On top of that, the theme has a clean and minimal code which ensures your website will load fast.
Magnifique includes a powerful theme options panel which lets you customize every aspect of your website and it even includes translation files for added convenience. A responsive and retina ready design will ensure your website looks great on all screen sizes and resolutions.
---
---
Fashion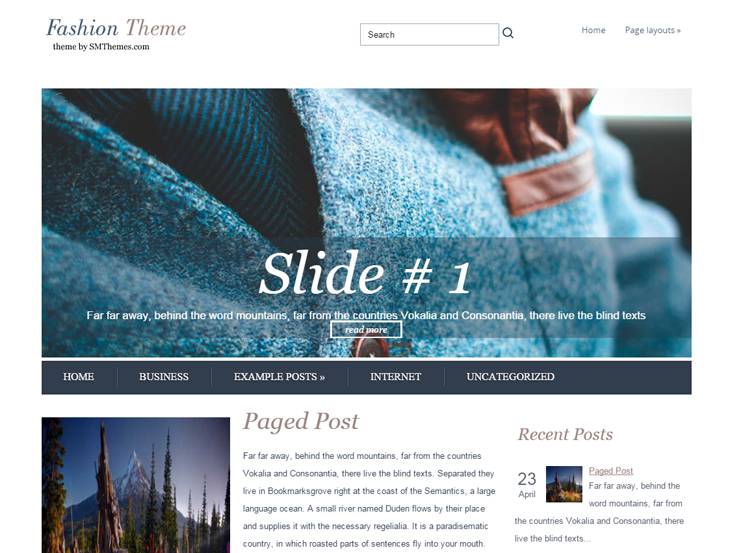 Fashion is sure to capture the attention of your visitors thanks to the elegant slider in the header area which is perfect for showcasing your fashion projects or your latest posts about the fashion industry. The theme has a clean design with plenty of white space to allow your content to shine along with featured images in every post. These encourage visitors to read the full post. Change your colors, upload your own logo, and sell your fashion creations straight from your website.
The theme is built on the SMT Framework which gives you essential tools to customize your website without the need to write a single line of code. The infinite scroll feature allows you to add as many blog posts to your homepage as you want, without overwhelming your users. Responsive design is a must-have feature nowadays and custom widgets allow you to add extra content to your sidebar or the footer.
---
---
---
---
---
---
---
---
---
---
---
---
---
---
---
---
---
---
---
---
---
---
---
---
Oblique

Not Available.
Oblique is a free, masonry theme, that can be manipulated to emulate a fashion theme for designers or bloggers looking to share the latest trends. With its elegant design – slanted lines, beautiful typography, and professional, clean feel – this theme makes for a great fashion-forward website that the hippest readers will want to visit every day. And, since it was created to display your website perfectly on all devices and screen sizes, your loyal followers will never miss a thing, even if they are on the go.
Engage readers by directing their focus to your best content in the form of a custom-styled sliding sidebar menu. And, if you are sharing fashion, beauty, hair, and makeup trends, this type of navigation will keep your readers on track for what they want to read about. Lastly, rest assured only the cleanest code has been used during development for added security and faster web performance. In the end, your fashion website will look as good as the celebrities that walk the red carpet.