As the web design world moves towards simplicity, it's interesting to see all of the new website elements that come out of these changes. From flat designs to one-page layouts, designers are starting to understand how certain simple and clean parts of a website are actually more desirable than items used in the past. A prime example of this is the fullscreen website. It brings focus to call to actions, clears out the clutter, and can improve website conversions.
Seeing as how so many people are trying to make websites like this, it's helpful to have fullscreen WordPress themes on your side. This way, you can grab a template you think looks great, install it, and get to inserting your content. We love working with fullscreen themes for many reasons. Not only that, but lots of companies can take a fullscreen layout and turn it into something beautiful for their users.
Fullscreen WordPress Themes and What To Look For
Since fullscreen themes are designed for drawing eyes to important words, buttons, or images, you need a theme that delivers the fullscreen area in an elegant way. So, when testing fullscreen themes, go to the demos to see if they load up quickly, move fluidly when scrolling, and snap into place when on mobile devices. It's also essential to have easy, overlaying items like buttons and text boxes. Otherwise, your fullscreen design is just going to be an image or something else that's not that customizable.
Who Might Need a Fullscreen WordPress Theme?
The easy answer to this would be anyone, but that doesn't help out much. We think fullscreen themes have the unique ability to grab, and hold, attention. Therefore, they come into play for businesses and blogs trying to capture email addresses or announce new things like products or events. For example, a band could use the full-screen area for announcing new shows, while an eCommerce store might consider displaying news products with buttons to the landing pages.
Have you ever used a fullscreen WordPress theme in the past? If you've found one that has worked well for you, feel free to share a link in the comments section.
The Best Fullscreen Themes to Choose From
---
---
ShopIsle

With the ShopIsle theme you receive a beautiful and elegant layout, with a fullscreen, modern homepage that has smooth scrolling. The theme provides animations that only add to the elegance, along with a responsive design for making the fullscreen theme look great on phones and all devices. The theme has social links so you don't have to go out and grab a third party plugin to do the same thing. In addition, you can translate the text for your target audience.
Besides the fullscreen area looking wonderful, the ShopIsle theme has an easy contact form for keeping in touch with your customers. Along with that, you gain access to a built-in About Us page and a spot to showcase your products. This is one of the better fullscreen solutions for eCommerce stores since your products can be organized in different lists and carousels. Oh yeah, and you get a cool parallax effect.
---
---
Magnus

The Magnus theme comes from the folks at Just Themes, and it offers an incredible fullscreen layout with bold typography. The hidden menu can be shown if a user clicks on the menu icon, once again simplifying the interface and clearing out all of the clutter. This is a photo-friendly design, making it ideal for bloggers, photographers, designers, and agencies. The catchy appearance comes together with grid-like posts on the homepage, where the featured post serves as a large header.
The Magnus theme has a responsive structure for mobile devices and the slide-in menu only comes into view whenever someone clicks on the button. You can adjust this menu to lead to different pages, and the header is completely customizable. Furthermore, the theme has translation features just in case you need to change the default language. It's not a bad theme for all types of blogging, since you can announce the meaning of your page upfront, then lead into clean and beautiful blog posts.
---
---
Alium

The Alium theme has a less overwhelming header area than many of the other themes on the list, making it more suitable for a regular small business website. It's completely free if you don't mind ads, but a premium version is available to get rid of those ads. As for the features, the theme delivers a fullscreen image slider, which then leads into the full blog. The theme supports both Ecwid and WooCommerce, so enabling an eCommerce shop is no problem.
The Google Maps shortcode combines nicely with the Contacts page, and the fullscreen layout still looks great on mobile devices. The theme allows for a simple structure, but you can also fill in all sorts of content with custom widgets and sliders. The social sharing bar gets the word out about your content, while the translation options can translate your text into other languages. Along with related posts for your blog and custom menus, the Alium theme has a solid feature-set for businesses.
---
---
RetroPress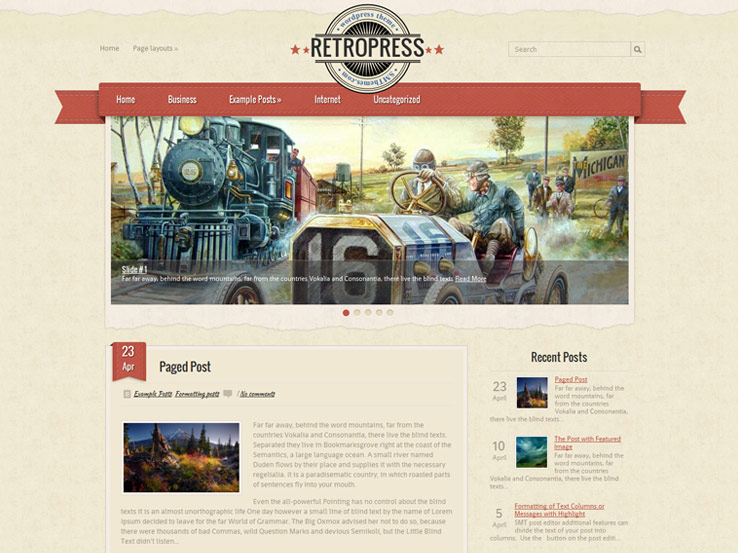 The RetroPress WordPress theme provides (you guessed it) a retro design. It's built to evoke nostalgia from your users, so you might create a blog or eCommerce store for vintage goods or even something as obscure as a train hobbyist forum. The theme isn't completely fullscreen, but the slider takes up much of the screen, along with the sidebar and blog. Keep in mind that you have the opportunity to implement a separate slider plugin, so expanding to a true fullscreen is possible.
The theme provides support for Ecwid and WooCommerce, and the responsive design ensures that your online store and fullscreen design show up nicely on smaller devices. We enjoy the custom menus for guiding people to the right content, while the antispam setting keeps the bad guys away from your site. Each of the blog posts show related content to keep people reading for longer, and the special Contacts page with Google Maps shortcode gets people to send you messages.
---
---
Ascreen

The Ascreen theme features an elegant full-width slider that will capture attention immediately visitors land on your site. The slider contains text overlay and buttons to direct users to your sales pages, offers, and other important pages. This one-page theme is a great choice for businesses looking for a free, clean, and simple solution to launch their website.
Clean code means your site will load faster, while the fully responsive design offers a smooth and seamless browsing experience to your visitors on smartphones and tablets. Other theme features include custom backgrounds and colors for branding, and multi-language support so you can easily reach a global audience.
---
---
Screenr

Screenr is a professionally designed one-page theme suitable for any kind of business. The slider covers the whole screen and draws attention to your call to action text and buttons so you can quickly direct people to the important sections of your website. Like most one-page themes, Screenr uses beautiful parallax background effects to make your site more captivating and interesting.
In addition, the template comes with custom content blocks for presenting different sections such as services, testimonials, clients, gallery, and more. It also includes a blog section to share your expertise and generate more traffic, a contact form for people to easily get in touch, and an intuitive theme customizer that provides live previews of the changes you make to your site.
---
---
Hestia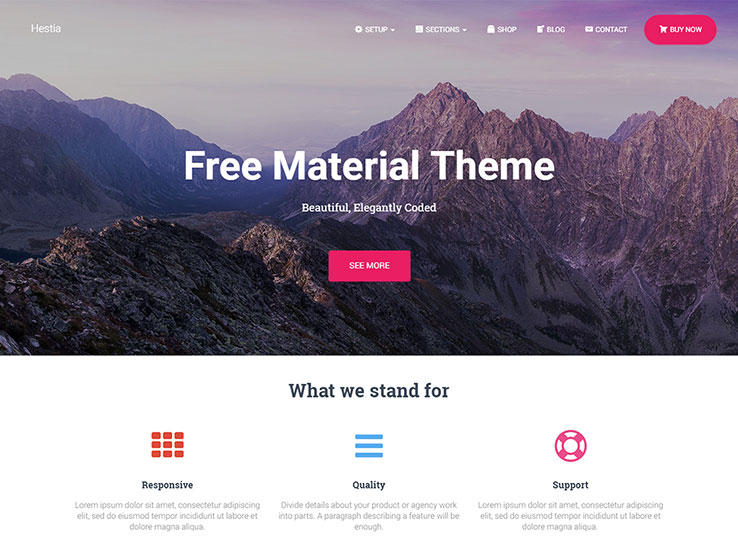 Hestia is a simple and clean one-page website making use of your website's entire screen. In addition, it boasts being the number one material design WordPress theme adding to the simplicity so many website owners are seeking these days. Draw your readers' attention into your content or online shop by creating a custom header complete with an image, video, or even a slider. Moreover, build your website's layout to match the organized feel you are striving for using the SiteOrigin Page Builder plugin.
If you are trying to build your email list or boost your online sales, Hestia is a great option for you. WooCommerce integration, responsive design, mobile-friendliness, clean code for fast page loading, and SEO optimization all add to you attracting, engaging, and retaining site traffic. And, with the live preview feature the Theme Customizer provides, you will always know exactly what your site will look like before publication.
---
---
Vega

With the Vega theme, you get a simple, minimalist solution for your business or portfolio website. The front page features a lovely fullscreen banner that can be used to display your welcome message or highlight your most important content, a featured content section, and prominent call to actions to encourage people to transact with you.
WooCommerce support means you can easily set up an online shop for your products, while the responsive design offers a seamless browsing experience for users on mobile devices. Besides, you can easily customize the template to match your style and translate it into other languages.
---
---
BusinessElite

The BusinessElite theme provides a stylish option to showcase your products, services, and portfolio. This is a simple and clean one-page theme that features a brilliant fullscreen slider, complete with call to actions to drive visitors further into your site. You'll find a featured content section, a portfolio module that displays your work in a beautiful grid layout, and a blog to share your knowledge and improve search engine rankings.
Users can easily get in touch with you using the intuitive contact form provided. Additionally, this template is mobile-friendly and easy to customize. You'll also find social media icons and translation files in case you want to change your site's language.
---
---
Sauron

Designed by Webdorado, Sauron is a mobile-friendly WordPress theme with a clean and flat design that many modern businesses love. We like it for a fullscreen theme because it comes with the option for fullscreen lightbox slideshow that's great for showcasing your products and services. Besides, the theme is fully customizable so you can configure it to match whatever kind of business you run.
The multi-language support makes it easy for you to reach a global audience, while the social media options encourage people to follow you and share your content with their friends on different platforms. Also, the Sauron theme is compatible with many popular WordPress plugins, meaning you can easily expand your site's functionality.
---
---
Pago

Consider the Pago theme if you're looking for a refreshing way to present your business or portfolio. It features a cool design with a dark color scheme that makes it easy for users to interact with your content, a featured slider for highlighting important information, and a sidebar that you can use to display things like your recent posts, advertisement banners, and social media links.
Use the blog to share your knowledge and attract more people to your site. Furthermore, you'll find page templates to get you started with creating your pages, a well-organised theme options panel for customizing your site, and localization files so you can easily translate your site to the language of your choice.
---
---
Panorama

Not Available.
Try the Panorama WordPress theme if you feel the need for interesting animations in your header area. It works like this: The entire header is made up of vertical images, all of which come into focus with slight animations when scrolled over. The image-friendly design stands strong for those interested in sharing lots of photos. So we would recommend it for photographers and designers, or even companies with a handful of products they would like to share on the homepage.
An icon pack and over 650 Google fonts are there for constructing the look and feel of your visuals and typography items. You can make up to 10 slides and utilize the shortcodes for quick buttons and columns. The theme includes a default gallery, which comes in handy when making a portfolio. Not to mention, the default contact form looks smooth and to the point when inserted on your website.
---
---
I am One

Not Available.
The I am One theme seems to have it all. Not only does it provide a fullscreen interface, but the theme has a one-page design, a beautiful parallax effect, and a responsive element to top it all off. As for one-page themes with the fullscreen structure, this is one of the best you can find. It comes with various rows on the homepage, such as areas to talk about your employees, services, and testimonials.
Since the theme is fullscreen, all of the focus goes towards the center, allowing users to scroll down and quickly digest all of the information in a reasonable manner. Other than that, the theme includes up to 10 slides at the top, along with header and footer widgets in case you need more room for content. The icons pack comes in handy for visualizing your services and products, while the over 650 Google Fonts make your text look better.
---
---
Full Width

Not Available.
The Full-Width WordPress theme certainly has a fitting name. It's an option that comes in both free and premium versions, allowing for you to test it out and upgrade if needed. We like it best for a portfolio since the vertical menu remains in view at all times, yet you can have a beautiful fullscreen slider moving between images right behind the menu. Not only that, but an actual portfolio page is built into the premium version.
Each page takes up the entire screen, but once you get past that feature, quite a few other options are there to play around with. For example, you can adjust the slider settings and use shortcodes, all without touching a line of code. Change around the font sizes, and utilize the over 650 Google Fonts for a more pleasant look. The theme is responsive, and it comes with a default contact form and gallery, both of which are essential if you're trying to bring in clients with a portfolio.
---
---
Zerif Lite

Not Available.
Zerif Lite features an eye-catching homepage fullscreen banner complete with text overlay and buttons to drive visitors further into your site. Perfect for businesses of all kinds, the template comes with sections for your team members and testimonials, as well as a mobile-optimized contact form for people to easily get in touch with you.
Besides, the Zerif Lite theme supports eCommerce, allowing you to quickly setup an online store to sell your products. You'll also find a simple white menu to help visitors find the content they're looking for faster, smooth parallax scrolling effects, and a clean and simple blog to share your knowledge and generate more traffic to your website.