Whether you are looking to collect user feedback, create client questionnaires, customer satisfaction surveys or contact forms, you will at some point need to generate a form for your website. Now, you probably know there are a ton of plugins and paid services that can help you achieve this, but before you wander off to plugin land, consider for a moment an alternative solution: Google Forms. These free, basic forms are a cinch to integrate into your site, and today we're going to walk you through exactly how to embed a Google form to your website and get the most out of the data collection process.
So yes, plugins abound for this sort of thing. But Google Forms is a free service, and you're not adding another weighty plugin to your site, keeping security up and page load times down. Plus, a plugin really just adds bulk and time to an already quick form generation process. All you really have to do is build your form via the Google Forms service, then embed the code into your site. And if you're deadset on customizing the appearance of your Google form even further, we've included a great plugin that can help here, too. But first, let's go over the features of Google Forms, then go through step-by-step the process of creating and integrating a simple form.
What is a Google Form?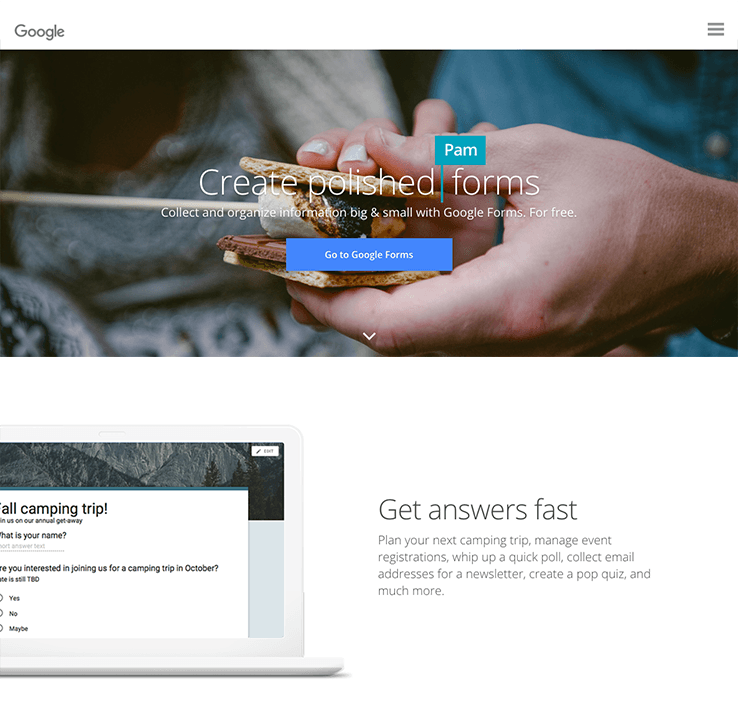 Google Forms is another free tool from Google that allows anyone with a Google account to create various forms, display them, and collect data that is then populated into a spreadsheet. A number of templates are available that you can use to expedite the creation process, or you can start from scratch. Every form you create is easily accessed by users through any browser via shareable links, and considering they are also responsive, your readers or clients can enter data even if they are using a smaller device. And as Google is quickly becoming a mobile-first search engine, making sure every piece of your website is responsive can make an incredible difference in how your site appears in the SERPs.
When drafting your form, questions can include multiple choice questions, radio buttons, and time and date fields. You can also allow users to submit text or longer, paragraph-style answers. All user results and submissions are stored in your Google Drive, where you can download the data to your desktop, or save it in a Google Sheet for advanced analysis and continued population. Just like Google Docs and Sheets, you have the ability to share your forms and collaborate with others, making this tool a crowd pleaser.
So let's take some time to really dig in to the form creation process…
How to Create a Simple Google Form
Creating a new Google Form is rather easy. One way of creating a form with Google Forms is to log in to your Google Drive and then click on New > More > Google Forms.
This will take you to a blank Google Form that you can immediately start customizing. Alternatively, you can start by going to Google Forms in your browser, where you have the option to select a template or start with a blank form.
In this scenario, I've chosen a blank template that will be a simple form asking readers for feedback about our website. Once selected, the initial form will include a sample question that can be edited by clicking on it and typing in your own question.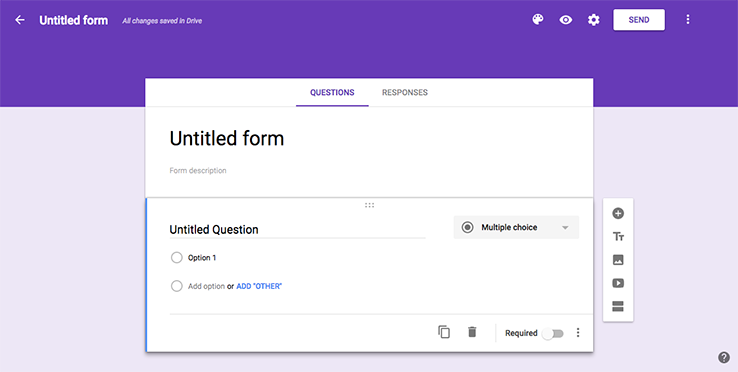 You can add more questions by clicking on the + sign in the small sidebar on the right, and you can change the type of question from the very same dropdown menu. Also available include regular form elements like questions and checkboxes, or a variety of additional options like YouTube videos and images.
Once all your questions have been added, go ahead and click on the Responses tab. From there, you can choose to download all the responses in .csv format or select a destination for the form submissions.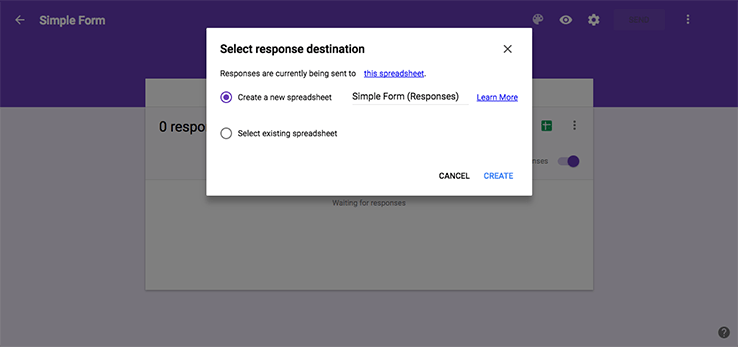 Choose to link the form to an existing Google Sheet, or create a new one. In this example, I've chosen the option to create a new spreadsheet.
From there, you can enable email notifications so that each time someone fills out your form, you will receive an email.
Once your form is set up, you can click on the Settings icon to toggle additional settings, which include collecting email addresses, allowing users to edit their response after submission, turning the form into a quiz, and more.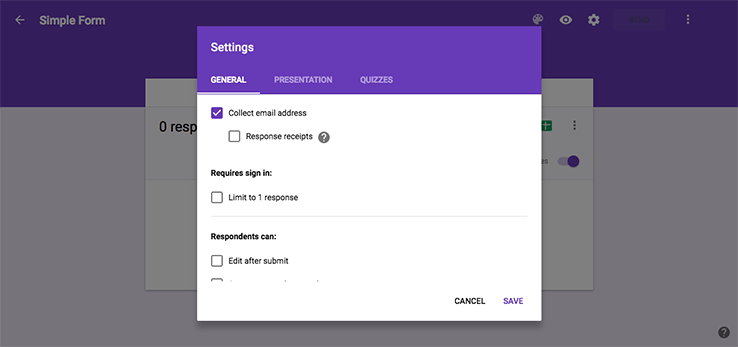 You can also easily tweak the appearance of the form. To customize the form to match your branding, click on the palette icon. The options allow you to choose a color, select a pre-existing theme, or upload your own image.
When you're happy with how your form looks, you can click on the Preview icon to see what the actual form looks like.
How to Add Google Forms to Your Website
Now that the form is all complete, there is only one more thing left to do – add the form to our website. As with everything else WordPress-related, you can do this manually or you can use a plugin. Let's go over both methods.
Embedding the form manually
Embedding the form is pretty straightforward. After you have created and customized the looks and functionality of your form, click on the Send button. From here you can either email the form, share a link to it, or embed it. Since we want to add it to our website, let's choose the embed option.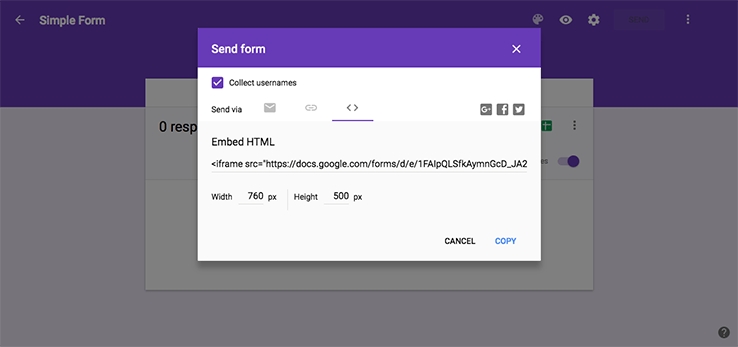 You can specify the width and height of your form, and then copy iframe code. Once you've copied it, navigate to your WordPress website to embed the form. You might want to create a new page for the form, or embed it onto an existing page. Either way, once the page editor loads, make sure you are in the text-editing mode (top right of text editor, you will see a "Visual" or "Text" option – select "Text") and then paste the code you just copied. Click on Update or Publish and your form will be live on your website.

Keep in mind that your readers and clients will see the Google Form exactly as it appears in the preview mode. It will also include links to several Google's services.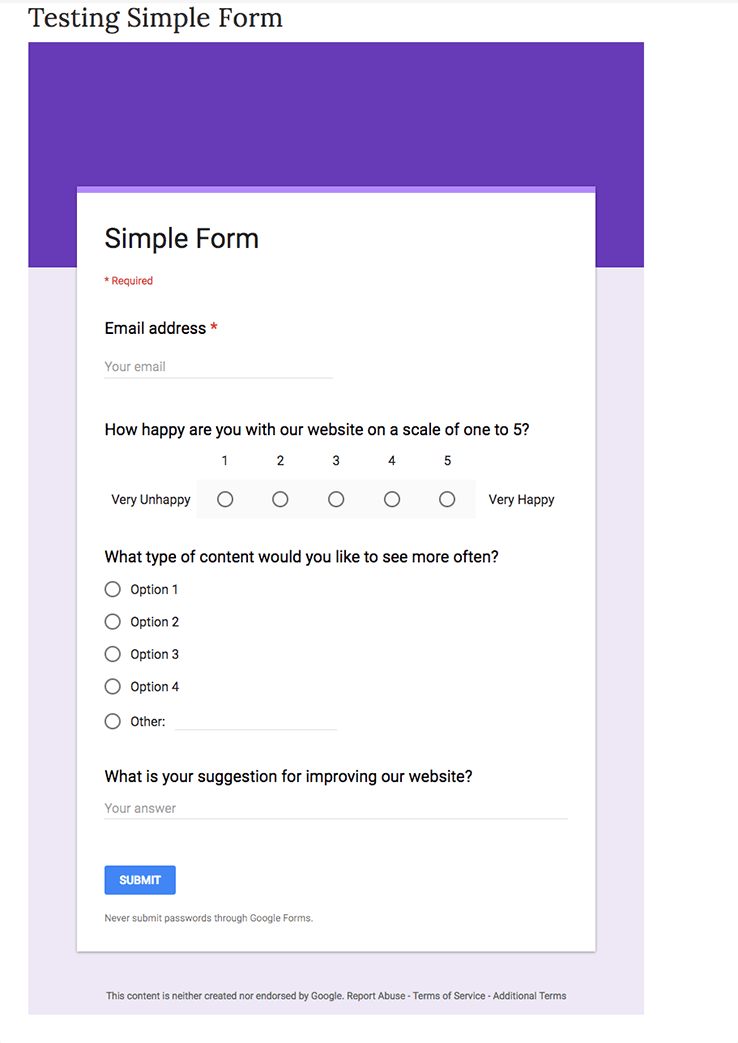 Using a plugin
If you'd prefer to have more control over the appearance of your form, then using a plugin is your best option. In this case, we'll be using the GoogleForm plugin, available from CodeCanyon. It's a premium plugin that you can purchase for $16 – a worthwhile investment if you rely heavily on Google Forms.
The GoogleForm plugin will allow you to add both single and multipage forms AND completely customize the look of the form so it blends seamlessly with your website. It also gives you full control over form dimensions, and you will still be able to collect the responses in a spreadsheet and get email notifications each time a submission has been recorded. Mobile notifications are also possible and there is no limit to how many forms you can add.
After purchasing the plugin, it will download to your computer. In your WordPress dashboard, click Plugins > Add New. Click on Choose file and then locate the zipped plugin folder on your computer. Click Install and then Activate to enable the plugin on your website.
Go back to your Google form, and assuming you have created the form already, click the Send button and select the link option.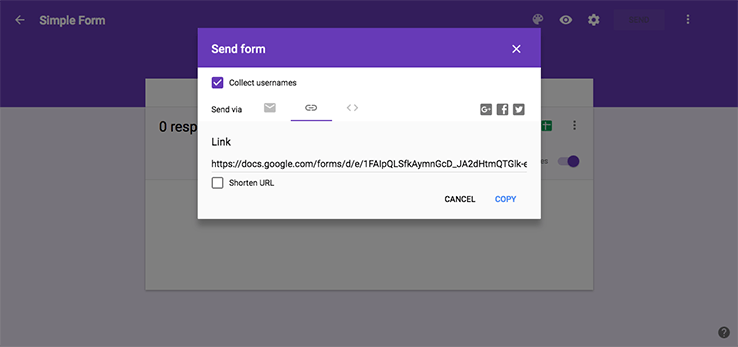 Copy the provided link and then migrate back to your dashboard. You should then see a new item in your sidebar called Google Forms. Select Add New and then enter the name for your form. Scroll to the bottom of the page, paste the link to your Google Form, and click Publish.


Once your form is published, select Google Forms > All Forms and copy the generated shortcode for your form. Select a page where you'd like to embed your form or create a new one and the paste the shortcode into the page editor. Finally, publish the page and your form will be live on your website.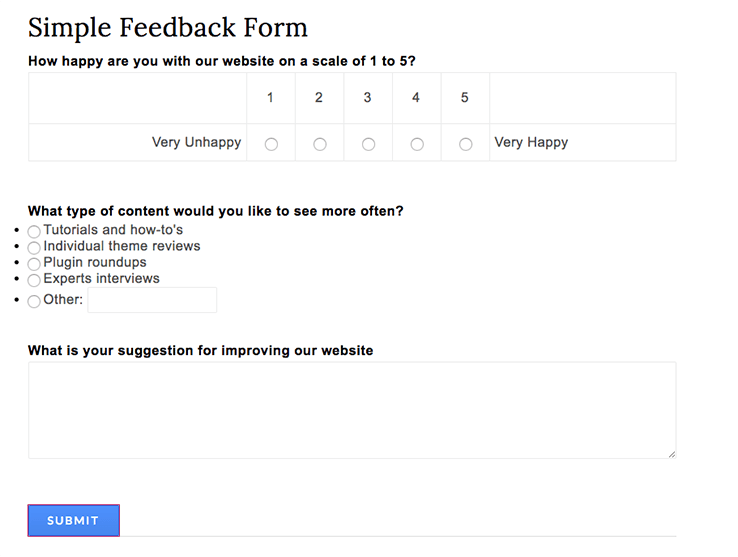 The benefit of this approach is that all reference to Google will be stripped out and the form will blend seamlessly with your website. To style this further, you can go to Settings > GoogleForm Settings to customize the forms to fit your site.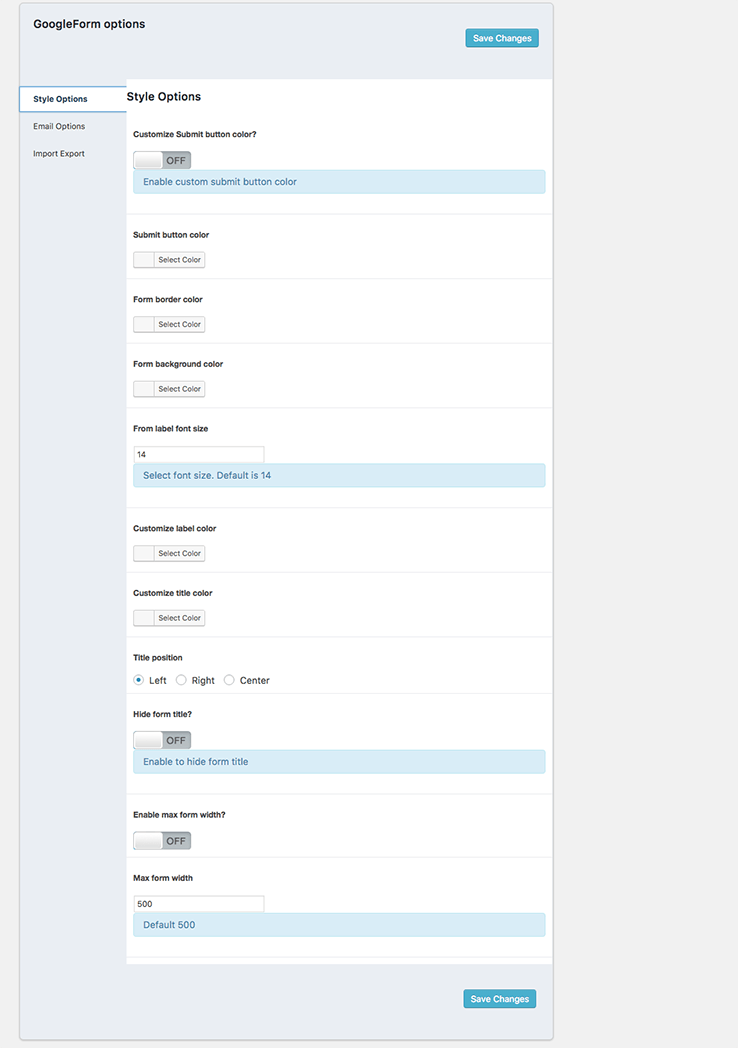 Should You Use Google Forms?
Google Forms is a great solution if you are looking to generate a free form on the fly and add it to your website. It comes in handy if you want a simple form for collecting surveys, feedback or client questionnaires. And it's a collaborative tool that allows users to collect, analyze, and interpret data across platforms, from a variety of locations, so remote team environments can profit big-time from using it.
If you are in the market for a form-generation service that integrates reservations or appointment setting, then you will need to use a dedicated plugin made specifically for that purpose or one that has the ability to integrate advanced features such as Gravity Forms or Ninja Forms. Lead- and list-generating forms are another topic entirely, as users often benefit from a full-featured email list campaign service like Constant Contact or MailChimp.
We hope you've learned a thing or two about how to use Google Forms to collect information from your website users. Do you have any awesome Google form examples you'd like to show off? Leave a note in the comments about your experience!