Your brand needs color to stand out, yet what if this color is the most simple of them all? Black, or a darker shade of gray, exudes a sense of power, modernism and style. Many of the world's top businesses, from fashion to auto companies, use darker colors to show that they are not only hip, yet committed to a color that clears out distractions and puts the focus on products.
That's why we put together a list of the best dark WordPress themes to round out your branding strategy. The color is bold, brash and courageous, and it allows you to show your customers that you have a no-quit attitude. If you think your company has this type of personality, keep reading to learn about the top dark themes on the market.
Who Should Use A Dark Theme
A dark theme is a wise choice for anyone who wants to present their content in a visually striking way. This type of theme not only suits bold businesses but also photographers and designers who often need to showcase their work in a visual way. Presenting your content against a dark background is a surefire way to make your work stand out and grab the attention.
Customization Makes It Easy to Change Your Mind
In case you decide the dark color scheme is not for you, fret not because the themes on this list include powerful customization options which allow you to change the color into one better-suited for your brand and business.
The Best Dark WordPress Themes For Bold Brands
---
---
Underwood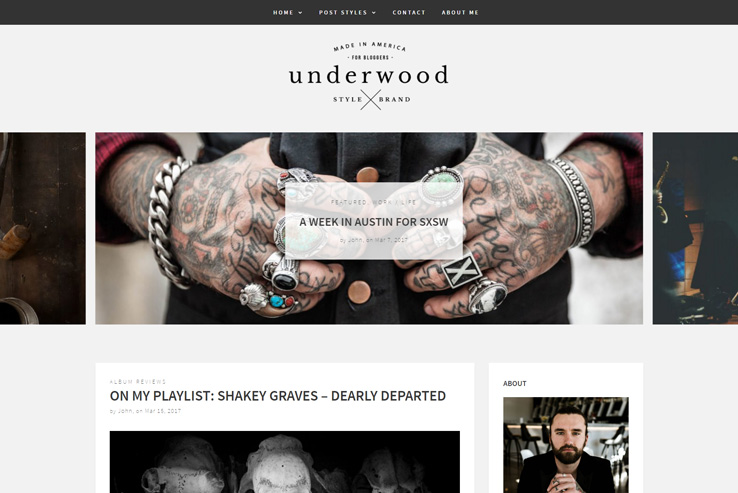 Dark websites have a special appeal of their own. When used properly, black and white color combination can take an ordinary website to a whole new level. If you are looking for a theme that utilizes this color scheme, meet Underwood from ThemeShift. This brand-new item uses different shades of black to create a stylish look for your website.
Underwood comes with three home page layouts, and nine post formats support. Therefore, it is a lot easier to incorporate audio, video, or images, and make your regular posts more interesting. Built-in audio and video players support content from all popular sources. Throw in some integrated parallax effects, and your website will be a lot more attractive for the visitors.
You can choose custom fonts, colors, and lots of additional styling options in the theme customization section. Thanks to the fully responsive design, your website will work perfectly on mobile, tablet, and desktop screens.
---
---
Monospace

Try out the Monospace theme if you'd like a uniquely designed, and dark WordPress theme. The theme has an interesting header/slider which gives users previews of the next slide in thumbnail form. The responsive design is essential nowadays and custom widgets allow you to easily drag and drop additional content into your sidebar or any other widgetized area of your website.
Shortcodes are wonderful for building pages and posts much faster and the translation-ready nature of the Monospace theme means it's easy to create a multilingual website or simply translate it to a different language. Along with unlimited color schemes and backgrounds, the Monospace theme has a lightbox feature to display your best photos. You also receive social media integration, Google Fonts, and AdSense optimization so you can easily monetize your website.
---
---
Motive

The Motive theme is a creative portfolio theme with mainly dark colors. It has a modern layout and the responsive design ensures your website will look great on any device. Choose from two different website styles and use the included Revolution Slider plugin, which usually is sold as a premium plugin. This plugin is ideal for showcasing services and products with animations and cool effects. Three different portfolio styles ensure that your past work is given the respect it deserves and multiple post types add some variety to your site.
The true standout feature is the parallax background, which grabs attention from the start. You can even integrate animated counters to show how many clients you have served or to display other facts about your business. Along with a contact form builder, web-friendly fonts, and social media buttons, you can't go wrong with the Motive theme.
---
---
Amaryllis

The Amaryllis theme offers a wonderful way to transform a boring eCommerce site into something special. The dark theme is powered by the WooCommerce plugin, which is free and easy to install, and it helps you sell your products with ease. The full-screen header lets you place a nice photo at the top, with overlaying text and buttons for sending people to your sales pages. The theme comes with a drag-and-drop homepage to minimize the need for custom coding and custom widgets are ideal for implementing social sharing buttons and feeds.
With Amaryllis, you receive a full-fledged blog so you can share valuable content with your audience and boost your search engine rank. The theme also includes a styled newsletter signup form and you can easily add it to your sidebar or any other widgetized area. The Amaryllis theme also provides social media buttons and a few other widgets for recent posts and stuff like that.
---
---
Sky-High

With the Sky-High WordPress theme, you can build an inspiring online presence, using a responsive frontend interface and beautiful visual elements. The theme includes a built-in drag-and-drop editor, which makes it easy for anyone to design pages and posts and the parallax effect is always a fun and eye-catching effect.
In terms of design, the theme looks almost like a one-page layout, yet it offers various pages to expand your presence, along with large navigational buttons that make it easy to navigate your website. Incorporate text, buttons, and calls-to-action on top of a high-resolution background, and collect emails with the integrated email collection form. The homepage area is great for showcasing past work, clients, and testimonials, while the blog is perfect for improving your search engine rankings and sharing valuable content with your audience.
---
---
Business by Template Monster

The Business theme by Template Monster is an interesting one because it doesn't exactly have the initial dark vibe that some of the other options have on this list. It's actually just a regular business website but it includes plenty of options to turn it into a darker website. In fact, some of the main colors include black and gray. However, the Business theme is completely responsive and it includes several stock photos for getting your site up and running quickly. The custom post types are ideal for adding variety to the site and the customizable backend is a great feature for any website owner.
The Business WordPress theme provides tons of shortcodes to include more complex design elements without having any coding knowledge. The theme offers translation features for reaching out to an international audience and the two-step installation process makes it easy to install the theme. Multiple color options are included with your purchase and the filterable portfolio makes it easy for potential clients to find work that's relevant to their particular project.
---
---
Explore

The Explore WordPress theme has a darker default color for the background and foreground. This gives off a sense of darkness and modernism and it makes it a perfect choice for bands or blogs about music. The theme is completely responsive which means your website will look good on any device. The sidebar is packed with widget options. You can include a list of your recent posts, reviews, social media icons, and more. Keep in mind that this is mainly a theme meant for building a directory so you can easily create a directory of local businesses.
That said, you don't necessarily have to stick to local businesses. You could cover local bands, or you may consider talking about different services in the area. Regardless of your choice, the Explore theme is sure to give you the result you need. Along with a fullscreen map, easy customization, and a beautiful module for updating user profiles, the Explore theme has what it takes to create a stunning website.
---
---
Vignette

When it comes to gritty and dark, the Vignette WordPress theme is a great choice. The theme offers a certain ominous mood which is great for photographers, artists, and models. The darker layout allows your photos or portfolio to pop which is a surefire way to stand out from the competition. Along with that, the Vignette theme is completely responsive. The flexible homepage layout makes it easy to create a unique layout with the help of widgetized modules. The theme includes for gallery layouts to display your photos, images, or other creative work in style. The theme is ready for translation which means you can easily reach people all over the world.
Vignette delivers a stunning header, with support for videos and images if needed. The menu is consolidated into one button, taking up a minimal amount of space. This works wonders for the mobile interface because you want to use your real estate as wisely as possible. The header also provides overlaying elements like text and buttons, both of which improve your chances of converting customers. A portfolio is set up in a grid-based format and the testimonials allow you to build social proof. Social media icons allow you to grow your follower counts on Facebook and Twitter. The shortcodes speed up the process of adding simple items like buttons and tabs. The theme also includes a blog but the true notable features are the galleries which will showcase your work in style.
---
---
---
---
---
---
---
---
---
---
---
---
---
---
---
---
---
---
---
---
---
---
---
---
---
---
---
---
---
---
---
---
---
---
---
---
---
---
Opulus Sombre

Not Available.
Starting off we have Opulus Sombre, a darker version of the popular Opulus theme from Nimbus Themes. It's a theme built for photographers, agencies, and architects, and it provides unlimited color variations in case you'd like to change the color of your website. Beautiful design and awesome front page layout come up perfectly on all mobile devices and full-featured portfolio gives you a chance to display your past projects for potential clients. The theme comes with FontAwesome icons for adding a visual edge to your theme and the parallax shortcodes ensure your site has eye-catching images to create a lasting impression on your visitors.
Social media options are included with the Opulus Sombre theme and various typography choices are included with your purchase. The clean code enables fast page load times and you even receive additional shortcodes for items like buttons, columns, and more. The theme is completely widgetized, but the true standout area is the homepage, with a clean header, clear navigational buttons, and slick thumbnails for your blog posts.
---
---
Cinch

Not Available.
The Cinch theme actually offers six color schemes but you have the option to choose a darker one. Overall, the theme has numerous features to play around with, including a filterable portfolio to help your potential clients find your past work that's relevant to their project. Lots of shortcodes come with your purchase, allowing you to quickly add buttons and columns. You also get full layered PSDs and lots of documentation to turn your theme into something special.
The pricing table is essential for those companies that need to sell their products or services and Google Fonts integration is an integral part of your branding process. The Cinch WordPress theme provides an AJAX contact form for a quick loading form to keep in contact with your customers and visitors.
---
---
Vanish

Not Available.
The Vanish theme is a theme from the folks at ZigZagPress and it provides a darker, media-centric layout for creatives of all kinds. Feel free to incorporate audio to entertain your visitors and include a shop or portfolio to monetize your website. Various shortcodes are included with your purchase and a full-featured blog ensures that potential clients can easily find your website.
The Vanish theme features a large search bar at the top of the homepage and the full-width header serves as a nice spot for a call-to-action text and a stunning photo. This theme is a great choice for agencies and small creative businesses since it provides various modules to showcase services, latest work, testimonials, featured products, counters, music, maps, and more.
---
---
Gallery

Not Available.
The Gallery theme is primarily focused on the visuals since it's meant to work best for photographers, but the darker navigational buttons and other elements make it quite bold. The Gallery theme includes a unique sidebar menu with integrated social media buttons. This works exceptionally well when paired with a responsive design. The full-width slider has video and slideshow support and various page layouts help you add variety to your design.
The Gallery theme is focused primarily on showcasing image galleries so it includes a handful of gallery layouts with two, three and four columns. Try out the shortcodes if you'd rather not get your hands dirty with any coding and use the blog to attract potential clients and boost your search engine rank. Along with social integration and a nice contact form, the Gallery is a dark WordPress theme any business would be happy to have.