You might be asking yourself, isn't every WordPress theme customizable?
Well, not exactly.
Technically you could design a WordPress theme that's completely static, forcing the webmaster to use whatever content, designs and blogs posts you initially gave them. However, this is not the case with real WordPress themes. Various aspects of every theme are customizable, whether it's making the blog posts or uploading logos.
Why Does Customization Matter
The point of outlining customizable WordPress themes is to give you a list of the best ones out there. How often have you downloaded a free WordPress theme only to find that the customization options are severely lacking? That's why it's wise to check out this list. Customization features allow you to effortlessly incorporate your own brand to stand out from the competition and to create a truly unique website that oozes your personality.
What Are The Best Customization Options
It goes without saying that you should be able to customize your colors and fonts as that's the basis of your brand. But you should also be able to modify the layout of your pages or even include additional elements such as buttons, columns, tabs, and more which is where shortcodes and page builders come in handy. Also, look for the ability to create sliders as they are the best way to feature certain pages, promotions or to feature calls to action that send people to your sales or booking pages.
Best Customizable WordPress Themes For Complete Design Control
Keep reading to cut down on the time it takes you to locate themes with hundreds of customization settings.
---
---
Underwood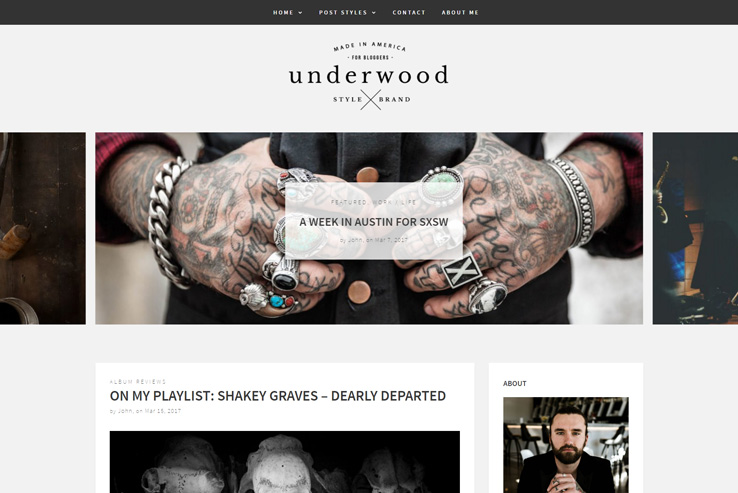 When it comes to customization options, Underwood is a notable WordPress template that comes with the full suite of options. The home page is offered in three variations –standard, full-width grid, and grid with the sidebar. You can choose any of the nine supported post formats to publish content in different styles.
Underwood offers a broad range of personalization options through the theme customizer. Integrated color picker allows you to choose custom colors or provide the hex code to get a particular color. Featuring full integration with hundreds of Google Fonts, the theme also helps you to spice up the typography with a few clicks.
The package includes several custom widgets. You can use these widgets along with the default ones to decorate various widgetized sections on your website. Extensive documentation will help you get started with the available features. In case you need additional support, the handy premium support will always be there for you.
---
---
Shasta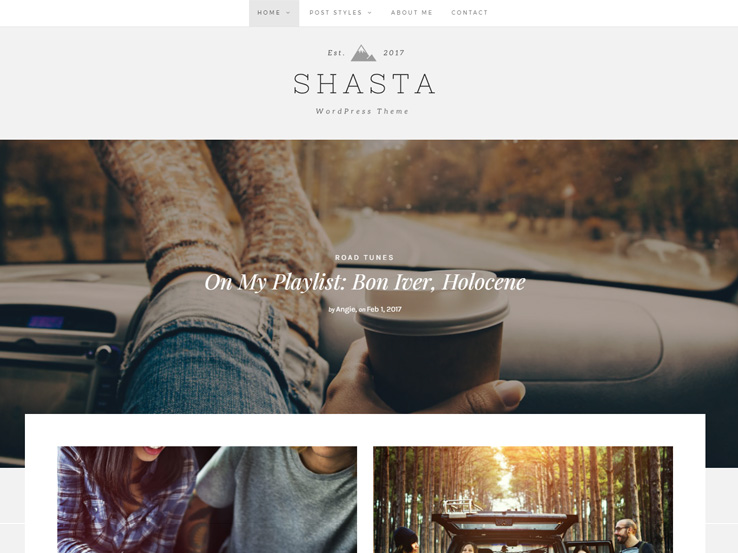 Most premium WordPress themes come with some kind of customization options, but only a few makes it easy to find and use these options. Shasta is a great example of the rare ones. This professionally designed lifestyle blogging template puts all the styling options in the customizer section. As a result, you can check out instant previews right after you make the customizations.
Regarding the homepage, you can choose any of the four professionally designed layouts. Thanks to the full-screen banner, you can put the focus on your most popular content. The rest of the content will be displayed on a grid-based layout or standard article format.
These days, most people are using their smartphones and tablets to access the internet. Therefore, your website needs to be fully responsive to fit perfectly on various screen sizes. Luckily, Shasta is developed on the Bootstrap framework, which means it looks on great on all devices.
The SEO-friendly coding will ensure faster page loading speed, and help you get better SEO results for your content. The theme works perfectly with most premium and free WordPress plugins.
---
---
Udesign

Udesign is a great place to start when talking about customizable WordPress themes because it comes with seven sliders for changing what you'd like to show up at the top of your website. These sliders allow you to add buttons and overlaying text, along with stylish animations. The theme includes over 600 fonts, which is far more than you can find from the average premium theme. You can also choose from an unlimited amount of color variations, making it easy to match your website to the rest of your brand.
The background uploader is a standout feature since it allows you to incorporate your own style. The theme also includes sortable portfolio, which is customizable on your end and makes it easy for potential clients to find work relevant to their project. Finally, the drag-and-drop page builder is the crown jewel of all customization themes, since it helps just about anyone to create a professional design. It doesn't matter if you're a seasoned developer or a beginner, the drag-and-drop page builder is there for you.
---
---
Ultra

The Ultra WordPress theme is one of the most flexible themes from the folks at Themify. It's basically an individual theme with an unlimited amount of layouts, meaning it can be used for any type of website, from a doctor's office to a basketball team without looking the same. The drag-and-drop backend interface allows you to customize the site within seconds. You can also use sliders and videos for background, which is rarely the case when it comes to backgrounds. Choose from over 32 professional layouts to get the look you desire and that matches your brand and implement the parallax scrolling effect to grab the attention of your visitors.
Smart layout options are available to move around anything from the headers to the widgets. Typography is a strong-point with the Ultra theme since it includes over 600 Google Fonts. Around 15 preset colors are offered and it's super easy to change them around. What's cool is that you can show or hide any module in the header or footer, such as the logo, menu or social links. Image filters serve as a nice bonus and the animated background colors add extra visual appeal to your website.
---
---
Divi

Divi is one of the most popular themes on the market and it comes from the folks at Elegant Themes. Why the notoriety? Divi can be turned into any type of website, even if you're a beginner without much development knowledge. It all starts with the Divi Builder, which is the drag-and-drop page builder that allows you to easily place different elements onto your pages. Pair this with dozens of premade templates and you have a situation where the sky is the limit. A hairstylist can make a website look completely different from a graphic designer who wants a portfolio. It all depends on the modules you implement through the Divi Builder.
This builder works with Divi Modules which are the building blocks for your website. You can choose between gallery, image or text modules to spice up your homepage. Around 40 content modules come with your Divi purchase, ranging from blurbs to shops and video sliders to email optins. The general settings are simple to modify but still powerful enough to allow you to create a truly unique website. Advanced developers appreciate Divi theme as well because it allows them to quickly design client websites and still have access to add your own custom CSS code.
---
---
Modernize

The Modernize WordPress theme is packed with customization options. It has a beautiful layer slider, which is one of the easiest ways to feature different content at the top of your website. Add a description about your company or include a huge header with text overlay featuring upcoming promotions. The slider even has settings for buttons and links to lead users to sales pages. Modernize provides WooCommerce functionality, which is ideal for those companies that want to start selling digital or physical products.
Additionally, you can choose from full or boxed width layouts, each of which can be selected from the backend. Set your blog to be organized in a grid-based thumbnail layout and try out the page builder to drag and drop elements wherever you want on the website. Colors are easily modified from the backend, which works to your advantage so you can easily incorporate your own brand. The Modernize theme truly is a customization powerhouse, with six different footer layouts, over 350 fonts, and unlimited sidebars. Along with 15 predefined background patterns and a font uploader, you can't go wrong with the Modernize theme.
---
---
Inovado

Along with offering responsive design, the Inovado WordPress theme is completely ready to work with the WooCommere plugin, making it a great choice for those who want to customize their stores and sell digital or physical items online. Tons of shortcodes are included with the Inovado theme allowing you to quickly add more complex design elements such as buttons and columns without the need to touch a single line of code. Also, various premium sliders are included, allowing you to add a beautiful visual representation of your company right in the header area.
If you're a more advanced user, you can make use of the layered PSD files to make more advanced customizations to the theme and then implement those changes via code. Multiple custom post types are nice and over 240 FontAwesome icons bring visual elements to the theme. Over 500 Google Fonts are nice for creating a website with beautiful typography. Along with full translation support, sticky headers, custom CSS options, and over 25 preconfigured layouts, the Inovado theme is the go-to theme if you need the ultimate customization.
---
---
Utopia

The Utopia XHTML theme is a minimal and modern theme, with two amazing AJAX contact forms. Various PSD files are a developer's dream and the text replacement options allow even more customization on your end. Some other customization elements include the homepage slider which supports both images and videos to capture the attention of your visitors. They are completely modifiable, meaning you can add buttons or images or text to make it send the right message to your fans and readers.
You can even implement a carousel portfolio if your company is interested in showing off past work. The goal is to make it easy for the visitors that come to your site to find relevant work so you can include filters and stunning thumbnail images that allow you to present your past work in a professional manner.
---
---
X | The Theme

X | The Theme is one of the top solutions on the market in terms of speed and elegance. The functionality is there too, considering you can make just about any type of site that comes to mind. As a developer, you can use it for a variety of projects from a church website to a hardware store. Businesses and bloggers alike have the opportunity create elegant and visually appealing websites since it comes with TypeKit integration which allows you to add beautiful fonts. The theme also includes the Essential Grid plugin which is usually sold for a price. Basically, Essential Grid helps out with grid-based layouts. So if you'd like to make a beautiful portfolio or image gallery, this is the plugin to do it with. The included Layer Slider helps you create stunning sliders that are sure to grab the attention of anyone who lands on your website.
We like the Page Builder plugin as well, considering all advanced and beginner users can use the drag-and-drop interface. As stated before, you can make a wide variety of layouts, because the theme comes with several templates for getting started with your content. On top of that, both the Disqus and Facebook comments are extensions that integrate perfectly with the theme, making it easy for people to contact you and comment on your blog posts. You can also integrate Google Analytics, while the Olark extension gives you the opportunity to provide a live chat box for customers. This is a game-changing feature that's sure to make you stand out from the competition.
---
---
Bridge

The Bridge WordPress theme is a bestseller on the ThemeForest marketplace, and with good reason. It has over 100 theme demos and 24 layout concepts for structuring a completely unique website compared to all of the other people who have bought the theme. So even if you have a sports blog, you can rest assured that your website will not look the same as other sports bloggers who might be using the same theme. Thanks to all the features, it's very unlikely that both of you will select all of the same settings in terms of design and functionality. The Bridge theme is completely responsive and it looks and works great on mobile devices and desktop computer alike, and you can sell items and digital products directly from the homepage. In fact, it only takes a few minutes to configure a payment processor that collects all the payments. Along with that, a large selection of fonts is included so you can implement fonts that match your brand.
The free Visual Composer plugin offers drag-and-drop functionality, which is great for both advanced users and beginners. All you have to do is drag an element (like a button) to its desired location and see the result in real time. The LayerSlider plugin is also included for free, which is great, considering it's generally sold for a price. This plugin has the tools for effectively setting up a slider towards the top of your homepage. Feature large images, and include buttons for people to move onto promotional pages and events. Along with an easy one-click demo import, dozens of shortcodes, and a beautiful design that is hard to match, the Bridge WordPress theme brings quite a few unique features to the table.
---
---
---
---
---
---
---
---
---
---
---
---
---
---
---
---
---
---
---
---
---
---
---
---
Opulence

Not Available.
The Opulence theme is an eCommerce theme for high fashion companies. It's fairly modern, but the main reason we're highlighting it is because you can customize quite a few things. The theme supports several eCommerce plugins such as WooCommerce and Jigoshop. Feature your products on the slideshow and opt for a mega menu if you have too many products to highlight in the first place. Ads are available in case you'd like to start making more money with your website. Simply sell the ad space and use images and links for the sponsors that pay you money.
---
---
Attache

Not Available.
Consider the Attache theme if you're looking for a stylish and clean option that has all the customization features you need. This is a one-page, responsive theme, with options for infinite scrolling and masonry layouts. Photoshop files are provided, making it even easier to customize for more technical people out there. The backend customizer helps you change anything from colors to your logo. You can also modify the theme's page templates to make them a better fit for your brand.
The Attache theme widgets can be placed in the sidebar and footer areas, allowing you to simply drag and drop widgets into place. Custom menus are nice for guiding users through your website, while the sample content is the ultimate way to speed up the design process and see how the content would look on the theme. Along with video and multimedia support, the Attache theme is a solid choice if you're looking for a simple and clean theme.