What's the point of a one-page website?
Wouldn't you rather have lots of pages to cover all your content and provide useful information for your visitors?
Yes, that's true, but one-page websites allow you to do that as well, but in a more digital friendly way. In fact, many developers argue that the one-page website is the most natural way for people to browse on a digital interface, whereas the multi-page sites are more useful for the real world, like when reading a newspaper or a magazine.
That's why so many companies and bloggers are taking advantage of one page WordPress themes, since they provide a simple, intriguing way to acquire more visitors, and most of them still give you some features for running multiple posts and additional pages, like if you were to implement a blog.
What Can You Expect From a One-Page Theme
Even though they condense all the information on page, all the themes on this list include plenty of sections to present your services, portfolio, team members, and even feature testimonials from past clients. You can also include multiple calls to action in various sections, but for best results consider including them in one of the parallax sections for the best possible impact.
Responsive Design Makes Your Website Shine
Naturally, this one-page layout pairs well with the responsive design which is an essential feature nowadays when so many people prefer their phones and tablets to access news on the go.
Creative One-Page WordPress Themes
Keep reading to learn about the best one-page themes and how they can help your online presence.
---
---
Montblanc

Montblanc is a creative and flexible one-page WordPress theme with various layout options and all the most important sections needed to run a modern multipurpose website. Whether you're looking to build a portfolio, corporate, blog, eCommerce or creative agency website, you'll find a great variety of powerful features combined with stunning designs in this template.
Montblanc includes several sections to present your work, services, team, blog, contact form, and more. The parallax scrolling adds a subtle element of depth and will enhance your visitor's browsing experience. Also, the template is fully responsive and is optimized for fast page loading.
---
---
Venture One Page

The Venture One Page theme offers an insane amount of features compared to many of the other one-page themes on the market. It includes nine rows to organize and structure to fit the needs of your blog or business. As an example, you can highlight your staff members with photos and descriptions. On the other hand, you can also share testimonials from past clients, along with recent articles through a beautiful grid-based preview module. The one-page design is best for the internet and works extremely well as a responsive design, considering many people are using their phones and tablets to view various content.
Items like buttons and columns are built through shortcodes, expediting the design process even further. In terms of the one-page design for businesses, you can use FontAwesome icons and Google Fonts which can easily be modified from the dashboard. The majority of your content sits on a single page, so your design time is minimized. What else can you expect from the Venture One Page theme? Well, the parallax header is a nice touch and various call-to-action areas ensure that people are more likely to click through and learn about the products or services you sell.
---
---
Simple Business Landing Page

The Simple Business Landing Page theme is a great example of one-page WordPress themes since it can be used to sell an item on a single page, or you can highlight all the services your company offers with various content rows that you can rearrange and structure to your liking. A notable feature is the Slider Revolution plugin, which generally sells for about $15. It's included for free with this theme and it allows you to showcase promotions, blog posts, and items with fun animations and overlaying text and buttons. Although the Slider Revolution plugin is great, it's only tip of the iceberg when it comes to theme's features.
Moving on from the slider, a social media module can be placed in any of the widgetized areas and the navigation menu is simple, sleek and it allows your visitors to quickly go to the right sections on your homepage. Various content sections included in the theme deserve an article of their own but for now, keep in mind that you can use multiple calls to action throughout the homepage to sell your services or products like ebooks, webinars, and more. Showcase your services and use the shortcodes create a multi-column layout for the About Us section. If your company has employees or if you work with a partner, consider using the team section to feature your team members with their profile photos and a brief bio that includes their social media profiles. All of this helps with personalization, and it combines nicely with the one-page layout.
---
---
Simple Multi Purpose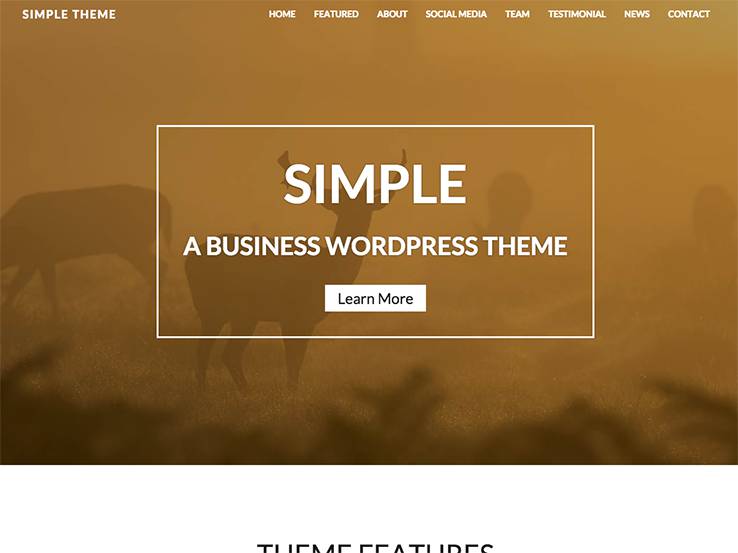 Consider the Simple Multi Purpose theme if your one-page needs are more in line with that of a company that wants a banner or slideshow. The theme, naturally, includes parallax effects, but the notable feature here is the slider that can be used to show different images such as promotional banners and new item announcements. As with most one page themes, the theme has customizable sections which can be reorganized to your needs. A contact form is also included at the very bottom of the page which is a must-have feature to make it easy for potential clients to get in touch with you.
The included blog is the only area which will have additional pages that will hold your blog posts. That said, each of your blog posts is featured on the homepage in the Latest Articles section. The grid-based layout of the section presents your articles in an organized fashion and put the featured images into focus along with a brief excerpt of the article. This is a great way to encourage your visitors to click through and read the full post. A blog allows you to share valuable content with your target audience and boosts your search engine rankings along the way. A testimonials section is one of the best ways for young businesses and blogs to show social proof. The testimonials can even include photos of your past clients. As a one-page theme, the Simple Multi Purpose theme looks sleek and organized, so definitely keep it in mind for your next project.
---
---
Business One Page Pro

Just like the name suggests, Business One Page Pro is an elegant one-page WordPress theme suitable for businesses, agencies, and even freelancers. The mobile responsive theme includes all the essential sections needed to establish a successful modern website for your business – about us, services, testimonials, team members, client logos, and more. A beautiful full-width slider sits at the top, and there's also a contact section towards the bottom – the contact section includes a contact form and space to display your address, phone number, and email.
You'll also find a clean and simple blog, which is perfect for sharing your knowledge and generating traffic from search engines and social media platforms. Talking of social media, the Business One Page Pro theme includes social links in prominent areas so people can easily follow you and help spread word about your business on different platforms. Moreover, the template is easy to use and is highly customizable so you can easily match it with the rest of your brand.
---
---
Lara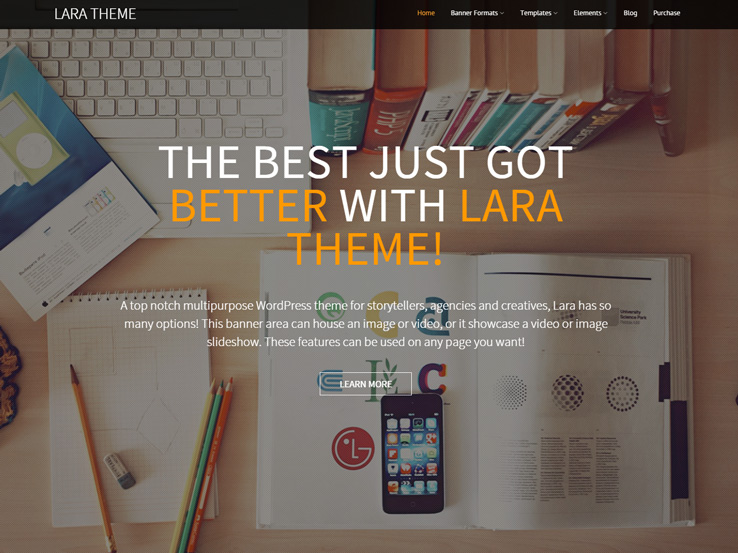 The Lara theme is a perfect fit for storytellers because it has a clean and content-focused design that allows your visitors to enjoy your content without any distractions. This theme combines a wonderful one-page layout with several storytelling modules as well as business modules that hook readers within seconds. The header area allows for a large, high-resolution photo. You can insert a title and description to explain what people can expect from your website. Don't forget to include a Learn More button to send people to your blog posts or stories.
The visual testimonials area is a must-have for freelancers, bloggers, and business, considering no one is going to take you seriously unless other people are willing to vouch for you. The Lara theme also includes a portfolio/gallery area. This is another essential feature which looks clean and professional in this theme. Your visitors can click on the images to learn more about a particular project. Overall, you gain quite a bit of functionality with the Lara theme. From shortcodes to contact forms, it's a one-page solution to keep your eye on.
---
---
MobileApp

The MobileApp theme by MyThemeShop is a beautiful one-page option, with unlimited sections, animated screenshots, and just about everything you need to sell your mobile apps. The theme is designed entirely for marketing and selling your own mobile apps so it includes six mobile device screens for easier marketing and you can add any mobile device you want. Try out the sleek animated text effects for an added visual appeal and enjoy all the benefits of a responsive design.
One interesting feature is where you can choose to run your website completely on a single page, where all pages are redirected to the homepage. You can also choose between a scrolling or fixed parallax background image. Along with unlimited colors and backgrounds, the MobileApp theme by MyThemeShop isn't a bad choice to start off with.
---
---
OnePage

Another theme from MyThemeShop, the OnePage theme name pretty much tells you what the primary feature is. OnePage looks wonderful on all devices, and it has a nice drag-and-drop builder which is easy to use for both beginners and advance users alike. The AJAX loading is always a nice touch which will ensure your website loads fast. You can easily disable or enable any section on the one page theme and the portfolio post type gives freelancers a chance to showcase their latest projects.
The unique blog layouts add variety to your website design and various one-page modules help you show off all of your company's traits in a single page. Use a counter for displaying your business stats in style and consider adding pricing tables to help users compare your pricing plans before purchasing. Along with other sections for clients, testimonials, team members, and more, the OnePage theme serves its purpose rather well.
---
---
Parallax

The Parallax theme by Themify is not only a powerful one-page theme but it also includes stunning parallax effect for grabbing the attention of your visitors and putting all of the focus on your best content. The theme comes with various custom post types for anything from client showcases to portfolio items. The portfolio post type includes several options for displaying media formats such as video, images, and sliders.
The highlight post type is a favorite since it has several icons and paragraph areas that allows you to highlight all the benefits of your company, product or a service. The Parallax WordPress theme provides tools to modify custom header backgrounds, sliders, and navigation. You can also choose between list and grid layouts, along with an infinite scroll feature which is used quite a bit with online magazines.
---
---
Convertible

Convertible by Elegant Themes is considered a new take on the traditional landing page. It's built to sell a single product on a long, one-page site and plenty of information about the product. The design is quite simple with the Convertible theme but the theme includes a drag-and-drop editor, which is a rare feature in landing page themes. This allows you to build your own landing page from scratch, without the need to touch any source code.
The theme is completely localized to allow easy translation. Choose from unlimited colors to incorporate your own style and easily add pre-built buttons on any of your pages. The image slider is ideal for showing off the primary benefits for your products and the testimonials area gives you some social credibility.
---
Landing, yet another one-page landing page theme, has a powerful drag-and-drop page builder for those who don't know how to code. The Landing theme includes over 25 layouts with your purchase, meaning it will be easy to create a unique website that stands out from the competition. The responsive and retina ready design works on all tablets, phones, and other devices. Choose from five header designs, such as a transparent header with a logo.
The portfolio post type is one of the nicest features since it elegantly combines photos in a stylish layout. Along with that, an events post type comes along with the Landing theme, which is ideal for sharing your upcoming promotions and events that people can show up to. Finally, WooCommerce support is provided with Landing, so if you'd like to sell physical or digital products, you shouldn't have any problems.
---
---
Kodax

Kodax is a one-page theme for showcasing products such as apps and clothing. The responsive design ensures your website will look great on any device and the easy admin panel provides brand control options and over 600 fonts to create a unique look for your website. The Kodax theme comes with three custom plugins and four custom widgets for the ultimate customization experience. Not to mention 10 different page templates which are a huge bonus.
The Kodax shortcodes work nicely for implementing buttons, columns, and other elements without HTML or CSS and the theme offers video embedding support for platforms like YouTube and Vimeo. The advanced blogging options ensure that your search engine optimization is always on par since the Kodax theme provides five blog post types and three different blog layouts.
---
---
Divi

Divi is one of the more popular themes on the market, and although you have the option to build a multi-page website, it also provides wonderful settings and tools for turning your site into a one-page website. As some of you may know, the Elegant Themes library is sold as a membership, which gives you access to a large amount of themes for an affordable price. When it comes to the Divi theme, this is the crown jewel of customizable WordPress templates since it includes a drag-and-drop editor that utilizes Divi Modules which allow you to add various elements without the need to touch a single line of code.
Around 40 content modules come with the Divi theme, and some of them include options like accordions, blurbs, contact forms, and tabs. The general settings in the WordPress dashboard offer a clean and intuitive area for beginners and advanced users alike. A custom CSS module is included if you'd like to really customize the heck out of this theme. The possibilities are virtually endless with the Divi theme, allowing you to build anything from a complex eCommerce website to a site that has a single page. Possibly the coolest part of the Divi theme is that it ships with over 20 pre-made layouts. This means that you can pretty much have a completely built and designed website from the moment you implement it on your WordPress install.
---
---
Palette

The Palette theme by Theme Forest offers a sleek, one-page responsive design that looks great on mobile devices. It has a page builder plugin that works great for those who don't want to touch any code throughout the design process. In fact, all you have to do is drag and drop elements, making it super quick and easy for beginners. The powerful options panel provides tools for translation in case you want to translate your website to another language. In addition to that, an amazing parallax effect is included with the theme which is great for including calls to action and bringing attention to certain parts of your website. We like the parallax effect because it adds visual appeal to your site without slowing anything down. The one-page design has a contact form which makes it easy for potential clients to get in touch with you.
The header has a large slider for showing off images from your company and you can overlay text to provide a brief description. Many companies use this as a call-to-action by linking to another page or sending users to product pages or landing pages. A full gallery is provided in a grid form, allowing you to add a portfolio to feature past work. Feel free to embed videos into the theme and use various other widgets for things like FAQs and social media buttons. Along with integrated maps, some cool places to put client logos, and a rather large homepage with plenty of content, the Palette WordPress theme packs quite the punch.
---
---
---
---
---
---
---
---
---
---
---
---
---
---
---
---
---
---
---
---
---
---
---
---
---
---
---
---
---
---
---
---
---
---
Start

Not Available.
Start by ZigZagPress is a one-page theme built just for the Genesis framework. The primary header image takes up the majority of the screen and it includes overlaying text and buttons for driving people to your sales pages. Not to mention the theme provides parallax backgrounds for grabbing the attention and showcasing some of your products. Since it's a one-page theme, Start is packaged with a bunch of homepage modules that you can remove or include at your own will.
Implement a filterable portfolio or talk about the features your company offers. The team module includes images, paragraphs, and social media links, while the pricing page is ideal for those selling services and products. The testimonials work nicely for building social proof and the full blog has wonderful features and designs that allow you to share some valuable content and improve your search engine rankings with your target audience. Along with a sleek contact page and a large map for people to find you, the Start theme has just about everything you need for a beautiful business website.
---
---
Awaken

Not Available.
Awaken is a beautiful theme from the folks at ZigZagPress since it provides a multipurpose layout with trendy designs and plenty of space to eliminate the distractions. The theme starts with a large header area that takes up most of the screen. Add overlaying buttons and text to place calls to action and send people to your most important sales page. The one-page layout ensures your users can get all the information on the homepage, along with homepage modules for items like pricing tables and clients. A full blog comes with the Awaken theme to attract visitors to your website and boost your search engine rank. The entire theme has the option to include a parallax scrolling effect, which adds extra visual appeal to your website without slowing it down.
Create an About Us section with pictures of the people who work at your company, descriptions, and links to their social profiles. Awaken provides a full portfolio with a beautiful grid layout and animations when people scroll over the images. The entire portfolio has filters that make it easy for potential clients to find relevant work. The Contact area is a nice way to enable clients to get in touch with you and it includes a Google Maps module so people can quickly find where your store is located, without the need to open up Google Maps themselves. Finally, the Awaken theme has several social media icons which help you build your social media following.