We've all seen the success that sites like Groupon has had, so it's no wonder that the thought of building a daily deals websites is popping up like crazy. It's clear that daily deals are known to create urgency with consumers, so webmasters of all experience levels are either implementing daily deal tools on their current eCommerce shops or making sites completely filled with these daily deals.
Why Should You Consider Creating A Daily Deals Website
Overall, a daily deals website offers timers and steep discounts for a variety of products. The goal is to bring in as many purchases as possible in a short amount of time. Although places like Groupon cover just about every type of product, some of the more successful ones nowadays are focusing on niche products, allowing them to dominate a single market.
Creating a Coupon Site Is Easy
Building a website like this would have taken quite a bit of money and some solid developers, but all you need now is a daily deals WordPress theme. In fact, quite a few companies have released some sleek designs for you to choose from, but you'd be wise to take a moment to figure out which of them fit into your branding strategy, along with those that offer quality coding so that nothing goes wrong in the future. That's why we did the work for you and listed some of the best daily deals WordPress themes on the market. Some of them are modern, while others have more traditional looks. In addition, you can find a wide set of features scattered throughout all of the themes, from timers to handy product management pages. Regardless, of the theme you decide on, make sure you test a few out to figure out you get the settings you need.
Best WordPress Daily Deals WordPress Templates
---
---
Kupon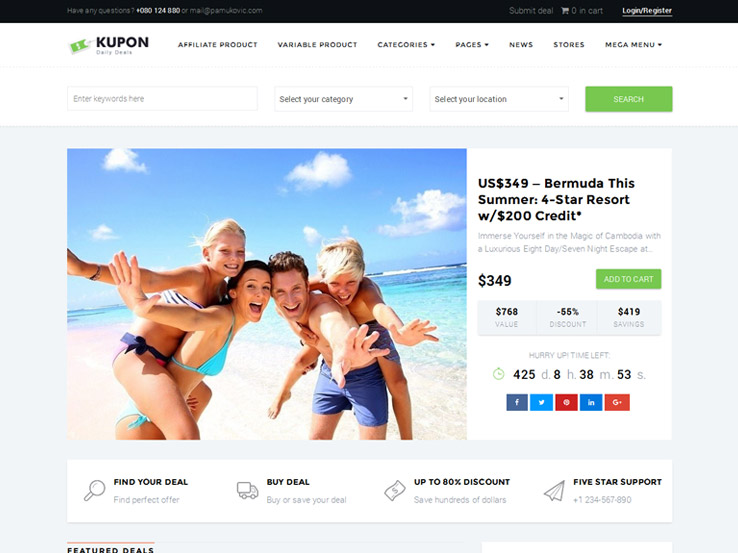 The Kupon WordPress theme is a powerful solution that's sold on the ThemeForest marketplace. The theme has a material design, and it allows you to present deals and coupons for a wide variety of products. Kupon works well with all mobile devices, and you can connect it with the WooCommerce plugin. We particularly enjoy this because you can sell both digital and physical products, all without spending any time on coding. The frontend deal submission form is a solid tool for companies that want to list their products on your site. This lets you collect a percentage of every transaction that goes through the site, and it places all of the money made into your desired account. The WC Vendors plugin is an option as well, giving you the functionality to turn your site into a full deals marketplace. Guest submissions are allowed, and a frontend voucher check form expands the overall abilities on your site.
If you're looking for a drag and drop editor, the Kupon theme is a wise choice, considering you gain access to the Visual Composer plugin, which keeps your hands free of any complicated coding that you may not be fond of completing. Multi-site is supported, and the Contact Form 7 plugin integrates seamlessly for keeping in touch with your customers and offering some sort of support. Two primary layouts are there for you to choose from, while they both give powerful filters towards the top of the site. For example, people can type in keywords, locations, categories and more. Featured deals are displayed on the homepage, and when a user clicks on a particular item they can see a price, timer and the value of the entire discount. Full descriptions, images and other explanatory items are offered, and each product gets a few social media sharing buttons so that you can get the word out about these great deals. Along with a seller dashboard, a beautiful shopping cart and much more, the Kupon theme is one of our favorites on the list.
---
---
Deals by Theme Junkie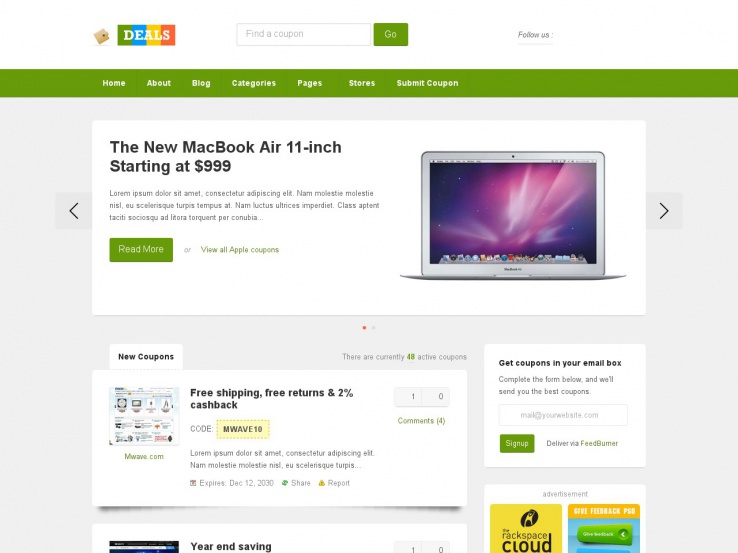 The Deals WordPress theme comes from the folks at Theme Junkie, which is a good place to buy your themes from because they offer quality support and highly compatible themes. This is a simpler, more playful theme, with lots of colors to choose from and a nice spot to place your logo towards the top. The responsive interface is built on the Theme Junkie framework and you get four different color schemes to meet your branding needs. The fully functional coupon management system has settings for coupon codes, printable coupons, and promotions. Make categories, stores, types, and tags, while utilizing various page templates so that you have some variety as people scroll through your website. The Deals theme includes custom built shortcodes, which are extremely powerful little snippets of code that keep you from managing any more complicated source code.
The advertisement management section offers an additional monetization method and it combines well with the overall store functionality because you have two options for collecting money from customers and sellers. User votes and ratings are integrated into each deal, adding credibility to all of your products and convincing people to buy more when they see that others like it. The built-in coupon submission page allows for just about anyone to come to your site and share details about the deal they would like to try selling. Of course, you'll have full power over which of the deals gets published on your site, so you can manage all that in the WordPress dashboard.
---
---
Couponer by Power Themes

The Couponer WordPress theme is a top notch coupon theme with settings for affiliate coupons as well. The fully responsive theme provides clean code and a premium design. You maintain control of a membership system, which is handy for when you'd like to get some sort of recurring income. Users can submit deals and coupons from the frontend and members-only codes create a sense of exclusivity. MailChimp integrates directly into the Couponer WordPress theme, so you can collect email addresses for sending out promotions and newsletters in the future. The AJAX search module makes it easy for users to quickly search for a keyword they find interesting.
They can even use the coupon category search if they would like to browse around a bit. As with most of the themes on this list, the primary feature is the daily deals area which is filled with settings for showing off how much people save and what is special about each of the deals. The header area is rather unique compared to other themes because it has a parallax background to grab attention and put some calls to action over it. Overlaying text and a category drop-down menu are situated right on top of the parallax header and several other filters are presented right underneath the header. Whenever someone selects one of the categories, the widgets below shift around to reveal the items and deals that are most relevant at that point in time. Social media buttons are included in widget form and you'll quickly realize that much of the Couponer WordPress theme is powered by widgets, giving you a somewhat of a drag-and-drop interface. We really like the theme, so give it a try if you're going for something that even a beginner can use.
---
---
General Market

Consider the General Market theme if you're looking for a responsive multi-purpose coupon theme. The theme includes 10 pre-made layouts for a variety of different stores and all of them share a stunning homepage slider and clean grid-based layout. The slider is implemented with the help of Slider Revolution which is a premium plugin included for free and allows you to create stunning slideshows with text overlays and call-to-action buttons to send people to your sales pages. Grid layout keeps your products organized in various categories and the theme also includes a mega-menu for all your products into your navigation without overwhelming potential buyers.
Visual Composer is also included with the theme which means you can create any type of layout without touching a single line of code and the powerful theme options panel allows you to easily customize every aspect of your website from fonts to colors. Creating a sale and enabling coupons is easily done through WooCommerce and the responsive design plays a crucial part in the success of eCommerce websites since many users prefer to do their shopping on a mobile device.
---
---
CouponHut

CouponHut is sure to grab the attention of potential buyers thanks to the stunning video header and a clean and minimal design that's focused on bringing your deals into main focus. In terms of features, CouponHut offers nifty tools such as percentage based discounts, time triggered events and offer expiries, all of which help you sell more. Various ad widgets are also included so you have an additional way of monetizing your website, while the custom rating system helps build your credibility and ensures bargain hunters your website has the best deals in town. Moreover, they can easily hunt down coupons for their favorite products thanks to the advanced search and filter functionality.
As if those features alone weren't enough, you also get various page templates and shortcodes which speed up the design process without the need to ever touch a single line of code. SEO optimization and rich snippets boost your search engine visibility and the responsive design ensures people can search for deals even while they're on the go. Customization options allow you to customize the colors, fonts, and highlight your content with custom icons. All things considered, CouponHut has all the tools you need to create a coupon-based website.
---
---
DailyDeal

Consider the DailyDeal theme if you'd like to offer your visitors the ability to submit their own coupons through the front-end. This theme packs quite a punch in terms of features since anyone who visits your website can submit their own coupon and you get to manage the submissions on the backend. The submission form is entirely customizable so you can include just the fields you need. The entire homepage can be edited through a drag-and-drop editor allowing you to create the best possible layout for featured daily deals. A large header with a custom message is a bonus which helps improve your SEO and the responsive design ensures mobile users can access the coupons on the go.
Various deal types are available and you can even create your own affiliate system to allow others to promote deals featured on your site for a small commission. Several payment gateways are integrated in the theme and email notifications help everyone stay on top of sales and new deals. You can easily change the fonts, colors, upload your own logo, and more. Custom registration forms will allow users to register for your site and the Facebook login option makes things even easier. Finally, share buttons are available to grow your social media following and to help spread the word about the daily deals featured on your website.
---
---
SOZO

With features like a dedicated daily deals section, featured deal banner, and countdown timer, SOZO could be the perfect choice for creating your next daily deals website. The theme is mobile-ready, and it comes with multiple homepage variations.
The fully featured customizer section allows you to choose your own color, font, background, and several other styling options. The multilingual template also supports multiple currencies, making it easier to create coupon sites in other languages. Usual actions like the Add to Cart, Wishlist, Compare, and more are powered by AJAX to ensure a smooth user experience.
---
---
Comre

This unique deals and coupons theme offers everything you need to create popular daily deals websites. You can use Comre to provide both free and premium promotional offers. For further engagement, a public submission form allows visitors to submit their own deals as well.
There are several homepage variations to choose from. Integrated premium plugins like Visual Composer and Slider Revolution will help you to create custom page layouts for promotion details pages. The easy-to-use admin section enables you to manage the header, footer, sidebar, social media, SEO, and more.
---
---
REHub

REHub is a very powerful template for developing deals, coupons, comparisons, affiliate marketing, or other similar websites. What's more, you can use the integrated membership options to develop a vibrant deals community. The advanced filtering system will help visitors find the deals they are looking for.
REHub comes with enhanced affiliate modules to maximize your income. Feel free to use the superior advertisement options to earn some extra revenue from your deals site. The speed-optimized theme also comes with the necessary styling options.
---
---
Dealpress

Do you want to create a group buying website that offers attractive deals for like-minded people? If you do, you should take a look at Dealpress. This WordPress theme comes with a custom post type for publishing deals. You can organize the offerings by using tags, category, and location.
As the template comes with full support for PayPal, it is possible to offer premium promotions as well. Dealpress is fully integrated with Facebook and Twitter, which means the visitors can easily share the coupons on these platforms.
---
---
CouponXL

This aptly named WordPress template comes with everything you need for creating viral deals, coupons, or discount websites. It allows you to publish different types of deals including paid, affiliate, limited time, or limited item deals. The smart CTR statistics will help you track the performance of various types of deals.
CouponXL is provided with a full membership management system. Registered users will have dedicated profiles along with the option to submit their own deals and offers. It is also possible to sell ad space and collect payment from the advertisers, all without leaving your website.
---
---
WPgroupbuy

Not Available.
Consider the WPgroupbuy theme if you're looking for an easy way to manage your products and deals. The rather modern layout works well on all mobile devices, which comes in handy for those users who are browsing your website on a phone or a tablet. Deals are created quickly on the backend and the sellers can manage their accounts from the WordPress dashboard. These are called merchant accounts, where they can submit deals, track sales, and view reports on their past products. The advanced reporting and stats improve how well you work with the sellers on your site and multiple payment gateway options come into play for choosing from a wide variety of collectors. Localization support means that anyone who speaks a different language can stop by and buy a product or coupon. So, if you'd like to expand to other countries, this is one of the best themes to do so.
A popup form allows you to gather email information or to share details about some of the most recent deals. We enjoy this feature because it has an option for selecting a location, opening up the possibility of selling local coupons. A search bar is placed towards the top of the site and various categories are displayed for users to quickly find the deals they are most interested in. As with most of the other daily deals themes, the WPgroupbuy theme provides a Buy Now button, timers, savings listing, and more. It also tells people how many deals have been bought, which is a wonderful feature, considering it shows that a deal is popular. Images and social sharing buttons can be implemented for every single one of your daily deals and several widgets show lists of hot category items. For example, someone can scroll through all of the best deals you have listed under events. Overall, the shopping cart works smoothly and the entire interface is built to get people in and out without any hiccups.